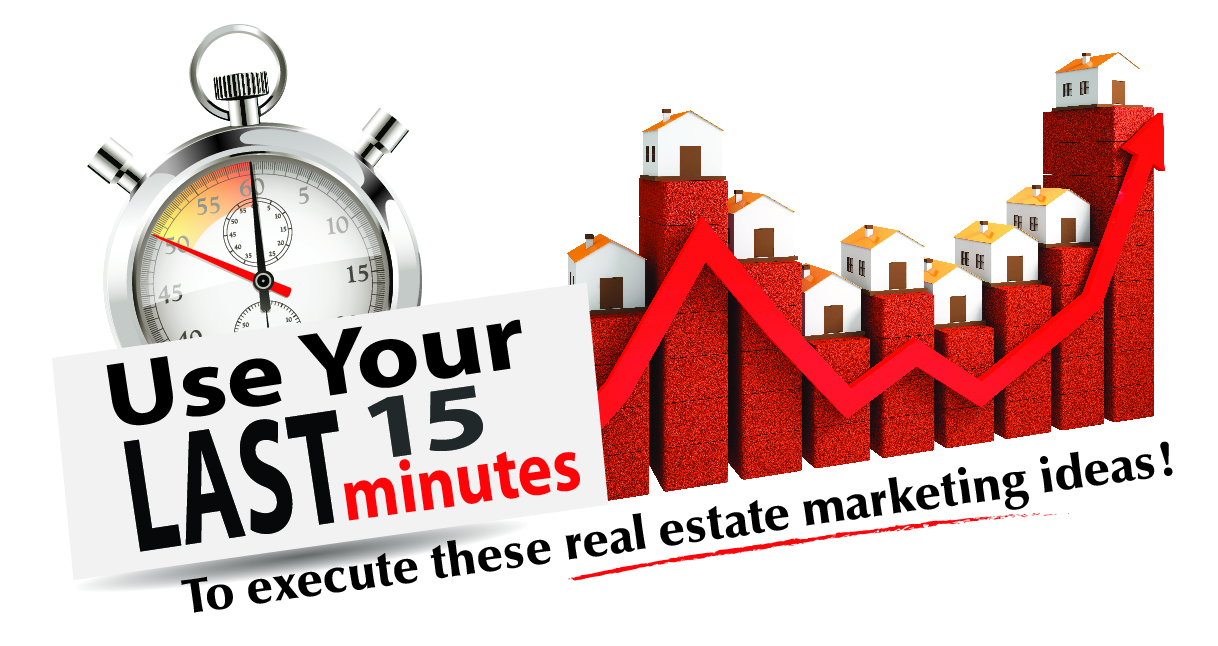 Powerful 15-Minute Real Estate Marketing Ideas
If there's one constant in life, it's that there's always something you could be better at. The real estate business is not any different. And like anything else, many of the most worthwhile improvements take plenty of time. But that doesn't mean that you can't leverage 15 minutes into something truly amazing for your real estate business.
Real estate marketing has many areas that literally take minutes to improve upon. Here are 9 solid realty marketing ideas that will boost your property selling game:
---
9.) Identify important sources of business
How did you you acquire most of your clients last year? It's amazing how much a little perspective can go into informing your real estate marketing approach. Just stepping back and understanding whether your direct mail, social media, or email campaigns made a difference for your conversions can help you make much better use of your time and allow you to concentrate on the places that actually got you the most business.
8.) Record a short video testimonial
Ask satisfied clients to record short video testimonials. Not only will this help you build credibility, with the right content and SEO optimization accompanying it, a video can nudge your online presence higher. Make sure that the videos are easy to watch and straight to the point.
7.) Send past and present clients gift cards
Gift cards for things as simple as coffee or toiletries can go a long way toward helping cultivate closer relationships with your clients. In this industry, closer relationships almost always mean repeat business. In any case, it takes so much less of your time to nurture relationships with people you know compared to forming brand new relationships from scratch. Take a few minutes to find out which local businesses offer gift cards, and you may be able to develop your relationships with them too!
6.) Set up a Pinterest board
You can go about this several ways. Sure, you can simply create a board that showcases your properties. But you can also take it a step further by pinning images that help prospects imagine what their space could be like. Find pictures of architecture and interior design choices that can easily relate to your properties and pin them to help inspire clients, and help your real estate marketing stand out all at once.
5.) Create or update your Google My Business pages
While they might be great for keeping in touch with clients and prospects, chances are no one's going to find your properties on Twitter or Facebook, simply because few people use it that way. Google My Business however, is often used for this specific purpose. Take a couple of minutes to put up the right info so your properties are found more easily. Make sure you can be found on Google Maps when you're done!
4.) Create an outline that shows the benefits of buying real estate in your area
It's incredible how fractured and unfocused sales pitches can get, even when you know everything there is to know about your properties. Clients don't necessarily have to know everything there is to know about a property in one sitting. Giving your prospects too many pluses at a time can overwhelm them, and at worst, dilute the strength of your offer.
You can get around these issues by creating a simple outline of the pros and cons of real estate in your area. Research by Kurt Carlson and Suzanne Shu of Georgetown University and UCLA suggest a maximum of just three benefits.  Just choose three selling points that would matter to your specific prospect, and give them the other pros only when they signal interest. Understanding the drawbacks can be equally as important so you are able to better address concerns and possibly even provide solutions for your prospects.
3.) Reach out to local business owners
Small businesses around your available properties are an often untapped opportunity. We discussed gift cards earlier, but local businesses can also be points of distribution for your flyers and other promotional materials. Local festivals, events, sports leagues, churches, and civic groups might also be willing to give you a fair shake if you can give something back.
2.) Reexamine and update your email signature
Chances are it's been a while since you updated and optimized your email signature. If you created Pinterest and Google accounts for your properties, it makes a lot of sense to update your email signatures to include those links. Make sure to keep your signature at a reasonable length — which means you probably shouldn't leave anything there that doesn't serve a purpose. This includes the device you used to send the email, or quotes that really don't have relevance to your business.
1.) Create a postcard or flyer design with a free image editor
Not having the budget for a good graphic designer and a full suite of design tools is no longer a major issue, thanks to free image design apps such as Pixlr, PicMonkey, and Canva. Canva in particular, makes it easy to create a workable, contemporary-looking design from scratch. You can use these, or any other free design tool to create designs or mockups of flyers, business cards, banners, postcards, and other promotional materials commonly used in real estate.
On the other hand, having a good design is one thing — having your design printed professionally is another. Unless you're printing mockups for a designer, it's usually for the best to go with a reliable printing company to ensure colors, dimensions, and bleeds (portions of a design meant to be trimmed off) are professionally executed and stay truer to your intended design.
---
Got any other 15-minute realty marketing ideas? Comment below!
Arthur Piccio is a feature writer and subject matter expert for the PrintPlace Blog. In his spare time he studies guitar and writes about goats.