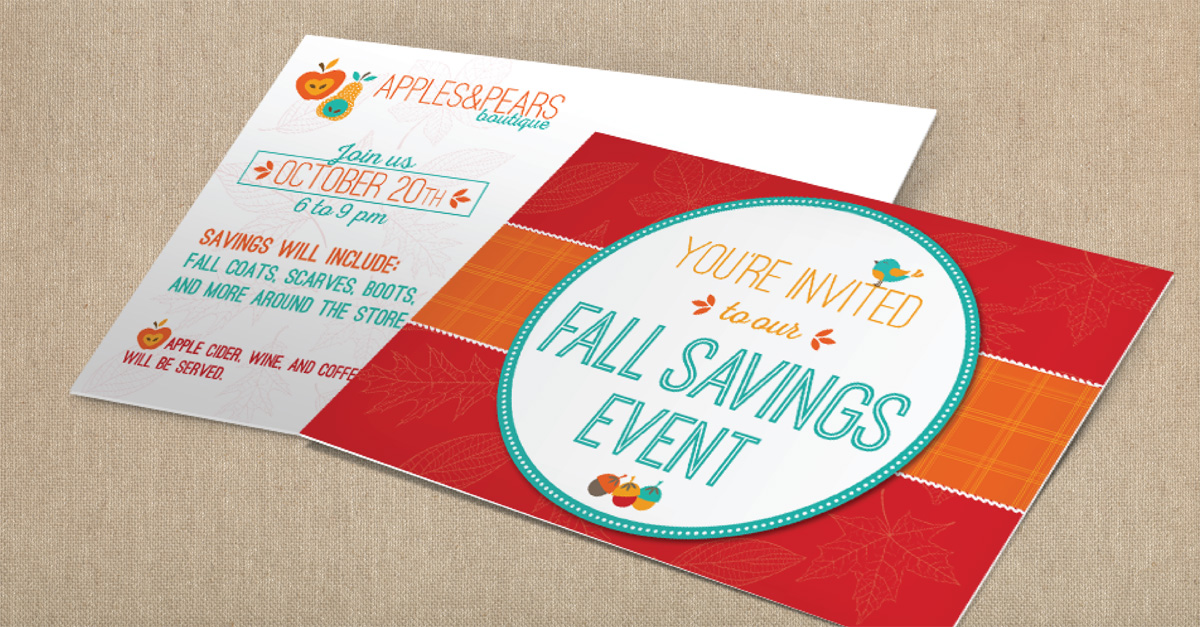 6 reasons for excitement in your store this fall
Don't let those red and green wreaths in the craft store fool you. We are currently in the middle of a season called "fall" (or autumn for the British at heart). Although I do love the holiday season, it's important not to let it push its way too far into the previous season's space.
Fall is a wonderful season all its own. Colored leaves, sweaters, and pumpkin-flavored everything come out in droves. People are happy to feel the relief from the summer heat and eager to embrace what's to come.
You can use the comfort of fall to bring people into your store if you embrace the season as well. Plan special events, sales, or specials centered around the season. Create a fall atmosphere with the colors of the posters in your windows and decorations around your shop. Then let everyone know.
Send postcards to your customer list and invite them to see your new fall line, save on fall accessories, or whatever idea you want to promote.
Create excitement around merchandise with a fall event. An after-hours event adds to the exclusivity because customers think they are in on something few have access to. That feeling can go a long way toward bringing them into the store.
Make your direct mail piece an invitation. A typical postcard looks like it was mass mailed to thousands. But an invitation? That says "exclusive." No matter the actual size of the mailing list, it is perceived as exclusive and that is the key.If you want to keep costs low, you can keep the postcard postage rate by sending the invitation without an envelope. Design a postcard to look like an invitation in design and wording (like the adorable one our graphic designer created above). Just leave room for an address and stamp on one side.
Why don't you serve some complimentary refreshments to make your customers feel special? They will want to stick around for a longer visit if they have something to sip in-hand, and I'm sure I don't need to tell you the sales benefits of a customer browsing your inventory for a longer average time. Of course a fall theme is in order so apple cider and snickerdoodles come to mind (or fill in your favorite fall treat here).
Hold a "one day" or "one week only" sale. It doesn't have to be a huge percentage or cash amount off (although that does help) to be successful. It just needs to prove its significance. If the sale is for a limited time, point out on every direct mail piece what dates this sale is happening. Create an urgency with the timeline.
Another option is to hold a sale on a seasonally relevant item. If you don't have an item that is obviously perfect for fall, create a reason that it is. Then display the item prominently on your advertising flyers, along with its uses for fall.
Do you have a new item you'd like to showcase? You don't have to hold a sale to create excitement. You can focus your marketing on the arrival of a new item that is here "just in time for Halloween" or "before the cold weather arrives."
These ideas should give you somewhere to start, but put your own twist on them, keeping in mind what your customers like and want, and you'll have a fall to remember.
Do you have your own fall marketing ideas? Share them in the comments below.
Writer. Marketer. Enjoying writing about printing and marketing. Other things to talk to me about at a cocktail party include travel, dance, and food. Find me on Twitter @writtenbyemilie