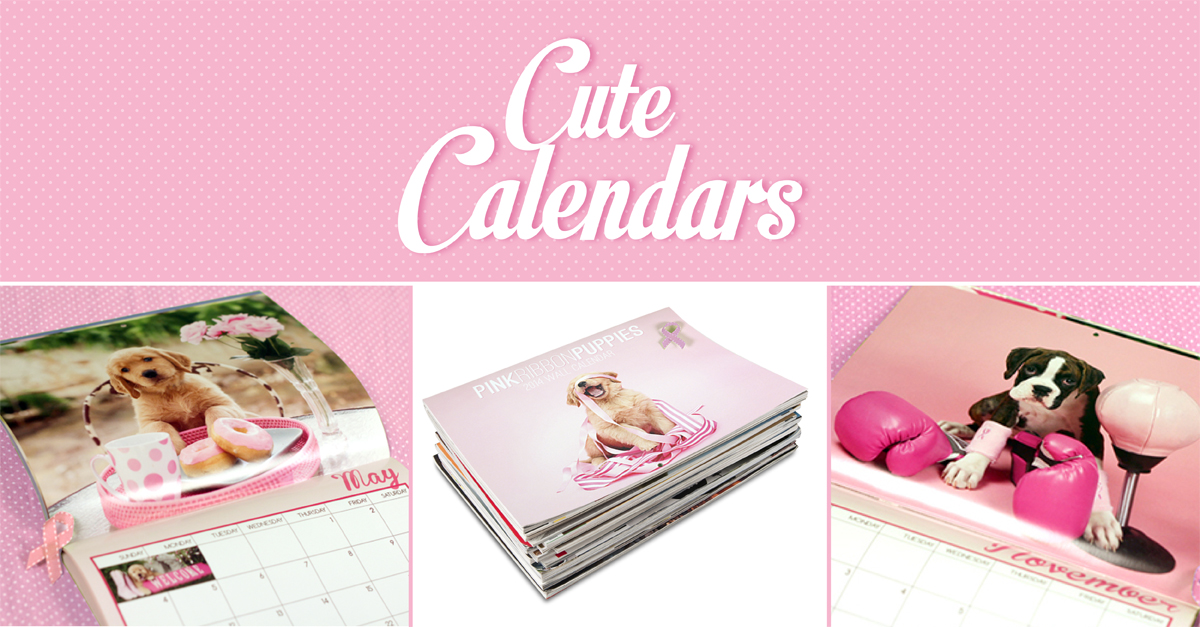 Calendar printing: Cute puppies and a good cause
What is better than a calendar printed full of cute puppies? How about a calendar full of cute puppies that are raising money to help breast cancer research?
That's the idea behind the Pink Ribbon Puppies calendars.
The puppies are adorned in pink for the cause. Each month features a puppy with a different theme. One is dressed in a pink bow tie, one in a pink tutu, and another in pink hair curlers. There is a puppy selling pink lemonade and another ready to play ball with a pink baseball glove.
How Pink Ribbon Puppies calendars started
Pink Ribbon Puppies was started in support of the founders' many affected friends and loved ones. It's a volunteer-run organization. The adorable photographs are the efforts of thank Dog. Photography, over 30 photo shoots, and a lot of puppy wrangling.
The website explains the puppies are borrowed from local rescue organizations and high-quality breeders. It verifies Pink Ribbon Puppies, "does not associate with or support puppy mills or backyard breeders."
The non-profit organization has a few different products available, but calendars are the main focus. There are two different versions of the wall calendar as well as a pocket calendar. All three were printed recently at PrintPlace.com.
Calendar tips to keep in mind
PrintPlace.com actually offer five sizes of calendars, as well as options like hole drilling and shrink wrapping.
What is hole drilling? Hole drilling makes that little hole at the top of a calendar. Its purpose is to neatly hang the calendar on a push pin or nail.
If you will be selling and shipping your calendars individually, you will want them to stay closed and sealed during shipping. Shrink wrapping can help keep them clean and unwrinkled. Chipboard can also be added for stability. We can customize your order with either of these options. Give us a call at 877-405-3949 to see what is right for you.
Since PrintPlace.com now has digital printing, you can order as few as 25 calendars, and of course you can still order a lot more with our professional offset printing!
I can't wait for January 1 to get here so I can hang these pink puppies up at my desk. They will make me smile every day!
Writer. Marketer. Enjoying writing about printing and marketing. Other things to talk to me about at a cocktail party include travel, dance, and food. Find me on Twitter @writtenbyemilie