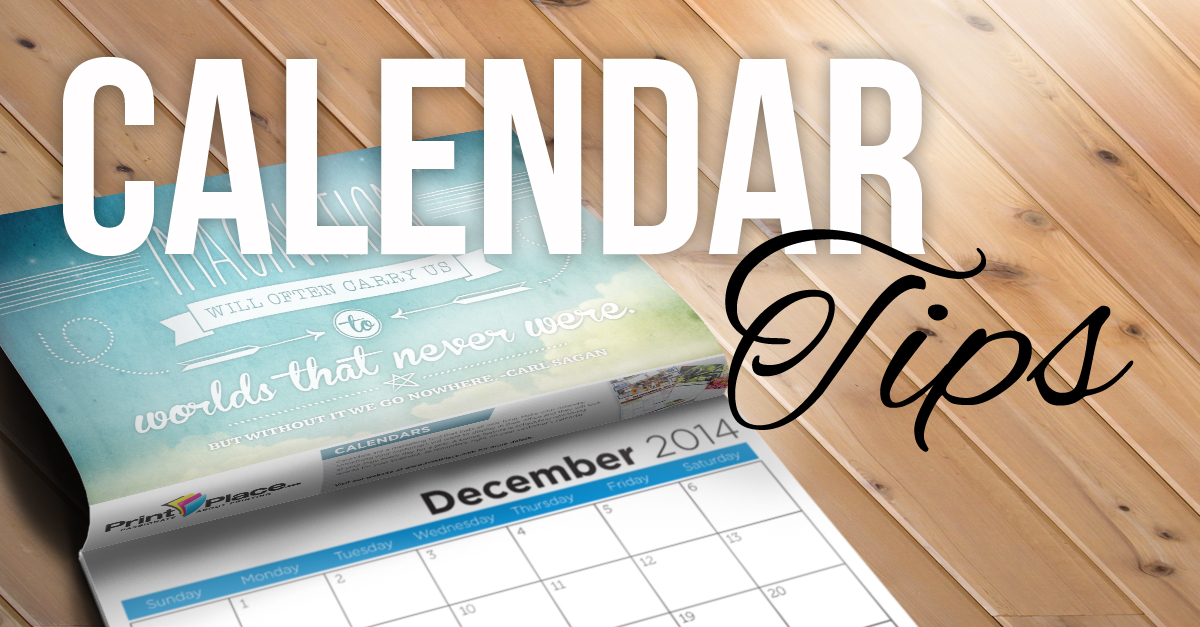 Calendar printing made easy with 5 simple tips
Calendars are a marketing tool that people actually use, and we are all about calendars right now at PrintPlace.com. We just finished creating our own calendar and they're being printed as we speak.
Calendars are great promotional items because people like to receive them and they are easy to brand for your business. Customers hang them up where they see them every day, and get a daily reminder of your company. Not only will your customers then see the calendar, and your brand, but their friends and coworkers will as well.
The first step is to create an attractive calendar that people will want to use and share. Here are a few tips to do just that.
1: Consider your paper
Consider the purpose of your calendar before you choose the paper. Uncoated paper is best if your customers will write a lot on your calendar. If it's for scheduling or making notes, the uncoated paper is the best choice.
Glossy is the best choice if it's mostly for decoration. Calendars that will be hung up, are primarily for keeping track of dates, and mainly highlight a photo, are best suited for a glossy stock. This will showcase the photo in its best light and look the most professional.
2: Use high-quality photos
Be sure to use high resolution photographs, 300 to 1200 dpi, as the quality of photos can make or break the success of your promotional tool.
3: Be creative with your photos
Make sure your pictures are attractive and interesting. Get creative with them to give them maximum effect.
For example, if you run a restaurant, you could feature toddlers dressed like adults, poised as customers.
For a business that makes custom jewelry, you could include a photo each month that details a different step of the jewelry-making process. Then you could include a little information at the bottom of the picture.
If you own a bakery, photos of your baked goods might stand on their own, but including a recipe underneath each can add to the value.
4: Use interesting photos
Your products don't need to be the subject of your photos though. If your business isn't something people are likely to hang up, use photos that will catch attention. People like seeing pictures of their hometown. You could include local landmarks or places of historic significance. You might also take pictures of local festivals and events.
5: Include your company logo
Don't forget to include your logo and contact information on your calendar, so customers remember your company. It shouldn't be the center of attention, but should be easily seen on every page.
We will even lay out your calendar for you if you like!
This option makes calendar printing even easier. Send us 15 photos to include, and we will do the rest. Find all the details of our custom calendar printing service on our website.
Whatever your business, a calendar is an excellent way to connect with customers and create loyalty by giving them a gift they can look forward to each year.
If you have any questions about creating or printing a calendar, at any step of the way, you can call us at 877-405-3949, M-F (7am-8pm CT).
Oh, and if you'd like to see one of our own PrintPlace.com marketing calendars, you can call us about that too. Each month has an inspirational quote, written in the midst of a really cool design. We've been working hard on it, so I'm looking forward to hanging one in my office (ok, cubicle). You can hang one in your office to inspire you too, if you like. It's free since it shows off our amazing calendars. (Beginning to see how this works?)
What type of photos do you use for your calendar? Share them in the comments below.
Writer. Marketer. Enjoying writing about printing and marketing. Other things to talk to me about at a cocktail party include travel, dance, and food. Find me on Twitter @writtenbyemilie