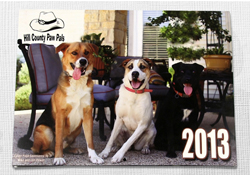 Calendars have become a major fundraiser for Hill County Paw Pals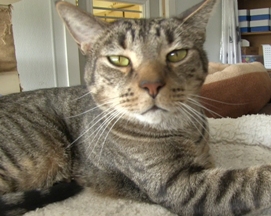 Our latest customer spotlight is about Hill County Paw Pals. They print calendars every year with PrintPlace.com, and it has become one or their biggest marketing efforts. We headed to Hill County to see the shelter and talk to the people that run it.
When we arrived, we first took a tour of the shelter. We passed cages of snout after snout, sniffing, barking, and smiling at us. It wasn't a place of despair though, it was a place of hope that these dogs and cats would soon find their forever homes.
The walls reflected this mission with brightly-colored paintings of animals. The cats, dogs, and even a squirrel in the paintings each represented a former tenant who has now found a good home and a new life.
Why Hill County Paw Pals is important
When Mike Hendricks, founder and president of Paw Pals, moved to Hill County with his wife, they had six dogs show up at their door within a year. It was obvious that there was a pet overpopulation problem, so they began raising funds to open a shelter.
They, and everyone else who works at the shelter, do so on a completely volunteer basis. They focus on educating the public, animal control, adoption, and have a low cost spay and neuter clinic on site as well.
Many of their dogs are actually adopted out of state to places like Colorado and New York. We heard one moving story about a dog who had lived the first four years of his life on a chain, but was adopted from Paw Pals and now lives on a wide-open farm in California.
How the calendar promotion benefits the animals
Hendricks explained how their annual calendar promotion works. One family or business sponsors each month and the cover. Each month typically includes a photo of the sponsor's pet, sometimes with the owner, but is almost always a rescue from Paw Pals. These sponsorships cover the cost of printing. Then, every calendar sold becomes profit for the shelter. The fundraising goes to operating expenses like food, shots, and medical expenses for injured animals.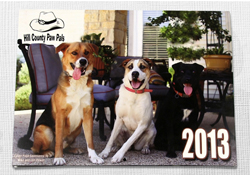 The pet calendars have become a major fundraiser, Hendricks said, "but more important than the money is that these calendars are on people's refrigerators, and…in their office, so that we have everyday advertising for our mission."
Sue Ponde, adoption coordinator, told us they sell their calendars at the shelter, at schools, banks, local businesses, gas stations, and wherever volunteers take them. Some people even request to have them mailed every year after adopting a pet. Wee-Paws are also a big part of selling the calendars.
Wee-Paws is a group of Junior High School volunteers who spend time with the animals. The day of our visit, the Wee-Paws group was there shooting for the month they sponsored on the 2014 calendar. They posed with a number of the adoptable cats and dogs.
Getting everyone to sit still for photos did take some effort. The kids constantly rubbed whatever fur baby was currently occupying their lap, hoping to keep them happy and still. Other volunteers helped a particularly fun-loving lab by barking and howling at him from their places behind the camera. His response was a picture-perfect head tilt, and the camera quickly snapped away.
Why PrintPlace.com is their calendar printer
Warren Smith is the one who found PrintPlace.com. He set up the Hill County Paw Pals website and designs the calendar every year.
He said, "I went and looked on the internet for a printing place…looked at PrintPlace and one or two others, but PrintPlace was just without question the place to go for your printing needs."
"PrintPlace was really great. Somebody is willing to work with you. They can talk to you on your level… From the initial call to the end, it has always been a very positive experience to work and have your production done with PrintPlace," Smith said.
At the end of the day, as two animal lovers, it's amazing we came home without any new pets. There was one orange cat and a couple Jack Russells that came close though.
Ponde's statement best sums up what the calendar's profits, and the mission of Hill County Paw Pals attempt to do. She told us her hopes were "that we don't have any more stray animals. We don't have any abused animals."
See what we found when we visited the Hill County Paw Pals shelter in our video at the top of the page.
Writer. Marketer. Enjoying writing about printing and marketing. Other things to talk to me about at a cocktail party include travel, dance, and food. Find me on Twitter @writtenbyemilie