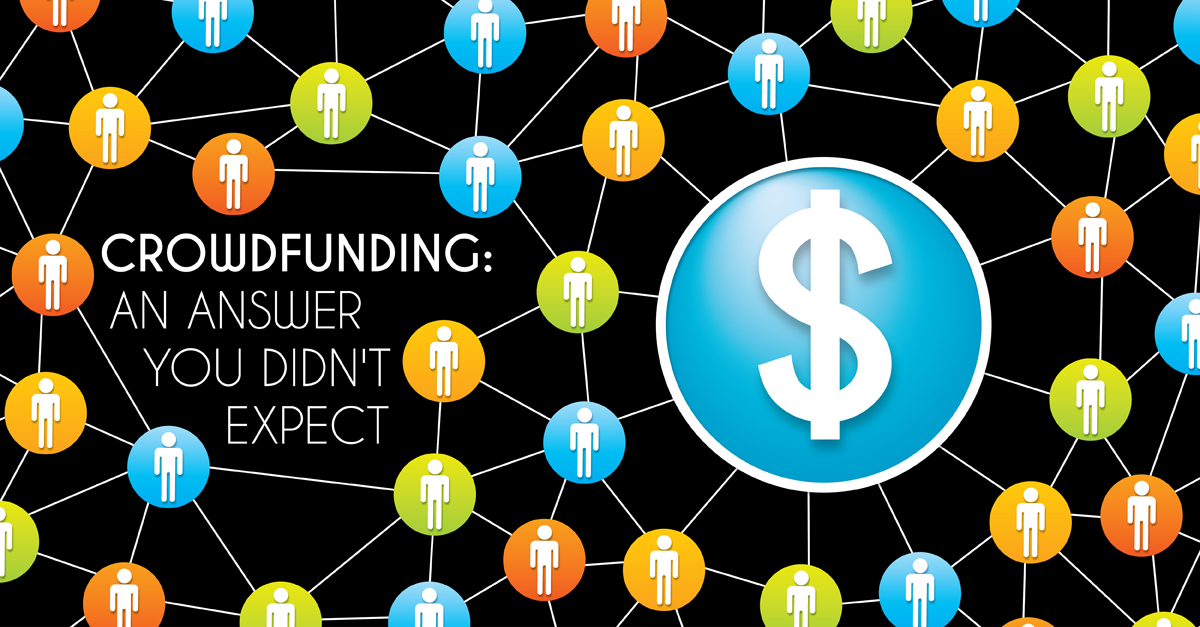 Crowdfunding could be the answer you didn't expect
Crowdfunding has become an answer to fundraising for artists, inventors, and entrepreneurs of all types. Projects that once seemed impossible to fund have become some of the biggest success stories of this new phenomenon. Nonprofits aren't the only ones benefiting from this type of fundraising. You might be surprised what type of projects have been successful and what this strategy could do for your goals.
What is crowdfunding?
Crowdfunding is a method of raising funds from the public for a specific project. Typically gifts are offered for different levels of support. Depending on the rules of the specific website, first looks, advanced products, and even profits are promised to backers of successful campaigns.
Zach Braff's crowdfunded movie
One of the biggest success stories early on was the Kickstarter project for the movie "Wish I Was Here." Zach Braff's passion for his project wouldn't let him give in to the demands of Hollywood financial backers. He came up with a plan to find his own funding without compromising what he felt was the artistic integrity of the film, and he did so with the help of his fans.
Braff's May 2013 project brought attention to a fundraising method and a website that many people had not yet heard of, or at least didn't yet fully understand. The CEO of Kickstarter himself told The New York Times what a positive impact this had on the site as a whole.
"It created this halo of people finding other things they were interested in, and there was zero evidence whatsoever to support the counterarguments. I see it as a wholly positive event, and I'm grateful that people cared so much to have a serious discussion about it."
A little help from your friends
The dedication of Braff's followers no doubt made hitting his goal possible in the mere 48 hours that it took. From those dedicated to "Scrubs," and the cult following of "Garden State," to the passion for indie films and Braff's artistic outlook on life, made the decision to support his new project, an easy one for them.
There were people who spoke up against Braff's use of crowdfunding, but that's the beauty of the method. Those who are happy to show support for something they are passionate about, are given the power to make it happen. The project happened because over 46,000 people wanted it to happen.
One thing that's clear from "Wish I Was Here," and other ideas like the Coolest Cooler (currently the biggest fundraiser on Kickstarter with over $13 million raised) is that people will get behind projects of all types if they like it.
What project are you currently trying to fund? It is so easy for us to get stuck in the same routine; we send an email about needed funds over and over to the same list of people or host the same low-attended events.
A quote that keeps emerging in my life lately (in fact my husband quoted it to me last night about his own work project) is one you have heard many times as well.
"The definition of insanity is doing the same thing over and over again, but expecting different results."
Is there a project you want to fund but have always pushed it aside, thinking it was too expensive or too big of an undertaking for you or your business? What if you had thousands of people willing to back your project? That would certainly change your outlook.
Even you (yes you) can crowdfund
With some preparation and promotion, you could run your own successful crowdfunding campaign.
Clean, interesting photos are essential to grab interest and instantly show your project's legitimacy.
Promotion is a must. Email, social, and direct mail can get your campaign out into the world. Send a postcard with the details of your campaign, why it's important, and why it will benefit the backer. Make sure your project's URL is big and clear.
Don't forget PR. Use your time wisely and contact local or topically relevant newspapers, television and radio stations, and bloggers who write/report about your area/topic. Give them a story they will want to tell. The more closely they fit your topic, the more likely they are to be interested in your story.
I would also point you to this article on Entrepreneur which has more specific advice on launching a successful crowdfunding campaign.
Utilize all your resources to branch out from your standard donor list. Although these donors may, of course, be counted on for some support, this is an opportunity to drawn new supporters. The idea behind crowdfunding is that donors aren't just sending money to a cause; they are getting intimately involved in it. Braff's supporters received not only movie swag for their support, but also updates, set visits, and exclusive screenings, creating priceless rewards perks.
To get your own crowdfunding project started, check out Kickstarter, GoFundMe, and Crowdfunder, or learn the differences between them and which crowdfunding website is right for you.
Writer. Marketer. Enjoying writing about printing and marketing. Other things to talk to me about at a cocktail party include travel, dance, and food. Find me on Twitter @writtenbyemilie