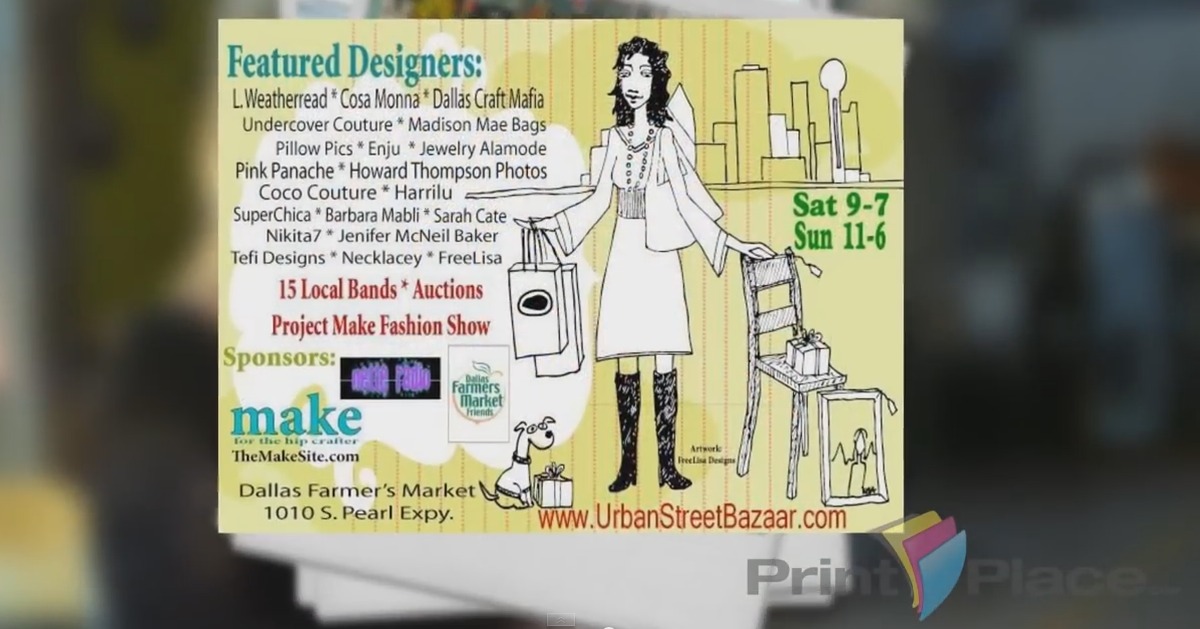 Custom printing is the best way to promote this local business
In order to promote special events at her studio and the Urban Street Bazaar, Julie McCullough, owner of Make + Made, prints flyers and booklets with PrintPlace.com. She is able to easily put her own style into them, and print in large quantities, while keeping the costs low.
See how she spreads the word about this fun event in the video above, as well as more about starting her distinctive businesses with unique items from local vendors.
Make + Made is a studio that offers classes with modern projects in traditional mediums like sewing.
It is located in the Bishop Arts District of Dallas, TX. This area is full of independent restaurants and unique shops and art galleries. People drive from all around the Metroplex to eat, shop, and relax in an area with a different atmosphere from the rest of the city.
Julie also opened the IndieGenius boutique in Bishop Arts when she realized there was a hole in the market. She created a place for micro-boutiques to sell their merchandise in a venue other than online. The shop offered spaces for local, independent designers to set up for their homemade and vintage goods. Findings in the shop included unique clothing and purses, jewelry, cute kids clothing, original artwork and home accessories, along with vintage furniture, wall décor, and more.
Julie has since refocused her efforts from IndieGenius to expanding Make +Made and the Urban Street Bazaar. The bazaar brings the experience of IndieGenius onto the street. It's a venue for exceptional local crafters to sell their homemade and vintage items. Shoppers can find modern crafts and designs in a variety of mediums, along with live music, and of course, the artistic atmosphere of the Bishop Arts District. As Julie tells it, "This isn't your grandma's craft bazaar." It is now held two or three times each year.
How does your business' style show through in your printing? Share in the comments below.
Writer. Marketer. Enjoying writing about printing and marketing. Other things to talk to me about at a cocktail party include travel, dance, and food. Find me on Twitter @writtenbyemilie