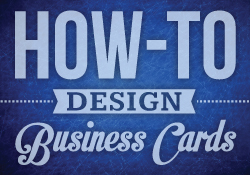 How to Design a Business Card – Graphic Design Friday
Business cards are a widely used networking tool across all industries. They are an easy and useful way to give out your information. Because they are so convenient, everyone uses them. That means that it's easy to get lost in the crowd (or the pile, or the purse, as the case may be).
Your business cards need to look professional in addition to beckoning the holder to contact you. Not only is the included information important, but the design elements, that are often overlooked, are as well.
That's why PrintPlace.com's graphic designer, Sharon, is focusing this week's graphic design tip video on how to design a business card.
Video Transcription
Welcome back for this Friday's graphic design tip from PrintPlace.com.
Nothing teaches you good design like putting together a business card. At only two inches by three inches, there's only room for essentials, so good typography and illustration are important.
The best advice is to keep it simple. Build the card around your logo. This is how people will remember you later, so don't let your logo get lost in the design.
Limit the business card to two or three colors. Again, readability is a must. Too many colors, especially bright ones, distract from your message.
Also consider adding a photo to the front or back of your card. If you're designing a personal business card, include a professional photo of yourself. Or, if it is your business, include a photo of your building or products.
Use good typography. Overly ornate, too thin, or too bold fonts have no place on your business cards. Don't use fonts any smaller than 6 pts. 6-12 pts is a good range. There are some fonts you should never use. For example, Comic Sans may seem fun, but it really says "unprofessional" and screams "poor taste." Learn more by clicking here.
One last tip…Leave some blank space on the front or back of your business card. In addition to your email, phone number, and website, you may want to write a note to the person you're handing the card to. Especially at networking events, people get a ton of cards. Leave them a note to help them remember how and where they met you.
That's it for this week. Come back next week where we'll talk about how to design door hangers and custom boxes with logo. Don't forget to subscribe!

PrintPlace's mission is to provide customers with unparalleled printing services through the knowledge and expertise of its employees.