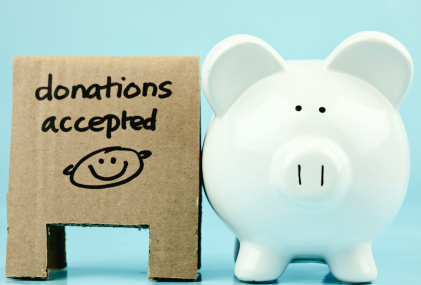 How to Raise More Money Every Day of the Year without Seeming Pushy
Does fundraising seem a struggle for you?
If you're a non-profit looking to raise more money this blog post will help you.
Chances are you aren't getting anywhere near the amount of financial support you could be… but, it's not due to the economy, nor is it due to donors not being that interested in giving. It is most likely for one reason…
Your Donors Simply FORGOT About You.
Many donors mean to donate on a regular basis they just get all tangled up in life, running the kids around, dealing with work, taxes, family events… the list goes on and on.
But, there's a very simple way you can gently remind them to donate every single day without being a nuisance and without being pushy. In fact, they'll actually DONATE so you can remind them!
Sound too good to be true? It's not. I'll tell you a little more about that later in this article but first I wanted to give you an interesting fact…
According to Giving USA, over $300 billion dollars annually was donated in the United States in the last few years. That's a 5% INCREASE even during the recession.
Convinced you could be getting more of those dollars for YOUR organization's purpose?
Great! Now, I'll tell you how!
The way to gently remind them every single day without being a nuisance and without being pushy is quite simply…
To Get a Beautiful Calendar Prominently Displayed in their Home or Office!
By having this calendar in front of them every single day they will get a gentle reminder of your shared purpose. They won't feel like they're be hounded a single bit either.
This calendar will serve as a gentle reminder of that purpose.
Since it is also THEIR purpose to support your cause they will, at some point, think to themselves, "You know, I should send a donation to those guys. They're doing such great work."
Sometime after that, when they get an email, letter or phone call during a fundraiser, they'll remember they intended to do it a while back but just got too busy and they'll be all ready to donate. And, don't be surprised one many people do it without even being asked.
Works beautifully!
Remember earlier in this article when I made this bold, almost unbelievable statement, "In fact, they'll actually DONATE so you can remind them?"
Well, there's no real trick to that. You just make the calendar a part of a fundraising effort itself. You can sell the calendar for whatever donation amount you want.
If you have the funds, I'd sell it for next to nothing and get it in as many hands as possible because it's going to pay off in spades in increased donations for the next year. (The more ambitious will send it out free to all previous donors.)
If you've never put together a calendar before it's really simple.
Simply go to this page: PrintPlace Calendars to start an order. We're giving $150 off if you place your order by August 30th. Use the code 150Calendar at checkout. This does NOT mean you have to have your calendar already to go. You can place the order to lock in the discount and then upload your calendar artwork when you're ready to go.
If you've never designed a calendar you can use our special calendar layout service by going here:
https://www.printplace.com/products/calendars
If you need calendar layout service you can select it during checkout.
These graphics will help you select that service during checkout: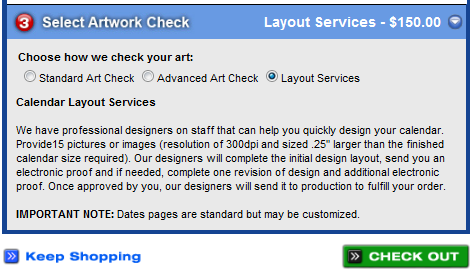 And, if you need help with pulling this off our customer service would be more than happy to assist you.
Happy fundraising!
Jason Bedunah
P.S. If you have any questions feel free to contact me at Jason@printplace.com