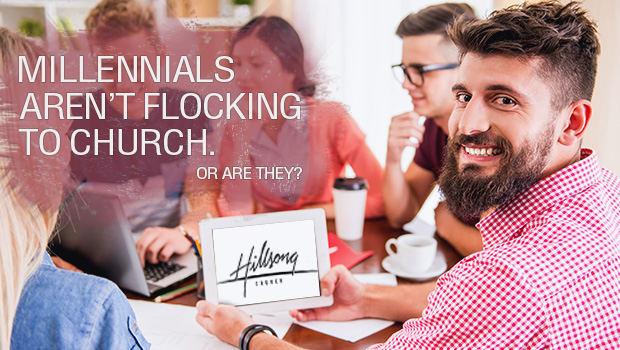 Millennials Aren't Flocking to Church. Or Are They?
According to Forbes Magazine, "millennial" is a term first coined in 1991 by Neil Howe and William Strauss to describe the group born after Generation X, with birth years ranging from the early 1980's to the early 2000's. Millennials are a big topic amongst church researchers and thought leaders. Seemingly elusive, are millennials really as hard for churches to reach as all the media suggests?
Barna, a company specializing in research to analyze trends in faith and culture, has a whole section on research for Millennials & Generations. Barna classifies millennials as simply "30 and under." Barna's research on what type of worship space millennials prefer found that, even though they prefer the term "modern" over "traditional," when surveyed, the actual elements they selected as ideal were a mix of traditional and modern. For example, "sanctuary" garnered 77% of their vote, whereas "auditorium" was 23%. Similarly, "classic" scored 67%, versus "trendy" at 33%. Barna concludes the study by pointing out that this generation is complicated, and a one size fits all mentality won't be effective in reaching or retaining millennials. One overwhelming constant the study revealed is that they do want community over privacy or anonymity, so each church should consider how they can best provide community to this segment of their congregation.
One popular voice on the subject is Rachel Held Evans. Evans published an oft-quoted article on CNN's Belief Blog in 2013 detailing her thoughts on "Why Millennials Are Leaving the Church." At the time, at the age of 32, she noted that she barely qualified as a millennial, but related more to that generation in her struggles with how to live her faith. Evans pointed out the divisiveness the evangelical Christian community can incite, by making people "feel they have to choose between their intellectual integrity and their faith, between science and Christianity, between compassion and holiness." Evans points out that acceptance is important to her and all millennials – and that "[we] want to be known for what we stand for, not what we are against."
So how can you reach the younger generations without alienating them?  Use of technology can help engage younger members or visitors by letting them interact with the familiar – their smartphone. Millennials use their smartphones for so many everyday needs, that it feels more comfortable for them to access scripture, podcasts, or other church information digitally. However, don't overlook traditional methods for supplemental communication as well. According to Direct Marketing News, research conducted by Money Mailer found that 87% of 25- to 34-year-olds like receiving direct mail promotions in their mailbox and that 90% consider information received this way to be "reliable." Translated into church communications, this means sending physical postcards and direct mail to supplement your digital communications. Similarly, millennials will still use printed invite cards to pass on information to friends and acquaintances who may be looking for a church home or a church-sponsored event.  Consider adding a contemporary or non-traditional worship service in addition to, or even as an alternate choice during the same time, that will better speak to this age group.  Fill it with worship music that they prefer; look to the musicians and musical styles associated with Passion Conferences as a reference. Passion Conferences is an annual worship experience, founded by Louie Giglio, specifically created for young adults between the ages of 18 and 25.  On January 2, 2015, more than 20,000 young adults gathered in Atlanta to hear messages from Giglio, Francis Chan, John Piper, Christine Caine and Judah Smith, as well as worship through music. Popular Christian musicians associated with Passion Conferences include Chris Tomlin, Matt Redman, David Crowder, Christy Nockels and Kristian Stanfill.
One church that has successfully reached millennials is Hillsong, a progressive church in the heart of New York City. Led by Carl Lentz, a dynamic young pastor who could easily be mistaken for a member of his congregation. Hillsong's mantra is acceptance. Lentz says their "come as you are" attitude provides a welcoming environment that speaks to a wide audience, which he calls an "eclectic mix" of all races, ages and economic levels. Since I don't live in New York and can't attend a Hillsong service in person, I recently watched Inside Hillsong, New York City's Hippest Megachurch, to get an idea of what brings 8,000 people a week to worship.  What I saw was a huge meeting of mostly young people, in a "non-traditional" church setting, with a charismatic pastor on stage, yet he is reading straight from the Bible. That's where Lentz does stick to tradition – his stance is that the reading of the Word is unwavering, and everything else is open to however people feel comfortable, as long as they are there to hear God's message for themselves. Ultimately, if they don't feel welcomed enough to come, the message can't be heard at all. The video was part of a larger, engaging article in GQ, in which Taffy Brodesser-Akner, who also happens to be Jewish, details her experience meeting with Lentz and attending several Hillsong services. Akner balances objective journalism with a sincere curiosity and ultimate affection for Lentz's authentic love and passion for using his "celebrity" to spread what she deems "his Good News."  She points out that even though he believes the historical evangelistic hot buttons such as abortion and homosexuality are sins, he still genuinely wants everyone to feel welcome and accepted at Hillsong. "More than any of that," Akner writes, "he only believes those are the headlines of your life. They are not your story. Your sin is not the biggest part of you, no matter how much it might feel that way."
In the end, relevance may be the key to reaching millennials. When asked by the Christian Post how he balances being relevant to the younger generations and engaging the culture with preaching orthodox theology, Pastor Matt Chandler of The Village Church says he believes there's nothing more relevant than orthodox Christianity and that "it and it alone has the power to transform lives." Similarly, Carl Lentz told the Christian Post, "You know, the gospel is relevant and makes sense to people in different ways. Sometimes, different churches have different feels. Maybe someone will not connect with Hillsong New York City but they go down to your church and connect with that."
Faith-Based Segment Manager