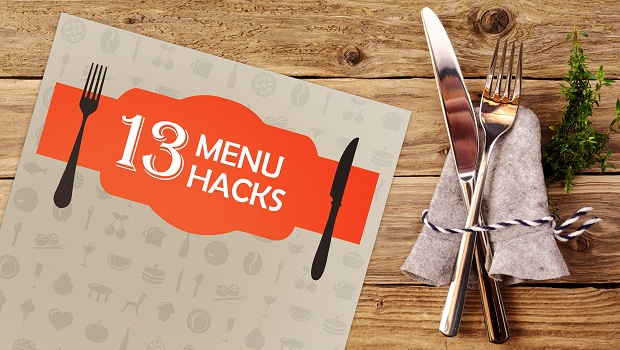 Create the Optimal Menu Layout With 13 Menu Hacks [Infographic]
How you lay out your restaurant menus will affect not just dining experiences, but your bottom line as well. An optimal menu layout is perhaps not on top of every restaurateur's to-do list. But it should be. Several studies have proven that how menus are designed can mean significant differences in everything from customer turnaround times, to revenue per sale, and ultimately — profit margins. Given the difficulty involved in making a bar or restaurant profitable, most of us need all the help we can get.
This helpful infographic is based on a previous post 13 Menu Hacks Your Bar or Restaurant Can Use to Drive Sales, which you should check out later for a more detailed look into the popular strategies laid out below. If any food entrepreneurs are reading this, feel free to chime in with strategies that have worked for you in the comments below.

---
Some things you must know
---
Your specific optimal menu layout design should depend both on context and on your desired outcomes.
It's best to develop your brand and business plan before you work on your menus.
Ask yourself: what do I want my menu to achieve? Something always has to give. For example layouts that result in faster turnaround times are not always going to result in more revenue per order, or a better customer experience.
If you have the opportunity, do an A/B test with different menu designs.
You can also print special menus for children, and for the holidays. If your restaurant receives a lot of non-English-speaking customers, consider printing menus in their preferred language as well.
If you do order special menus, be sure to design them from the ground up, rather than just a straight remake of your main menus. Children's menus should take into account how a child would choose food. Perhaps consider using more pictures on these menus even if your restaurant's main menu doesn't use them for brand reasons. Menus in languages other than English should likewise, take care to design for cultural considerations specific to the people who speak that language. The meanings of color for instance, can vary from culture to culture.
---
Sources
---
---
What other menu layout tricks can you share? Comment below.
---
Arthur Piccio is a feature writer and subject matter expert for the PrintPlace Blog. In his spare time he studies guitar and writes about goats.