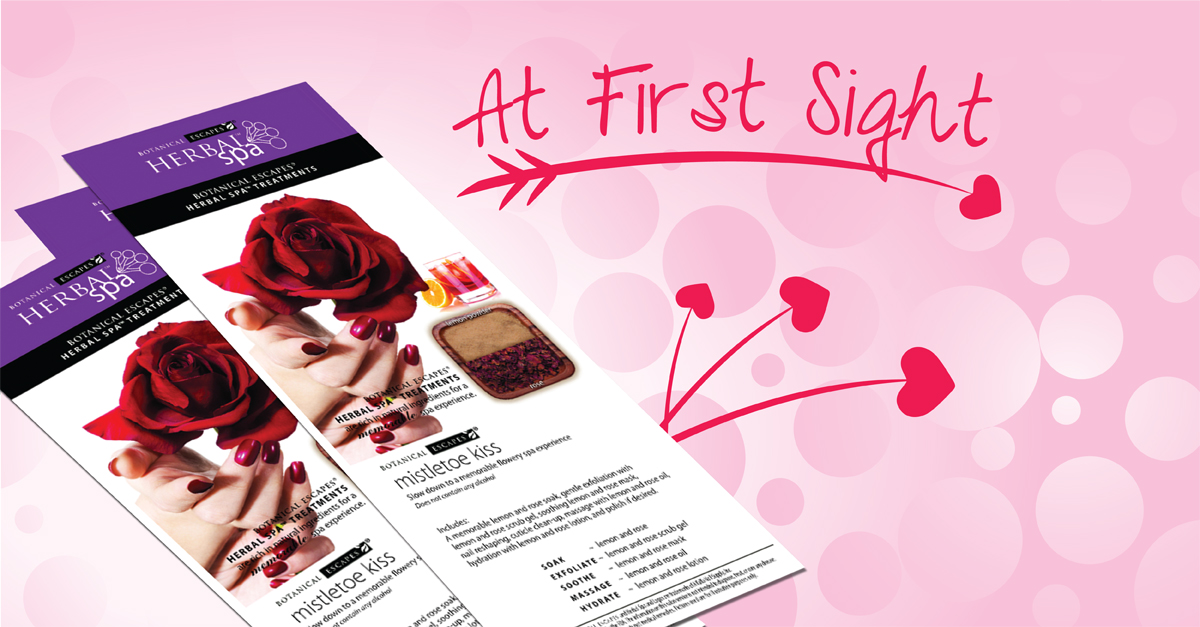 Rack cards: Powerful marketing at first sight
Rack cards are an effective marketing tool, because a simple, bold message on the front of a rack card will grab eye contact from across the room. Once a customer gets to know your business a little better by reading further, she won't be able to get you off her mind, and won't want to wait to call you.
Spas are one type of business that uses rack cards to advertise specials and services in a compact, attention-getting form. Simply feature a relevant message.
A massage for Valentine's Day? Yes, please. How about a couple's massage? Great idea. Maybe add in a box of chocolates to sweeten the offer.
Valentine's Day opportunities
I'd take some sweets any day, so for Valentine's Day? Of course. I actually told my husband I'd like a cupcake for Valentine's Day this year. Sprinkles Cupcakes advertises a box of a dozen Valentine cupcakes, but who can eat 12 cupcakes? They are delicious, but come on. With that in mind, I told him I'd like a Sprinkles cupcake for Valentine's Day. Just one. I don't need expensive jewelry. I just need a baked good. I'm pretty easy to please.
In the end, I realized I had fallen capture to their advertising. Even if I'm not buying the box of 12, they got me to think about their sweet, moist cupcakes, and I've been craving them ever since.
The power of suggestion
That's the job of advertising, of course. If a company can plop a little ball of an idea in your head, that will rise, and bake into a full blown sweet craving, they have succeeded. Most people, even those in the advertising world, think they are immune to it. They think that if they know they're being marketed to, they can resist, and make their own, uninfluenced decisions. The truth though, is that out in the real world, there is no escaping it.
My point, is that every business should promote themselves. Give someone the right glimpse of your business and they will be intrigued. They will want to know more. They will be familiar with your name the next time they see it.
With Valentine's Day coming up, many businesses are choosing to promote specials perfect for romantic gifts. Sweets, along with massages and spa packages are popular options.
Eye contact from across the room
So, what is a good way to give customers a glimpse at your business? Rack cards have had practice doing just that. Paint a picture of the perfect Valentine's Day gift on a rack card and you have an easy sale.
Because of their size and shape, rack cards only have room for the most important information. This also makes them perfect to deliver a message with just the quick glance they are sometimes given.
Focus on creating a design with a photo and headline that instantly capture attention and deliver your message. Then place them on the front desk of your business, at grocery stores, doctor offices, hotels, restaurants, wherever you can capture attention for just a moment.
Have a special Valentine offer? A new service? Make that the central message. The back can include more information about how to follow up. If the front is enough to capture their attention, they'll take it with them and contact you when they get home and see it in their purse or pocket.
Writer. Marketer. Enjoying writing about printing and marketing. Other things to talk to me about at a cocktail party include travel, dance, and food. Find me on Twitter @writtenbyemilie