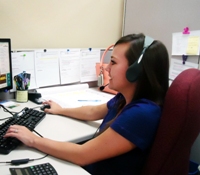 The people behind PrintPlace.com: Customer service edition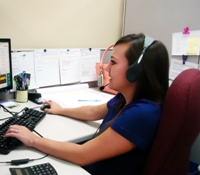 Earlier this week, Tim, his camera, and I, headed upstairs to our customer service department for our latest installment of "The People Behind PrintPlace.com."
When we mentioned we wanted to come and talk, ask them about their jobs, and video them, they were fine with it as long as we understood that the customers came first. They said that even if we were in the middle of shooting, if our subject's phone rang, the interview would have to be stopped. Each call had to be answered immediately. We happily agreed of course. The point of this post was how important our customers' happiness is to PrintPlace.com and how well our customer service department projects this company value. We were secretly hoping someone would need to answer the phone mid-sentence, so we could capture it on film. That didn't happen, but phones were constantly being answered in surrounding cubicles during the interviews. You might even be able to hear these faint conversations in the background of the video.
Tim and I spoke with several of the customer service representatives, (the ones we could convince to speak on camera at least). We will get to how important customer service is to our company and to you, but first are a few of the hidden things we found about our customer service reps.
Kiara, although timid to speak on camera, proceeded to tell us about the vlog she keeps in her spare time. (Oh, a vlog is a video blog, if you weren't sure.) What does she vlog about you ask? "Hair, hair, and more hair. I'm actually documenting my hair journey," she told us. I'm not sure where her hair is going, but…ok, bad joke.
Mike, is an avid sports fan. He's a former quarterback and explained his theory that our customer service team is like an offensive line. He wants to ensure customers get the results they want, before anything has a chance to go wrong.
A common theme with all of the representatives was that they are busy and happy. They are constantly on their toes, because they know customers have deadlines to hit, but they also enjoy what they do.
"I get to talk to so many different people," Dena commented. "I feel like I could talk to anybody. I could tell you my life story right now."
Dena said that she is most proud to have her job any time she can turn an upset customer into a happy one by the end of the call.
They find time to entertain each other too.
Andrea told us that practical jokes are a regular occurrence in the department. One day she came in to find everything on her desk turned upside-down, even her computer monitors.
So, who will answer your call to the customer service department at PrintPlace.com?
As Andrea puts it, "I am that friendly print professional that you hear about in the prompt before someone picks up the phone."
For an explanation about Andrea's birthday hat, and all the fun and business that happen in our customer service department, watch our short video below.
Writer. Marketer. Enjoying writing about printing and marketing. Other things to talk to me about at a cocktail party include travel, dance, and food. Find me on Twitter @writtenbyemilie