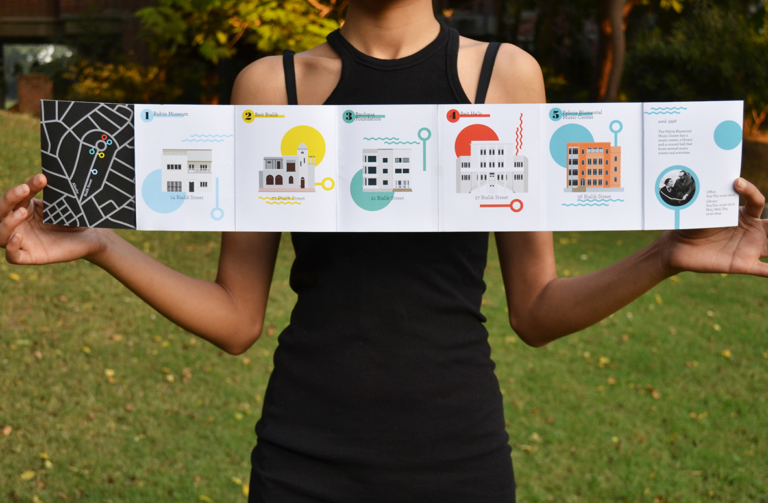 Travel Brochure Examples That Make You Want to Pack Your Bags
When you feel tired from the everyday hustle and bustle of life, it's always good to remind yourself that you are allowed to pause and rest. If you're in the business of travel, brochures are a great way to encourage people to take that well-deserved break.
Advantages of Travel Brochures
Why brochures?
Brochures may seem outdated in today's digital age, but they still prove to be very handy and useful – especially for those who like to travel. A study by Bentley University showed that printed brochures are the second most popular source of information for trip planners after the internet, with a usage rate of 52%. Additionally, 85% of respondents learned about an attraction or business through a brochure.
If you're still not convinced, here are more reasons why travel brochures are good for business:
Promote Destinations and Activities
Brochures are a great way to promote tourist attractions and activities. They can highlight must-see destinations and inspire travelers to try out activities that will make their trip worthwhile.
Build Excitement for Customers
Because of the beautiful sceneries and photos advertised in travel brochures, customers will be excited to travel and more inclined to visit various cities, cultural sites, and other tourist attractions.
Packed With Information
Travel brochures are not just filled with photos of destinations, but they're also full of information guests need in their stay. Some include the history of the site, activities available, vacation packages, rates, accommodations, and more.
Serve As Initial Point of Contact
Since travel brochures contain contact details, travelers can easily refer to it if they need to contact your business.
Easy Distribution
Travel brochures are easy to hand out or leave for people to take on their own. They can be displayed in different locations like lobbies, reception areas, or stores. Tourist brochures can also be handed out at events or included in giveaways.
Cost-Effective
Brochures are a more affordable option compared to other marketing materials. They provide a concise summary of the travel packages that you offer, so there's no need to print bigger print products to promote your business.
Establish Brand Authority
Printing travel brochures adds credibility to your business. It shows that you are prepared to invest in your customers and gives the impression that you're an established business in the industry.
Examples of Travel Brochures
City-Specific Brochures
City-specific travel brochures are great for guiding visitors – especially those who are traveling by foot. These types of brochures usually features maps, fun facts, historical information, and highlights of various attractions. Here are some examples of city-specific travel brochures:
Tokyo, Japan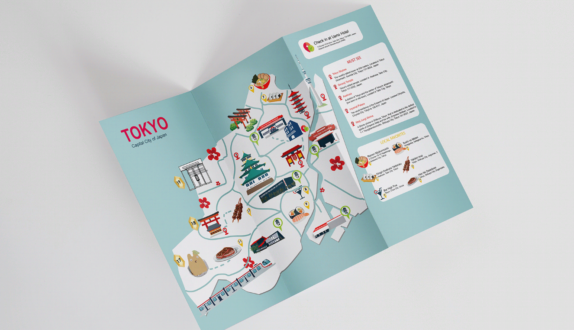 This travel brochure comes as a flat design map infographic that features five various attractions, and six local recommendations.
Tel Aviv, Israel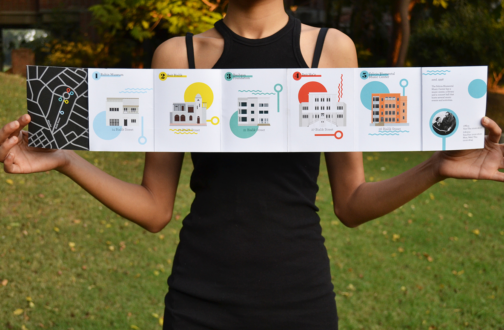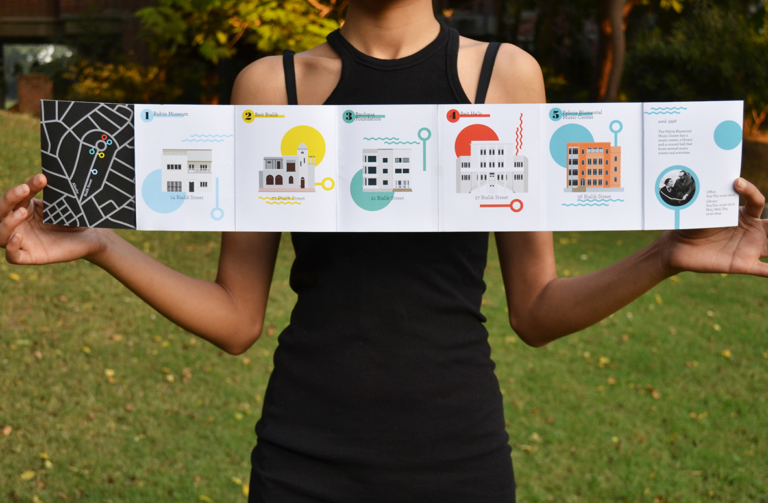 Travel brochures that have cohesive identity gives off a professionally designed look. A good example of this is the walking map of Tel Aviv because it uses a cool motif drawn from Bialik Square on each page.
Santorini, Greece
Santorini is well known for its classic blue and white palette. In this brochure, they chose a faux Greek font and mosaic-inspired tile patterns in their design to incorporate Greek motifs that visitors recognize.
Singapore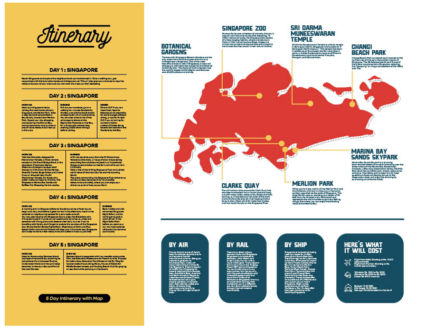 With its colorful street art, bold colors are often associated when it comes to Singapore. This city guide uses vibrant colors in its design and provides a recommended itinerary for tourists to help them explore the city.
Istanbul, Turkey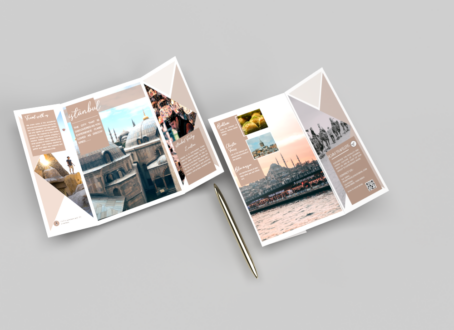 Aside from providing itineraries or infographics in your travel brochure, you can also add a QR code to your own design just like this travel brochure for Istanbul, Turkey. This helps guests find more essential information on the web.
Examples for Cultural Sites and Tourist Attractions
Travel brochures for cultural sites and tourist attractions usually incorporate beautiful visual representations, as well as a brief history of the region, site, or attraction. These are best displayed in places like travel agencies, hotel lobbies, and visitor centers. Below are examples of travel brochures for cultural sites and tourist attractions:
Palawan, Philippines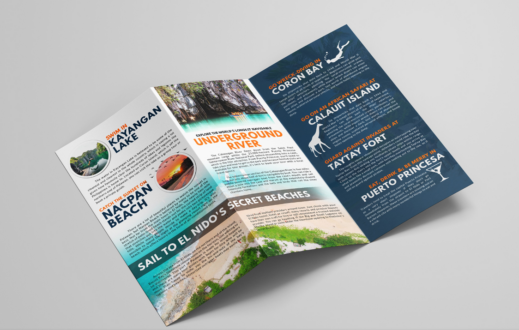 Photos of beaches, water, and sunsets are popular design elements when it comes to travel brochures. In this brochure, the dark blue color palette and wave are used to highlight the beautiful beaches of Palawan, Philippines.
Mountains of Bolivia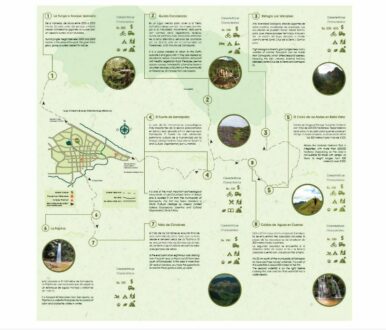 To promote the natural beauty of Bolivia, earthy colors such as green and brown are incorporated into the design. It also gives off a rustic look and feel, and highlights the various outdoor activities that visitors can do during their stay.
Trails of Taiwan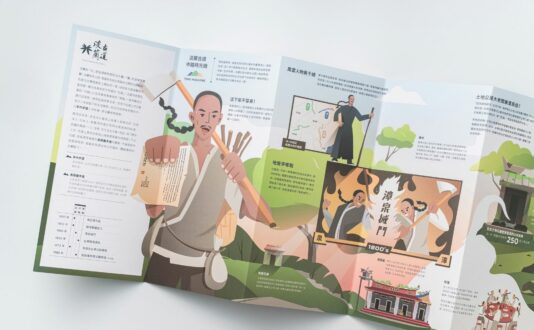 This brochure for the Trails of Taiwan serves as a historical guide and a trail map. Its colorful illustrations show the history of its indigenous people and promotes different attractions in the island.
Churches of Kaunas, Lithuania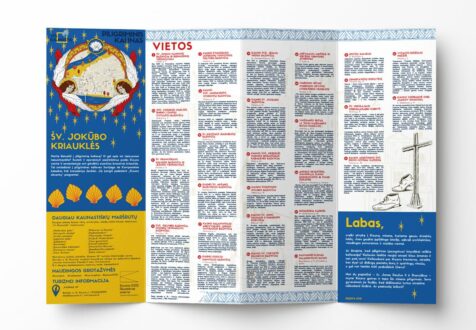 For a more folksy and authentic feel, the design for the travel brochure of the Churches of Kaunas, Lithuania features hand-drawn illustrations of church decor and Gothic iconography. Using these reflects the various religious sites the place features.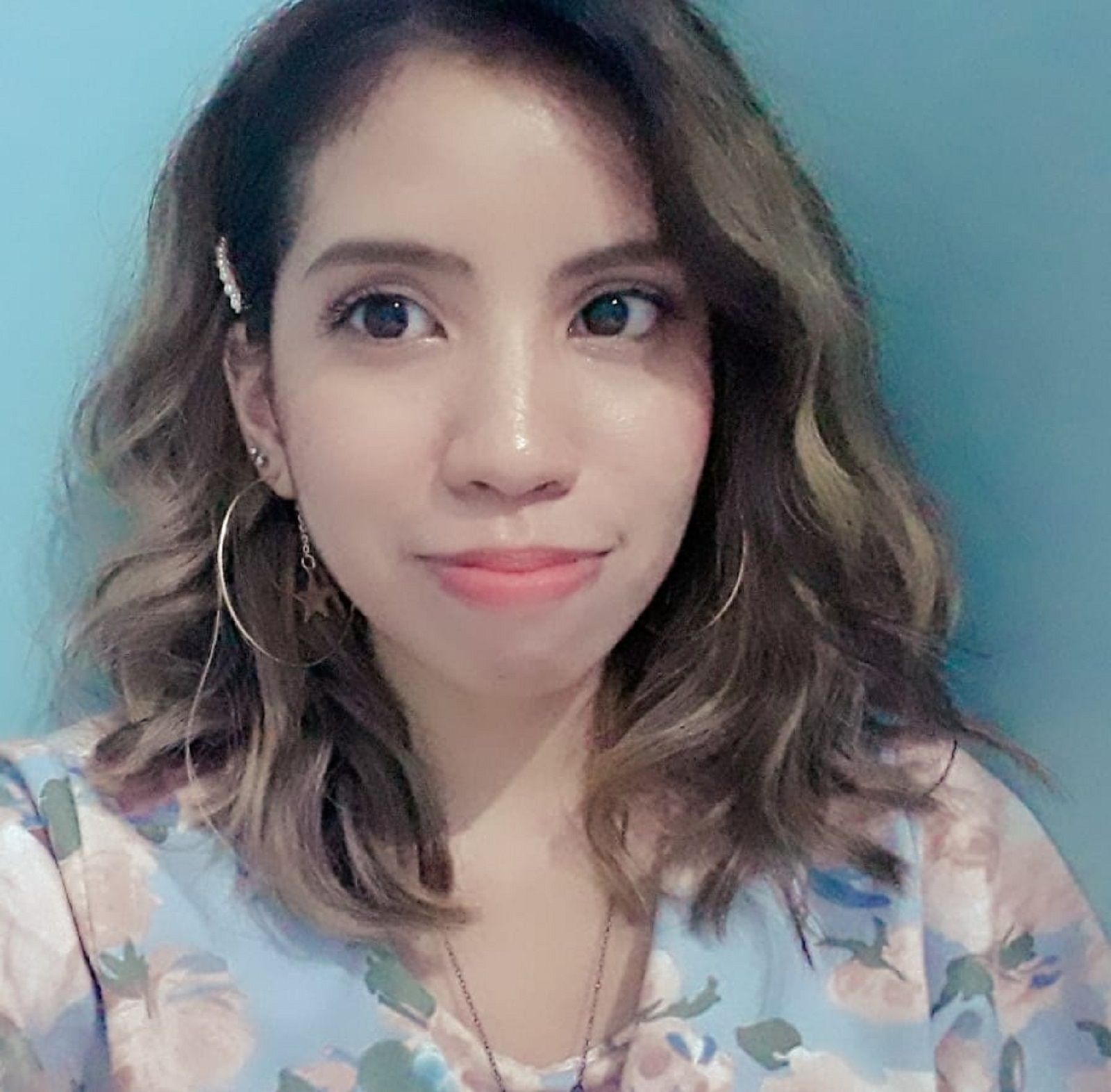 Elisha has over 11 years of experience creating various web content and pay-per-click ads for small businesses. She prefers to stay at home during her spare time. Her hobbies and interests include cooking/baking, playing games, watching sitcoms, shopping, and playing with her dogs.