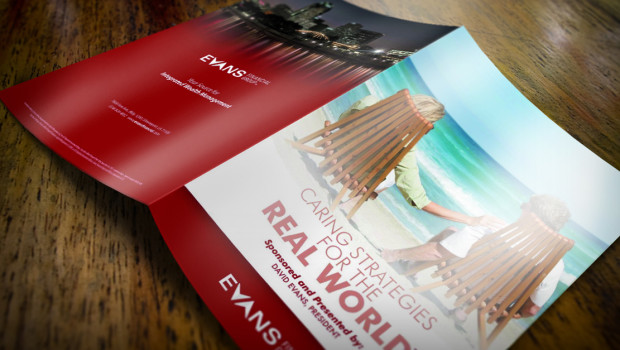 Use custom folders for a more powerful presentation
A couple years ago, at a company that shall remain nameless, I was sitting through our mandatory annual insurance presentation (dreaming about the sunshine outside). I looked around the room and could see that I wasn't the only one who had briefly taken a trip out the window. I remember thinking, "this is important information, and  I should be paying attention," but the information and numbers being discussed at the front of the room were abstract. They floated around the room but didn't seem to settle in anyone's brain. It occurred to me that there must be a better way to engage this audience.
Presentations can be intimidating for the presenter and (let's be honest) boring at times for the audience. Any visual component increases the value of a presentation because it improves the involvement and retention of the subject matter.
Make that visual component not only digital, but also tangible, and your audience is now interacting with the presentation as well. This is why including your presentation itself and complementary materials, organized in presentation folders, can enhance presentations on any topic to any audience.
Here are some reasons handing out 
custom folders
 will boost the power of your next presentation.
Custom folders are attention grabbers.
An artistic design on the glossy cover of a presentation folder will catch the attention of your audience. The design can be customized to the presentation of a new product being launched or simply maintain the brand image with your business logo, large and prominently placed.  Custom folders give your audience an immediate focus for their attention and help guide this attention throughout the presentation. Instead of their minds wandering, they can focus on your folder and the information it contains.
Custom folders inspire confidence in your product.
Marketing and selling your product begins with confidence in your brand and product, confidence that you need to instill in your customers. In addition to your verbal presentation, no matter how convincing, a custom folder adds a level of professionalism. This builds confidence in your company, product, and your ability to meet your audience's needs. Including your company name and logo on the cover of a presentation folder is like a stamp of approval from your company. It adds a layer of credence to all that it contains. Customers are more likely to trust your recommendations when they trust the source.
Custom folders organize information.
One of the largest benefits of presentation folders is that they simply keep you more organized. Without them, your audience could easily stand up and walk away from your presentation without ever thinking about you or your information again. With a folder in-hand though, all of the information is placed inside ahead of time, then swiftly picked up and taken with them. This makes the folders great leave-behinds as well because they can be branded and are well organized for anyone not able to attend.
An easy way to add a
business card
 to your presentation folder without losing it in the stack, is to have business card slits added during printing. The business card is then placed in a prominent place in the folder and seen every time it's opened. Your contact information is front and center, even amid the variety of information inside.
Organizing all of this information neatly for your potential customers helps bolster the confidence that you can manage their needs as well as you can manage your presentation.
Writer. Marketer. Enjoying writing about printing and marketing. Other things to talk to me about at a cocktail party include travel, dance, and food. Find me on Twitter @writtenbyemilie