What You Should Include In Your Brochure and Why
The American Heritage Dictionary defines a brochure as 'a small book or pamphlet, often containing promotional material or product information.' However, brochures can be large also and their contents may vary depending on the situation. Even in this cyber age, brochures are not out of fashion. Businesspersons still like brochure marketing for the personal touch they carry in communication with clients. Customers or would-be customers can read about the company and its products at their leisure. Brochures are excellent marketing tools that give customers all the relevant information they need before making a purchase. Apart from attracting new customers, a brochure helps a business organization to stay in touch with its existing customers, build loyalty and reinforce credibility.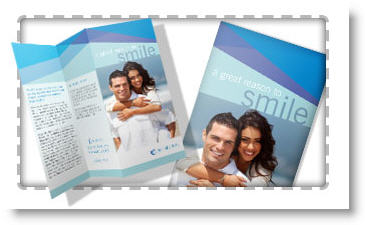 In order to be effective, a brochure must satisfy certain conditions in terms of both content and design. A hastily prepared brochure without proper planning can serve no real purpose. To create the required effect among customers, a brochure must be attractive-looking and contain all relevant information.
A brochure is supposed to convey a direct message in a visually attractive manner from a company to its customers. The success or failure of a brochure is determined to a large extent by the quality of information it includes.
It is human nature to look to some visual cues first. In a brochure, a reader will see the pictures first, and then the headlines, charts and graphs, captions, before finally moving to body text. Therefore, a brochure must be so prepared that a reader can have an idea of the content by just having a look at the pictures and the headlines. The essence of the main points you want to let people know must be conveyed by the headlines and captions. People might lose interest if they are hidden in the jungle of body text.
Brochures mostly cover three main areas: products of a company, its services, corporate or organizational capabilities of the organization. These can be divided into a number of sections in a logical sequence such as introduction, products, services, features, benefits, applications, specifications, testimonials, FAQ, company history, call to action, mission statement, awards, contact details etc.
If the cover of the brochure is not attractive enough, customers may be put off even before opening it. Make the cover visually attractive and begin selling on it. List the merits of your products or services on the cover itself. Make your customers open it with some teasing offers like 'offer valid for a limited period only' or 'see inside and save money.' If you use your logo on the cover, make it smaller so that it doesn't become the focus.
After the cover, the introduction section should give a brief account of the company, its products or services, its objectives etc. Products and services sections will contain a brief description of them. The above mentioned sections and those relating to features, benefits, applications, and specifications are included in most brochures for the benefit of customers.
Including testimonials in a brochure is extremely important. Readers will definitely be influenced and willing to try a product or service when they read those comments made by satisfied users. The user's permission may sometimes be necessary before you can quote him/her.
A 'Frequently Asked Questions' or 'FAQ' section is essential for the success of any brochure. This section should answer common questions a customer is likely to ask regarding your product or service. If your company does quotes, it is better to have a separate questionnaire that the customer can fill out and send to you.
Remember that if your brochure only says why your company is great, or why your products are the best, people in no time will throw it into the trash bin. To make them keep your brochure longer, you should include general information that would be useful for them. For example, if your company deals in computers, you can include in your brochure a piece of writing entitled "How to improve your computer's performance."
Don't forget to include what can be called calls to action. Examples of such calls include "Act soon", "Log on to our website to order now!" or "Contact immediately." A brochure is effective only if it brings in business to your company. For better results, you can also include your offer and a response mechanism on each page of the brochure.
Last but not the least, never forget to include your address, phone and fax numbers, website and e-mail at a convenient place in the brochure which is easily visible

PrintPlace's mission is to provide customers with unparalleled printing services through the knowledge and expertise of its employees.