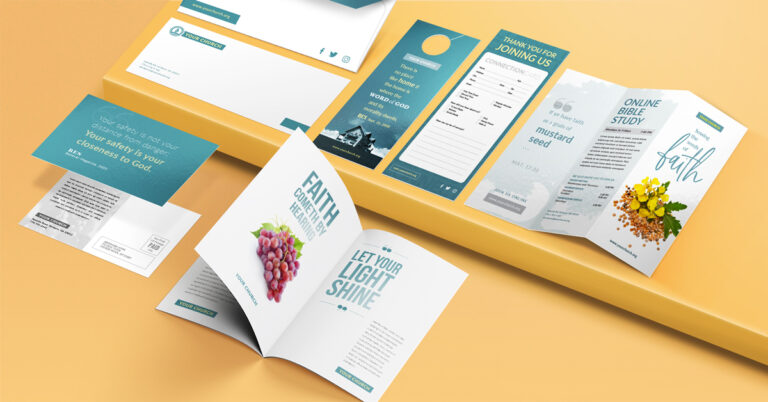 How to Design Your Church Booklet to Tell a Compelling Story: 5 Tips for Creating the Best Church Booklet Design
Today's churches face the challenge of drawing in new and consistent attendance. Few Americans are showing up for church and no longer maintain religious affiliations. In 2020, 47% of Americans said they belonged to a church, synagogue, or mosque—a number lower than 50% in 2018. The number of Americans who don't identify with a religion increased to 21% in the last three years. The numbers don't favor well for small churches that rely on community donations. What can churches do to boost attendance and maintain long-term affiliations?
Church booklet printing helps draw in new attendees to your services. Your small church can afford a low or high-volume run, depending on your target reach. The booklet also adds more context to your church's digital promotions on social media. Your booklets tell the church's bigger story, providing details that show your values and what you can do to support potential members:
Communicate and elaborate in longer articles or list the values your church shares with potential attendees.
Proof of the community efforts your church participates in and needs more support in sustaining to continue doing the necessary work.
Respond to or answer any misconceptions about the church or the concept, particularly younger individuals who may be wary of the affiliation.
A quick and easy reference that current attendees can keep in their homes or bring around to show their friends.
Not sure where to begin when designing a church booklet? Here are five easy tips to get you started in no time.
1. Ask these important questions to build the foundations of your church booklet design
Before you dive into creating that church anniversary booklet or souvenir booklet, ask the following:
Q. What is the purpose of your booklet?
Is it a welcome church booklet for new attendees? Are you creating a church souvenir booklet for a fundraising event like a choir concert? Or is it a celebratory church anniversary booklet that loyal attendees will likely receive? Start with the reason: is it promotional, informative, or celebratory? If you're creating a booklet to promote the church's services, it's best to highlight your shared values with the audience and activities that will benefit your potential attendees. Informative booklets like a souvenir or fundraising drive initiative should provide anecdotes from churchgoers and how they can offer concrete support, whether financially or on a volunteer basis. Keeping the church booklet's goal in mind ensures the stories are focused and remind readers of your organization's value based on the purpose.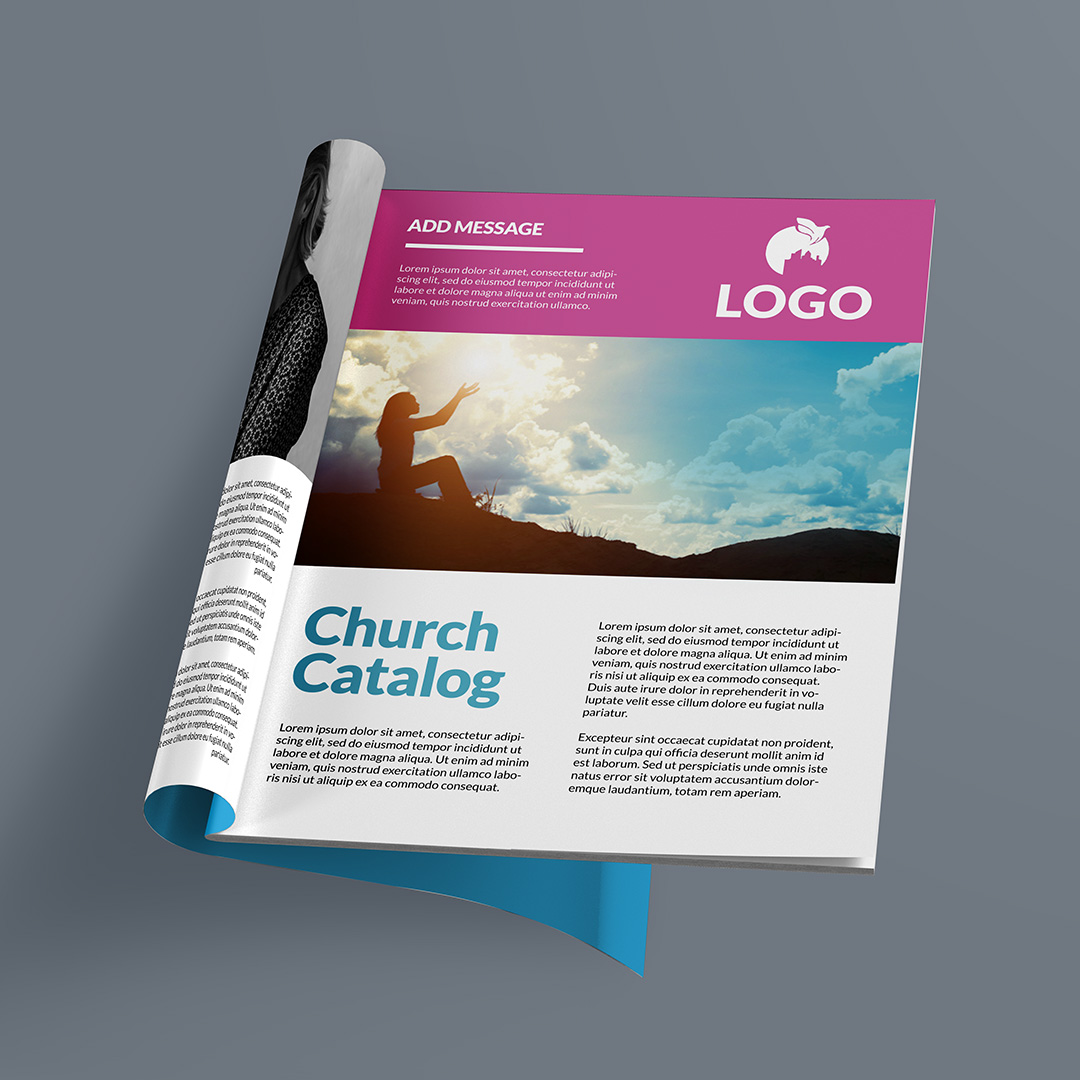 Q. Who do you want reading the booklet?
Is the booklet for older regular attendees aged 60 and up? Or are you creating a church booklet for younger individuals in their 20s and early 30s? Stick to one target reader and keep them in mind as you build the design. Younger readers are used to skimming and not reading, so your text should be easy to read and supported with large, compelling images. Older individuals would read the whole thing, but their eyesight may prevent them from completing longer form articles.
Besides how the text is laid out, consider the voice and tone of your booklet's copy. No one likes being talked down to, so maintain a friendly and approachable vibe to your writing. Churches are community-based, and you want to keep the support gathered over time. A conversational tone reminds first-time and regular attendees why they are a part of your church.
Q. What message should the readers leave with after finishing the booklet?
Is there a specific message or action that will linger after they've read through the church booklet? Do you want them to remember your church's main values or consider how they can help your organization's different missions? Go back to your booklet's purpose and align the main message based on the goal. Be clear about the actions readers can take to achieve the message reiterated throughout the publication.
2. Set a theme that informs each story in your booklet.
Use a theme that sets the tone and direction for all the stories inside your booklet. Booklets offer the space and freedom to explore various
stories about your church. You can print up to 96 pages in one booklet to immerse your reader in what the church stands for. But if the stories and snippets are not related, the reader may have difficulty catching up and going through all that content. A theme will unify all the different stories, even if they don't appear related at first glance. The theme also ensures all the content aligns to fulfill the goal of what you're publishing.
3. Choose a cover that will make readers want to open your booklet.
Use your theme or main story to guide the booklet's cover. What is the best image or artwork for the booklet's cover? If you're featuring a prominent personality who goes to your church, which photo presents them in the best light? What image best represents the featured endeavor's goal for stories covering a charity event or milestone? Whatever you choose, the image should be high-resolution and of the best quality possible. The photo or graphic should also appeal to your target audience. Remember these qualifications when selecting the cover image for your church booklets.
4. Create a text layout that people will want to read.
Booklet recipients aren't likely to read every page and go through every article. The digital era has made skimming the new normal. Your readers are likely to sample the first line and spot keywords as they scan through the entire text. Make the most important parts of your message easier to find with the following techniques:
Stick to short sentences and short paragraphs.
Use bullet points and lists for longer copy.
Partner paragraphs and long lists with applicable imagery.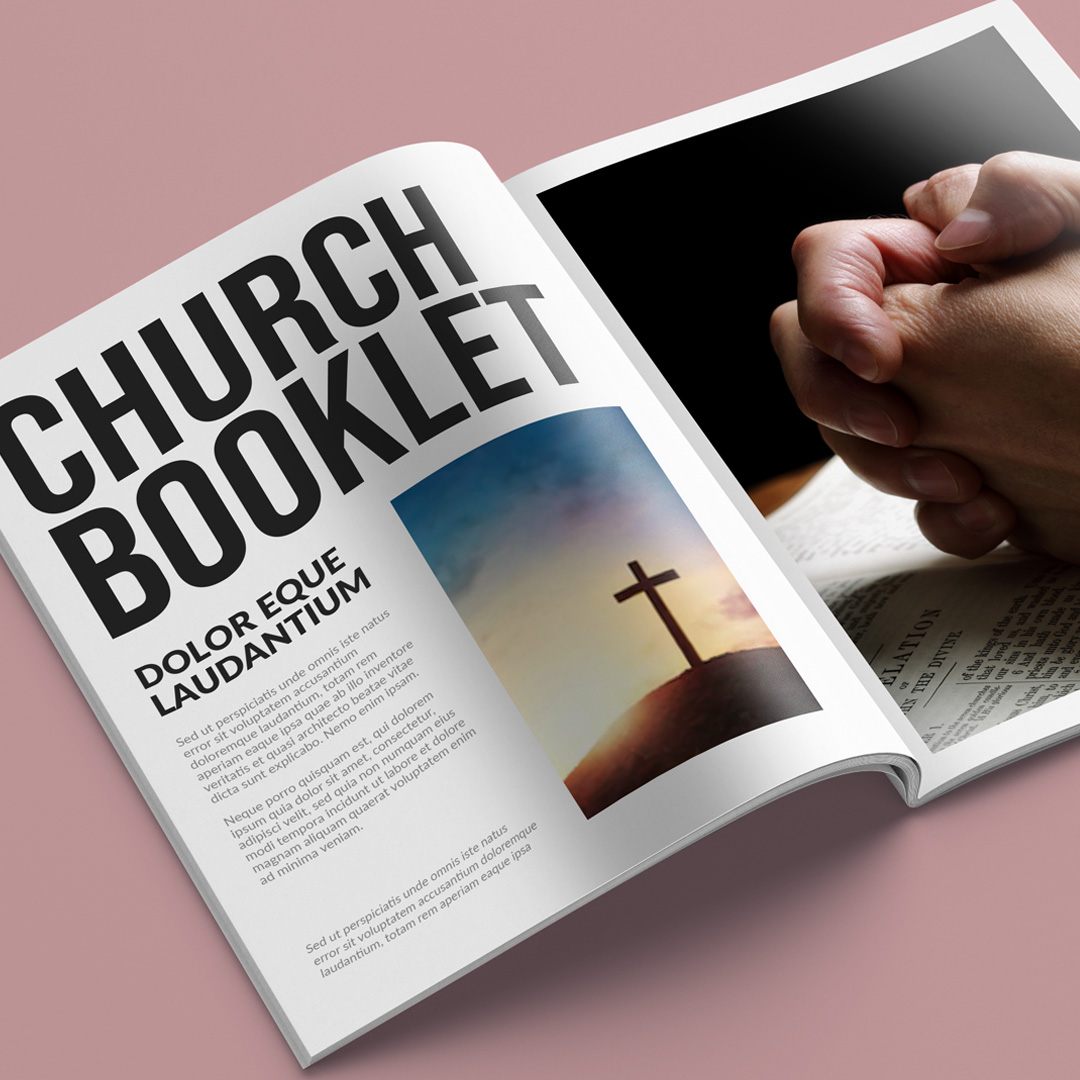 5. Consult or have professionals create the church booklet design.
As a church leader or volunteer, you likely have other commitments in running the organization. Look for church attendees who write professionally and design for a living. Tap into their talents and ask them to execute the church booklet's design. Their expertise will clearly communicate your message while employing techniques a novice wouldn't consider.
Church booklet printing is an economical and effective way to reach more attendees in your area. You can create one booklet focused on introducing the church to potential new members. Other issues can highlight events you want to promote or give loyal attendees an update on your efforts. Give them away at services or mail them directly to showcase your community. Don't forget to consider the audience in your decision to complete the entire booklet.
Start creating a church booklet for your next event, promotion, or service. Before uploading your finished design, you can choose the size, paper type, and cover material on PrintPlace. If you have yet to start, download the templates based on your required dimensions.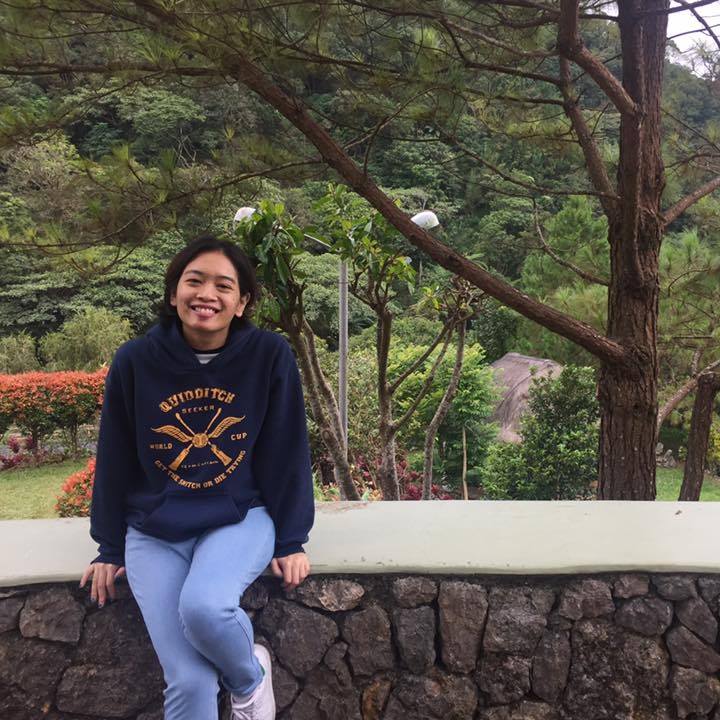 Angela's first love is food but her second love will always be the written word. She loves discovering new ways to tell stories and reads everything from YA to memoirs. Her time away from words is spent either with her three dogs or catching up on her favorite Netflix shows.