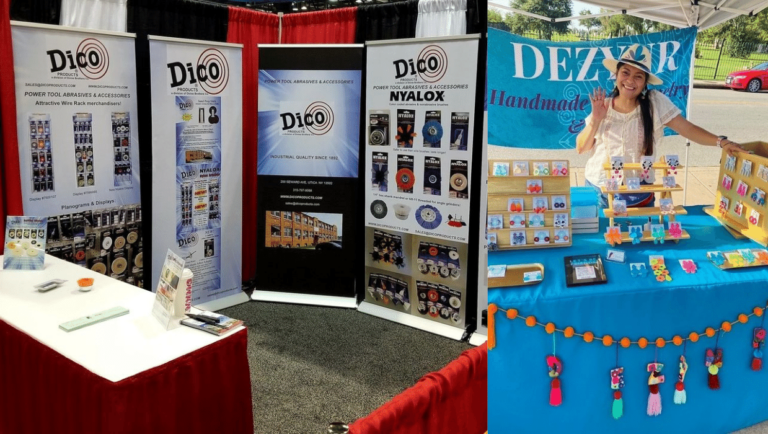 Trade Show Booth: Head-Turning Ideas and Print Essential Must-Haves
Nothing beats face-to-face interaction, especially when trying to showcase the things you offer.
Through trade show events, businesses can personally engage with visitors and give actual customer experiences. Studies show that 74% of consumers are more likely to buy a product after encountering it at a trade show. But before any of these, the booth needs to get as much foot traffic as possible.
To keep the people coming, it's best to build an exhibit that's impossible to ignore.
If you're looking for head-turning booth ideas and print marketing must-haves, you've come to the right place. Keep reading.
How to make your trade show booth stand out?
Just blending in with others may not give you optimum results. Make your booth stand out from the rest. Here are some ideas:
Use retractable banners as a backdrop
Turning multiple retractable banners into a backdrop creates an eye-catching presentation with ease. They come especially in handy if you need to set up fast. Plus, the result is an incredible display.
Look at Dico Products flaunting their brand with sturdy and stand-alone banners as their background.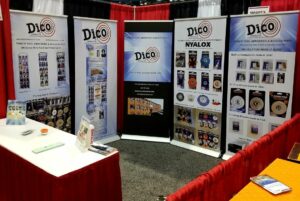 "We have found these banners to be cost-effective for our trade show booths. Saves setup and teardown time as well as freight costs. PrintPlace was easy to design, the website is easy to navigate, and pricing with delivery was ideal," shares Rich Amann, Sales Manager of Dico Products.
Reinforce brand exposure with a vinyl banner
Using vinyl banners is one of the most effective ways to ensure that your brand gets the crowds' attention. With the right design, vinyl banners can create inviting visuals to generate interest. Plus, they fill physical space, which can be harder to forget and ignore.
Check out Dezynr's head-turning booth setup with her vivid banner.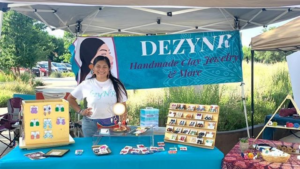 Giving away business cards and other print items can encourage visitors to follow up.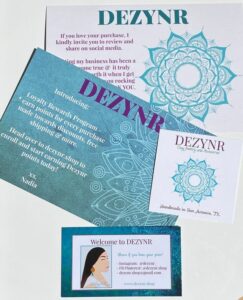 "PrintPlace is my go-to for all marketing materials. They are quick, affordable, and truly helped complete my business vision," Nadia Ramon, owner of Dezynr shares.
On the trade show floor, make sure to choose your outfit wisely as it reflects your company.
It's important that booth representatives look and act professionally. Making an impression doesn't go over a few seconds, so make those few seconds count with proper dressing.
No matter the industry, choose comfortable clothing that displays your brand accordingly.
Take it from Kazuha Oda posing in her booth with her glorious black wings on.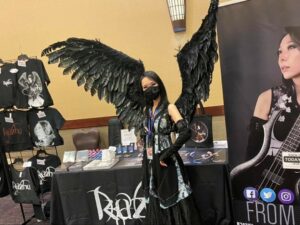 Aside from a well-designed booth setup with customized items and branded print materials, Kazuha's presence and gorgeous attire made the display more stunning than it is.
Kazuha is a Japanese singer, songwriter, and founder of a Rock Band called Kazha.
Custom apparel with a balance of professional but approachable looks can be ideal for corporate brands.
What to bring to your trade show display?
As an exhibitor, it's always best to be prepared to make the most out of the event. Here's a checklist of print essentials for your next expo.
Business cards – Never leave your business cards behind. They are your last chance to keep your company in the minds of your prospects after the convention. Make sure to bring plenty!
Promotional items – Giving away free items such as keychains, tote bags, and pens with your logo is another great way to network and promote your business. Plus, they increase booth traffic.
Printed marketing materials – Flyers, booklets, and brochures are other tangible pieces to help your potential customers remember your business.
Custom stickers – Handing out custom stickers is a polite way to thank your visitors. Stickers also help in spreading your brand identity.
Trade show success often relies on two things. The first is to be noticeable during the event. The second is to remain in the visitors' minds even after the event. Get the best of both worlds when you consider the above-mentioned tips.
Want to be featured in PrintPlace articles?
Share your stories with us when you use #PrintPlaceCommunity on Facebook and Instagram or email us at community@printplace.com.
Christine is a copy and digital writer who loves going to places and trying out new foods. During her spare time, she would play with and take photos/videos of her dog, eat, read, watch movies and travel blogs, or annoy her siblings. She appreciates spontaneity and new discoveries. If she disappears, you can find her at bookstores, coffee shops, or cinemas.