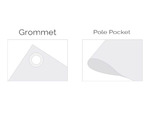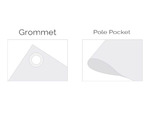 Great for photo booths, public events, and more
Printed in as fast as 1 day
Order with or without stand
Vinyl, & poly-film materials available
Pole pockets & grommets
Backdrop Layout Templates
Use our backdrop layout templates to ensure your artwork is sized and formatted correctly. PrintPlace layout templates can be downloaded for each size below, in an EPS, PDF, or JPG format for Illustrator or Photoshop.
Backdrop Printing Can Be Your Best Investment Yet
The biggest reason to invest in backdrop printing is less than a foot away from you. You might be holding onto it now. These days, everyone has a high resolution camera in their pocket. We may not realize it, but our smartphones have changed the way large format prints such as backdrops should be done. In an age where everyone at an event will share hi-res pictures taken by their phones to social media, it makes no sense to settle for less when it comes to your custom backdrop printing.   
If there's something going on, someone's watching. Whether you use custom printed backdrops for marketing or political campaign events, they can set the tone and underline your main message not just for your immediate audience, but potentially thousands, if not millions of people online.
Even outside large events and social media, you'll also appreciate the professional look a good backdrop lends to any project that needs large visual elements.This is especially true if you're a serious photographer, retail display designer, or set designer.
Personalized backdrops can also be used for more intimate occasions, such as weddings. A well-made backdrop can add something extra to memories you'll cherish for a lifetime.
Start printing your best backdrops yet.
{{tatDisplay}}
{{ priceData.discounted_price | currency : '$' : 2 }}
{{ priceData.price | currency : '$' : 2 }}
{{ priceData.unit_price | currency : '$' : 2 }} each