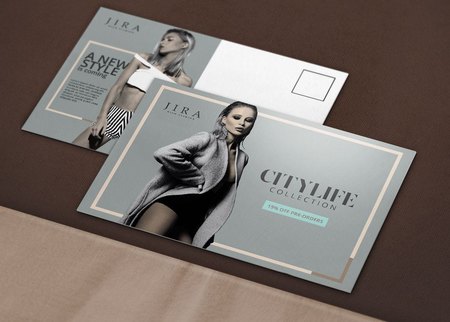 Let customers feel the luxury of your brand in a soft and smooth velvet postcard.
Available in 4" x 6" & other standard sizes
Lamination adds to 16 pt. cardstock's durability
Scuff resistant velvet surface
Add spot UV on one or both sides
Smooth & Sensational Velvet Postcards
Create
postcards
that are soft to the touch and bear a message that lasts.
The comforting suede-like surface lets customers experience what you have to say. Our velvet soft touch postcard printing services let you customize your order according to your preferences.
Send Out a Stylish Yet Enduring Message
Velvet soft touch postcards combine a suede-like
scuff resistant lamination
with the durability of
16 pt. cardstock.
You end up with
an extra thick and substantial 19 pt. material
that endures multiple handling and transfer.
Grab the Best Size & Spot
Complement the smooth, elegant suede-like surface with a
spot UV
coating on specific text or images.
Important details are distinguished through:
A high shiny gloss surface that makes colors pop
Complements the velvet surface
We offer several sizes that include the standard
4" x 6" and 5" x 7"
to larger dimensions at
6" x 9" and 6" x 11".
Whatever you need to say, you can create a card with enough space for your message.
---
Spot UV Printing File Requirements
Keep in mind the following file requirements below as you create a design using our downloadable templates:
The font size should be a minimum of 7 or 8 points. Avoid printing small text or fine lines in spot uv.
Border and stroke must be more than 1.5 points.
Images and artwork should be at least 300 DPI.
All files should be in CMYK color mode.
Make sure there is a 1/8" (0.125") bleed around the trim size.
The safe zone should be 1/8" (0.125") inside the trim line.
How to Prepare Your Artwork for Spot UV Printing
Create two layers that differentiate the areas printed in regular ink from the elements with spot UV printing.

The regular CMYK layer shows which areas are printed in ink. The elements should show their actual colors and sizes on print.
The spot uv printing layer only shows the elements that will appear in spot UV. The element(s) that will be printed in spot UV should have the same location as seen on the CMYK layer. Apply 100% K on the spot UV area and place the rest of the design in white.

The images below show the difference between the two layers:



Alignment is crucial to the file preparation process. The CMYK and spot UV printing layers should both have the same size. Common elements must be in the same position on both layers.
Browse by Category
Featured Products
Velvet Sof Touch Postcard Templates
Our layout templates will show you how to format your artwork. This ensures your postcards print correctly. Follow the steps below to prepare your product for spot uv printing:
Create two layers on your file.
The first layer shows the design in regular CMYK color.
The second layer shows which areas will be printed in spot uv. Color all portions for spot uv printing in 100% K. All other sections that will be printed in regular CMYK should be colored white.