Popular Postcards
The best ways to reach your customers at home.
Specialty Paper Designs
Create memorable messages customers will want to read and keep.
Find Your Industry
Customize a message that appeals to your target audience.
---
Postcards to Mail and Handout for Important Announcements
and Promotions
Send out promotions that a work-from-home professional or a homemaker will want to read. Whether your customers are unwinding from a full day at work or a whole day of chores and errands, personalized postcards give them a break from the everyday grind. Studies show they are more likely to elicit a positive response from recipients. Unlike endless phone notifications or a mobile device screen,
postcard printing
has less noise to compete with when customers receive your message in-hand or in the mail. Here's how you can customize each message and make sure recipients keep that postcard:
Customized Postcard Printing That Speaks to Your Audience
Give Your Message Breathing Room
Hoping to target a wider reach for your new product or store opening? Our standard postcards come in First Class mailing, Standard Letter, and First Class Letter sizes for mass distribution. You can select a size that's large enough to stand out in the mail and has plenty of room for your message.

Unravel Your Promotion in Unique Ways
Stand out from the rest of your customer's mail with half-fold or tri-fold postcards. Unlike the standard flat and unfolded postcard, these give you more room for supporting text and visuals that will entice your recipients to know more about your business.

Distinguish Your Postcard Printing in Glamorous and Elegant Designs
You can also choose from several durable cardstocks for your custom postcard creations. Each material comes with a gloss, matte, or high-gloss UV coating on one or both sides, depending on your preference.

The gloss and high-gloss UV brighten colors and give them that extra pop. Matte is the go-to look for elegant, understated palettes in pastel or neutral shades. Select a coating that appeals to your audience and matches the intent of your design.

Looking for a new way to refresh your look and stand out in each message? Print postcards in any of our specialty finishes or materials. Each option can match the luxury of your brand or the celebratory occasion of your promotion:


Strengthen the Impact of Your Postcards With Sturdy Cardstock
A durable, high-quality cardstock adds to the impact of your message. Choose from only the best stock to carry the weight of your brand's reputation:



The 14 pt. cardstock is an affordable, lightweight material that's easy to carry for those on the go. An uncoated, writable back is also available for the 14 pt. cardstock.
The 16 pt. cardstock is highly recommended for those after a heftier weight and feel to their business card.
The 17 pt. cardstock is the thickest option for custom postcards. It offers an elegant, writable texture normally seen on wedding invitations.



Try Our Easy and Convenient Mailing Services to Send Your Postcards
Directly to Customers
Upload your postcard design and have our
Every Door Direct Mail service
deliver postcards at low postage costs. Indicate a ZIP code and customers in that area will receive your message.
Have more questions?
Talk to our print experts today
for more information on postcard printing. They'll help you every step of the way and clarify any technicalities you're curious to know about for creating custom postcards.
---
Create Special Postcards With Zero Design Knowledge
No need to spend hours on YouTube to understand Photoshop or Illustrator basics. No need to spend hours on YouTube to understand Photoshop or Illustrator basics. Use our Online Design tool to build a design from scratch. After indicating your postcard printing specifications on the online calculator, go to "Design Online" at the bottom. The Online Design tool will load straight on your browser and show a blank canvas based on your indicated size.

Once you have completed the postcard design, turnaround time can be as fast as one business day for most orders. Note that turnaround time refers to the number of printing days. It does not include shipping transit time or direct mail processing time.

Ensure an Accurate Design With Print-Ready Layout Templates
Prefer to use an editing program like Adobe Photoshop or Microsoft Publisher? Download any of our layout templates to get the correct measurements for your postcard's bleed, caution line, and other technical specifications. The available templates ensure no detail is missed when you print postcards online:
---
Postcard Printing Tips and Tricks
Find out how you can build a smart strategy for your postcards and execute it accordingly: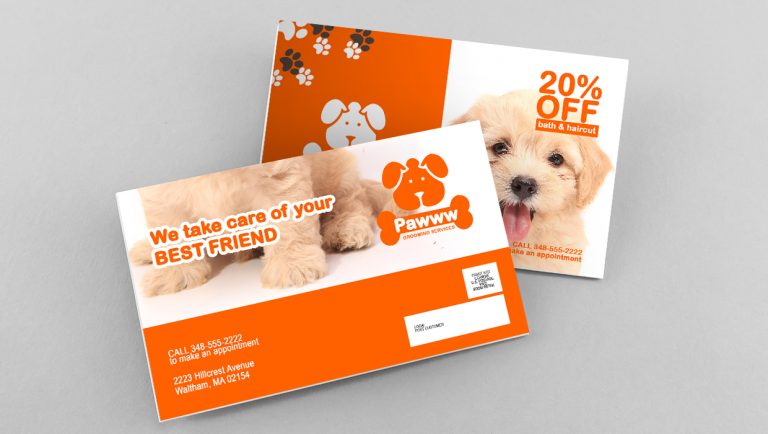 The Ultimate Guide to Creating a Postcard Marketing Campaign

Discover the best ways to build an effective campaign for your postcards.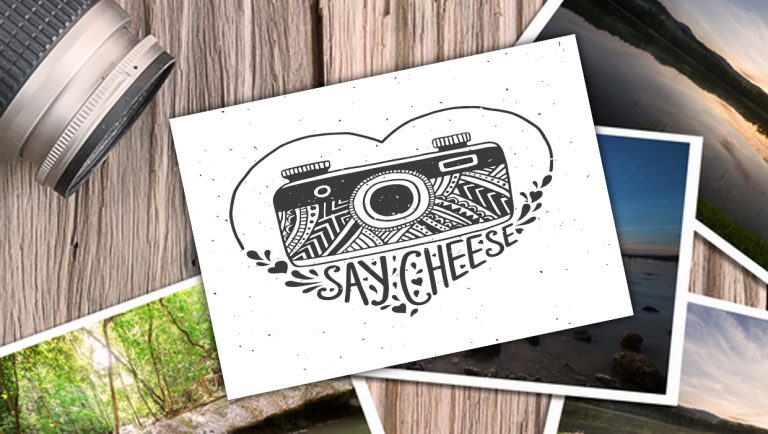 5 Effective Postcard Copywriting Tips

Create an impactful message on your postcards using these practical writing tips.
A Guide to Standard Postcard Sizes for Mailing

Check out the best sizes for sending out postcards in the mail.
---
Postcards Frequently Asked Questions
What additional features come with a postcard printing order?
Custom postcards come with add-ons like rounded corners for smoother edges, perforation for special discounts or coupons, and a smaller trim size to tailor the design's overall look. Check out this helpful article for more information on customizable postcard printing options.
Can I print on both sides of the postcards? Which side is writable?
Yes, we offer printing on both sides of the postcards. If you need both sides to be writable, select the 14 pt. cardstock uncoated as your paper type. Designs with a colorful front can select the 14 pt. cardstock uncoated back for one writable side.
The 17 pt. cardstock is also available if you want a slightly thicker cardstock and writability on both sides.
What postcard sizes are available?
We offer the standard 4" x 6" and 5" x 7" postcards. The former classifies for First-Class mail, while the latter can be mailed in the Standard Letter and First-Class Letter rate. We also offer larger sizes such as the 6" x 9" and 6" x 11" for custom postcard printing.
How do I print and mail 4" x 6" postcards?
The following instructions are applicable to custom postcards:
Select the 4" x 6" size on our online calculator.
Expand "Advanced Options" at the bottom of the online calculator.
Check the Mailing Services box. Note: Adding a custom trim will make this service unavailable. Mailing services are available for standard postcard designs.
How soon can I receive my custom postcards?
Select your preferred turnaround time or the number of days to produce the order. This will determine how long it will take to print your postcards.
After proceeding to checkout, you will select from several transit times as your shipping method choices. You pay less for 2 to 3 days transit but you can also select a one-day transit for a higher price.
Can I have my own design printed?
Yes, you can upload your artwork for us to print. You can upload a file directly from your computer or from your Dropbox folder. PDF is the ideal file format for sending, but we also accept JPEG, JPG, TIF, TIFF, and EPS.
How much does it cost to make postcards?
You can print as few as 12¢ for 1,000 5" x 7" postcards and 8¢ for 1,000 of the 4" x 6" size. The higher your order quantity, the less you spend per postcard.
Note that the unit price will also depend on your preferred size and paper type. Advanced options such as perforating, rounded corners, and mailing services will add to your total spend.
Is the back of the postcard writable?
You can write best on an uncoated paper stock. You can print a writable postcard on 14 pt. cardstock uncoated or the 17 pt. cardstock uncoated. Both choices come with a smooth, writable surface on both sides.
There is also a 14 pt. cardstock uncoated back paper type if you want the front side to be in matte, gloss, or high gloss UV.
Do you have templates available for download?
Yes, you can download templates in each of our postcard product pages. Go to the Layout Templates tab and select the file that you can open in your desired editing program:
Adobe InDesign
Adobe Photoshop
Adobe Illustrator
Microsoft Publisher
Will I be sent a proof of my postcard design before printing?
After uploading or designing your postcard artwork, you'll be asked whether you need a PDF proof under Proofing Options.
Select "I need a PDF proof" if you want to check your file before we proceed to production.
The PDF proof file of your postcard will be available for download from the Shopping Cart after upload or from My Account after checkout.
You need to approve the proof on My Account so it can proceed to printing.
Note that production time starts after you've approved the PDF proof.
If you select "I don't need a proof", we'll do a standard file check and notify you if there are any technical problems with the file. If no problems are found, the artwork will go directly to print.
Why Customers Choose PrintPlace
I ordered two different sized postcards with a custom design for a bar mitzvah ceremony and party invite. Amazing quality. Great price. Received about 12 days after ordering.
Why Customers Choose PrintPlace
For my first mailer, I needed assistance to make sure everything went well. PrintPlace was extremely helpful and patient with me.
Why Customers Choose PrintPlace
I've used PrintPlace for many years. Always great work and never had a single issue. Only printing company I use.
❮
❯
Browse by Category
Featured Products