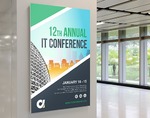 Easily promote products or decorate homes and offices
Choose from a variety of sizes
Sturdy PVC board or styrene
Print on 1 or both sides
Upload or create a design online
Mounted Poster Printing Layout Templates
Use our mounted poster layout templates so your business mounted poster artwork and designs are sized and formatted perfectly for your home or office space. PrintPlace layout templates can be downloaded for each size below, in an EPS, PDF, or JPG format for Illustrator or Photoshop. Here's how to get started:
1. Expand the "Download Poster Signs Layout Template" link. Select your preferred poster size from the listed options.
2. A ZIP file will be saved to your device. Save this to your files.
3. Open the ZIP file. You'll find the following formats available for your preferred editing software:
Adobe Illustrator (AI)
Adobe InDesign (INDD)
Adobe Photoshop (PDF)
Microsoft Publisher (PDF)
JPEG
PDF
A Number of Ways You Can Use Mounted Posters
Print mounted posters for an equally useful format for both marketers and anyone who wants to easily decorate a home or office space. They can be used as a minimalist frame-free alternative to traditional posters. You can use mounted posters anywhere you might use regular cardstock or paper posters, except you don't need to worry about protecting or framing them.
Regular paper or cardstock posters may not be able to stay in good condition with constant handling. On the other hand, mounted posters are a good choice for advertisements and other promotions in high-traffic areas, especially when you need to handle or move them often. The durable material prevents premature deterioration, allowing your ads to last as long as you need them to.
They are also a good choice for art reproduction at a short notice for spaces such as cafes, restaurants, and even art galleries. Personalized mounted posters are also a good choice for home and office decor, as they offer none of the hassles of traditional framing while offering a clean, modern look at the same time.
Marketers who want to print mounted posters for advertisements and other promotions will also find that the ability to print on two sides makes these large format prints a versatile solution.
Related LinksL
Marketing With Posters and Flyers
How Do I Format My Artwork for CMYK?
{{tatDisplay}}
{{ priceData.discounted_price | currency : '$' : 2 }}
{{ priceData.price | currency : '$' : 2 }}
{{ priceData.unit_price | currency : '$' : 2 }} each