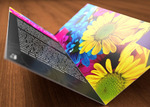 You can create the best pamphlet for your business with the options that fit your message.
Promote your business, event, or cause
Add shrink wrapping for added shipping protection & easy handouts
Perforation for tear-off coupons or order forms
Same-day printing available
Pamphlet Templates Makes Designing a Breeze
Follow our pamphlet layout templates below. They will help you check that your artwork fits our printing guidelines. Download the layout templates for the program of your choice: Illustrator, Photoshop, or Publisher.
Direct Mail Services for Pamphlets
Your custom printed pamphlets are eligible to mail at letter or flat rates, depending on the final/folded dimensions (see "Mailing Requirements" below to set up your pamphlet design for the best postal rates).
PrintPlace's direct mail services include: processing 1 mailing list, duplication removal if requested, CASS Certification, inkjet addressing, and postal presorting for automation rates.
Design Ideas for Pamphlet Marketing
Pamphlets, like flyers, are an effective way to provide information for events, services, or even political messages to voters.  Pamphlets can even break up information to make it easier to read.
Use the cover of your pamphlet to grab the recipient's attention with colorful images or bold graphics.  Keep folding areas in mind when designing so your important text and information can be easily seen. Use headlines and sub-headers to break up text and make it simpler to read.