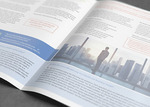 Create your best newsletters yet with the right options from PrintPlace.com.
2 standard sizes
Add shrink wrapping for added protection
Same-day printing available
Page count options: 8 - 32 pages (including cover)
Newsletters can be saddle-stitched (stapled) or unbound
Perfect for schools, restaurants, and nonprofits
Newsletter Templates Makes Setup Easy
Use our newsletter layout templates to ensure that your artwork prints correctly. The layout templates come in two different format options for newsletters: InDesign and Publisher.
Direct Mail Services for Newsletters
Your custom printed newsletters are eligible to mail at letter or flat rates, depending on the final/folded dimensions.
Direct mail services for newsletters include: processing 1 mailing list, duplication removal if requested, CASS Certification, inkjet addressing, and postal presorting for automation rates.
Triple tabbing is required to mail half folded newsletters at letter rates. Triple tabbing can be added during the ordering process. Read our "Newsletter Mailing Requirements" for detailed folding and tabbing guidelines.
Newsletter Printing Ideas for Marketing
Newsletters keep your customers, prospects and members informed, and because of the frequency, keep recipients in close proximity to your brand. The front cover should include a masthead with a design or graphic that is constant with each issue, allowing your audience to quickly recognize your company.
Why Print Newsletters?
Establish new relationships through newsletters
Keep customers up to date with new products & services
Increase customer awareness
For maximum benefit, keep your content interesting and relevant to your audience. A newsletter is a good place to craft your brand around more than just your products. Sharing facts about your business and stories about employees will build loyal relationships with your customers.