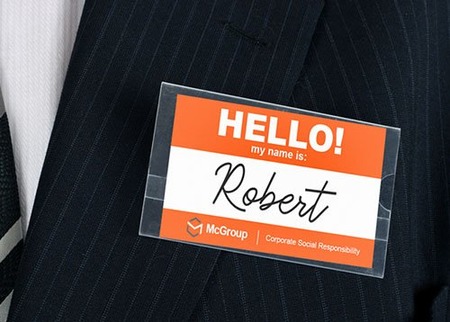 Professional Name Tag Printing
Great for employee name tags
Perfect for conventions and trade shows
Prints as fast as same day
Writable uncoated stock/material option
Available in 2"x3.5" and 4"x3"
Name Tags Layout Templates
Use our Name Tags layout templates to ensure your artwork is formatted correctly for printing. Download one of the formats below to start.
Professionalize Your Staff With Name Tag Printing
Name tag printing is popular with stores and service-oriented business so customers can quickly identify staff, even when they aren't in a uniform. You can create branded printable name tags with us and use your own printer to fill in the names later.
Name tags aren't just for customers to identify your employees, however. The care given into making employee name tags tells customers what your business is all about. Well-made name tags can make your customers more at ease, and help employees get into a professional mindset.
Printed name tags are also a must for trade shows and conventions. Generic name tags just don't have the professional look a custom-printed name tag has. Unlike with most name tag solutions, PrintPlace lets you create name tags in full color, instead of just 1-color, allowing you to use any logo design your business needs. This means custom name tags will give your business an edge when it comes to building brands and closing sales at conventions.
Order professional name tags today.