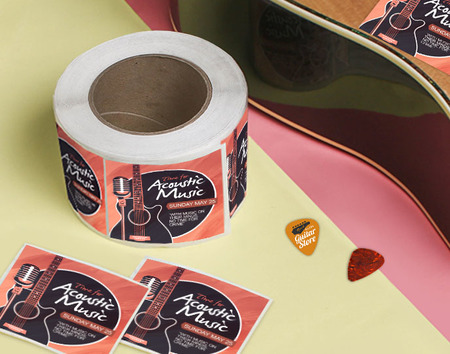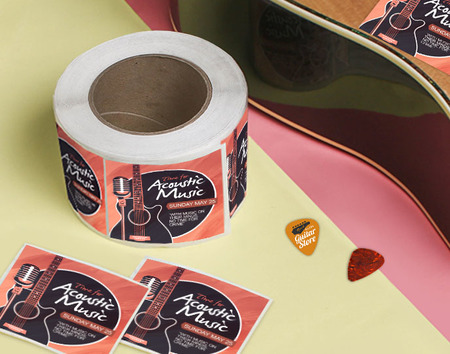 Memorable custom shape and stock options
Choose cut-to-size or on a roll
Matte, gloss, and high-gloss finish
Quick turnaround times
Promotional And Event Stickers Layout Templates
Use our layout templates to ensure your promotional and event sticker designs have the correct size and format. PrintPlace.com layout templates are free and available to download for each standard size below. Follow these steps to get started:
Choose your format. Promotional & event stickers are available individually cut or on a roll.
Expand the options under your preferred format and select the correct size for download.
Save the ZIP file that will appear upon downloading.
Open the ZIP file and choose from the formats available: JPG, INDD, PDF, PSD, PUB, and AI.
Edit with the appropriate design application and export.
Why Print Customized Promotion & Event Stickers
Making promotions and events successful entails finding the correct market. Identifying your niche and your audience goes a long way in maintaining a loyal following.
Know your audience
Are they partial to promotional material that's colorful? Or are they the more subdued type? Zeroing-in on your customer's preferences goes a long way in keeping them engaged and satisfied with your service or product.
Embrace simplicity
When in doubt, stick with simplicity. It's always better to have a simple sticker that drives the point across as opposed to one with a design that's difficult to read and comprehend.
Related links:
Targeting the Local Market with Print Media
Small Businesses Emerge With Creative Solutions for Pandemic Challenges Through Stickers
{{tatDisplay}}
{{ priceData.discounted_price | currency : '$' : 2 }}
{{ priceData.price | currency : '$' : 2 }}
{{ priceData.unit_price | currency : '$' : 2 }} each