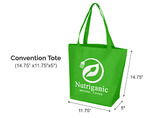 Tote bags bring your brand into a customer's lifestyle.
3 standard sizes big enough for any shopping load
14 colors to match every design or logo
Print a design on one or both sides of the bag
Choose from 5 dynamic tote styles
Volume order ranges from 50 to 2500 tote bags
Tote Bag Templates
Use our tote bag layout templates to ensure each design is sized and formatted correctly. PrintPlace layout templates can be downloaded for each standard size label below, in an EPS, PDF, or JPG format for Illustrator or Photoshop. All formats can be downloaded in a ZIP file for easy access and selection.
Marketing Ideas for Tote Bags
Tote bag printing lets you give away pieces of your brand to new and loyal customers alike. They have a bag to use for future shopping trips, but the presence of your logo reminds them of their experience with the brand. These bags offer supermarkets, specialty stores, and other retail shops a constant promotional opportunity wherever and whenever the bag is used. Large organizations can also hand out tote bags during big events and conventions.
Tote bag printing provides supermarket and retail stores instant storage for customers. But every bag is also a promotional item for your business. You can take advantage of this by printing the store logo on one side and an attractive design on the other. Both sides can be printed in full color so it is enticing for people to use while shopping or running errands. You can easily complement the design and logo with neutral or bright colors.
Choose a tote bag style that will serve your customer's needs. The simple tote is box shaped but has a larger size compared to regular tote bags. Companies in need of tote bags for conventions and trade shows should opt for the convention tote. These are big enough to hold handfuls of freebies and giveaways. We also have a large convention tote option for trade shows that gather even larger crowds. The clear tote with zipper style lets customers seal delicate items on a bag and brings out the distinct design of your logo.
Take advantage of our tote bag printing so your company can build brand loyalty and maintain customer connections.
{{tatDisplay}}
{{ priceData.discounted_price | currency : '$' : 2 }}
{{ priceData.price | currency : '$' : 2 }}
{{ priceData.unit_price | currency : '$' : 2 }} each