Sticker Printing You Can Personalize in Any Size, Shape, and Color
Custom stickers
are a fast, easy, and affordable way to decorate any type of product packaging. PrintPlace helps you customize every detail, whether you need a circle, square, rectangle, or special shape for your sticker printing design.
Follow our guide below to help you get started on your next great design.
Which is the Best Sticker Format for Your Promotions?
Cut-to-Size
Recommended for small quantity orders
Easy to apply manually on product packaging
Comes in four basic shapes: square, rectangle, circle, and oval
Roll
Recommended for large quantity orders (500 and up)
Fits in label guns for fast, high-volume applications
Rectangle and square shapes come with rounded corners; custom shapes available if needed
Find the Right Fit & Have Fun Creating an Exceptional Sticker Design
After selecting your preferred sticker type, you can customize its look with the following features:
A variety of shapes and sizes to suit every kind of design.
Start with the standard shapes for any kind of sticker:
square, rectangle, circle,
or
oval.
All four choices come in a variety of large and small sizes to scale your design accordingly. Some of the recommended dimensions include:
3" x 3" for small circle or square stickers.
4" x 4" for larger square designs.
4" x 2" or 3" x 4" for medium sized rectangle stickers.
Custom sizes and shapes available if you need specific dimensions.
Protects your branded promotions against every element such as water, light, and cold air.
Your choice of sticker paper will depend on what the label will be exposed to:
White premium sticker paper is normally used on labels that will be primarily indoors. It comes in gloss or matte coating.
BOPP comes in clear, white, or silver metallic colors. This material is recommended for liquid products that will be refrigerated and exposed to oil. It's waterproof and oil and chemical-resistant.
White Vellum and White/Cream Laid Texture are normally seen on wine bottles and used for their rustic texture. It is best stored in a refrigerator. It lasts about 4 hours in an ice bucket and does not have the oil and chemical resistance of BOPP.


Enhance the overall look with glamorous or elegant finishes.
The white paper sticker comes in
gloss, matte,
or
high-gloss UV
coating.
Gloss provides a reflective shine on the surface and protects the design from scuff and scratches.
High-gloss UV has a higher shine and vibrance that allows colors and details to stand out from afar.
Matte gives an elegant, soft touch to the colors on your design and makes text easier to read.
Outdoor-friendly white vinyl and refrigerator-friendly BOPP comes in
matte or gloss
coating.
The
textured materials
come either
uncoated for a writable surface
or matte for the least glare and additional protection. For more affordable options, you can check out the
cheap custom stickers
.
High-Quality, Professional, & Timely Services
Consultation with friendly print experts.
Need the advice of print experts to walk you through the design and production process? Our professionals are available on call and via Live Chat to guide you through every question and clarification.


Fast production times for tight schedules.
Meeting a close deadline or need to apply last-minute changes? Our fast 1 business day printing ensures your job is done ASAP. Your order is shipped after this designated period. Find out more about our printing turnaround times here.


Free pick-up for Texas-based customers.
Are you based near Arlington, Texas? We provide free pick-up in our facility. To find out when you can pick it up, input your ZIP code and the pick-up date will appear.


Choose the Exact Sticker for Your Business Needs
Need to explore more options for your sticker designs? Check out the products available according to the features or functionality you're looking for:
---
Top Four Print Guidelines
These printing guidelines ensure your personalized stickers don't encounter any issues or won't require any changes before proceeding to production:
1. Convert your artwork's color to CMYK.
Like any other professional printing company, all orders are produced in CMYK or full-color printing. Make sure the file's color is in CMYK and not in RGB before uploading.
2. Ensure an image resolution of 300 dots per inch (DPI).
Make sure all images on your file are at 300 DPI at full size. Stretching or enlarging an image to fit the canvas will reduce the resolution and result in a blurry or pixelated print.
3. Review the bleed on your artwork.
Make sure your design extends to the canvas or paper's edge so that no detail is cut off upon printing. The bleed area will indicate how far your design should reach to prevent white lines from appearing on print.
Make sure all sticker files include an
additional 0.125 inches of bleed on the edge.
?To create your artwork within the exact measurements, use our online design tool or download any of our available templates.
4. Submit a file in any of the prescribed file formats.
PDF is the ideal file format for printing, but we also accept JPG, TIF, EPS.
Head to your chosen sticker type to begin this listed process. Input your design's feature before
creating a design online
or uploading a file directly on the site.
Have any more questions about your custom stickers order? Contact our print experts and they'll be glad to answer all your queries.
Frequently Asked Questions
Can I select custom size and shape for my stickers?
Yes, you can select a custom size in your preferred shape for roll stickers. Choose?custom?as your shape on the online calculator. Options for your width and height will appear for you to choose from.


Do you offer sticker printing for die-cut shapes?
Yes. Just follow the steps in the previous question and upload a design in the desired shape.


Do you print bumper stickers?
Yes, you can upload bumper stickers for us to print on its respective product page. Bumper stickers are made of weatherproof vinyl sticker that withstands outdoor elements. Your order can be printed in 1 business day.


What colors can I print in a metallic finish?
You can print any color with a metallic finish. We recommend applying the metallic shine on light or pastel hues so that the shimmer is obvious. All metallic stickers come with a high-gloss UV coating that protects the surface from fingerprints and dust.


What is the best material for stickers that will be displayed outdoors?
The white vinyl sticker material is recommended for labels that will be displayed outdoors and exposed to different elements. Its waterproof feature protects your design.


What is the best material for stickers placed on items that are stored in a refrigerator?
BOPP is the best choice for stickers placed on refrigerated items. It is waterproof, oil, and chemical resistant, and retains the sticker design upon storage.


Are your stickers water-resistant?
Stickers made of vinyl, BOPP, and textured estate materials are all water-resistant.


How much do stickers cost?
The cost will depend on the sticker type, format, material, finish, and quality. To estimate the cost, choose your specs on the online calculator and the total plus unit cost will appear at the bottom. Note that the larger your order quantity, the lower your per sticker cost.
---
Inspiring & Innovative Business Stories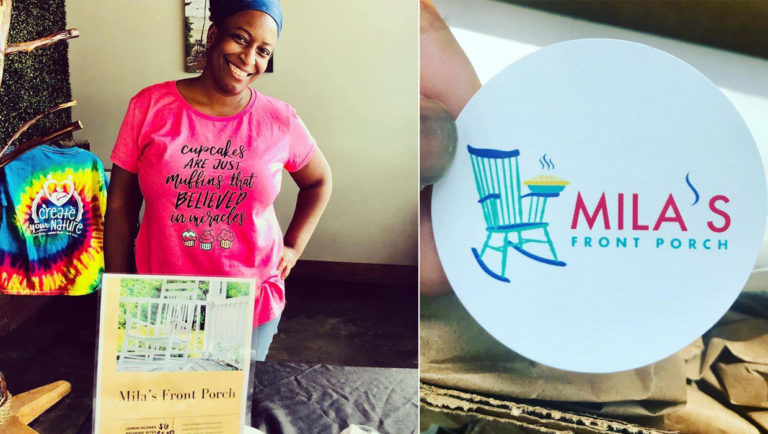 Mila's Front Porch

Find out how this pop-up bakery in Orlando shares how they developed a healthy yet delicious menu and how stickers helped their branding.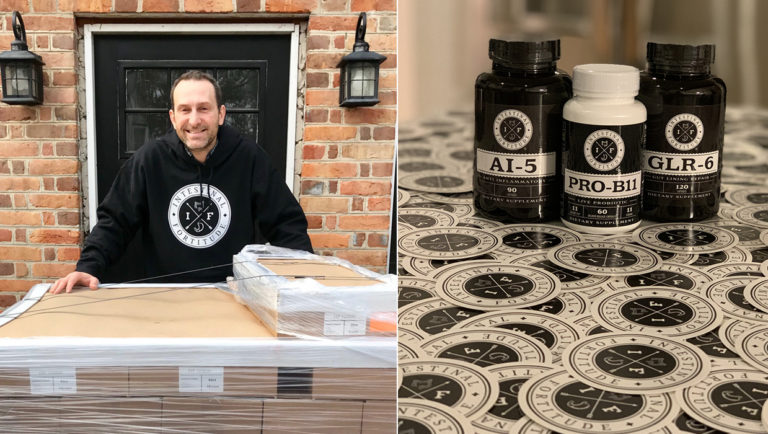 Intestinal Fortitude

IBD-diagnosed Will Jenkins talks about managing his illness symptoms and how he discovered a natural alternative treatment.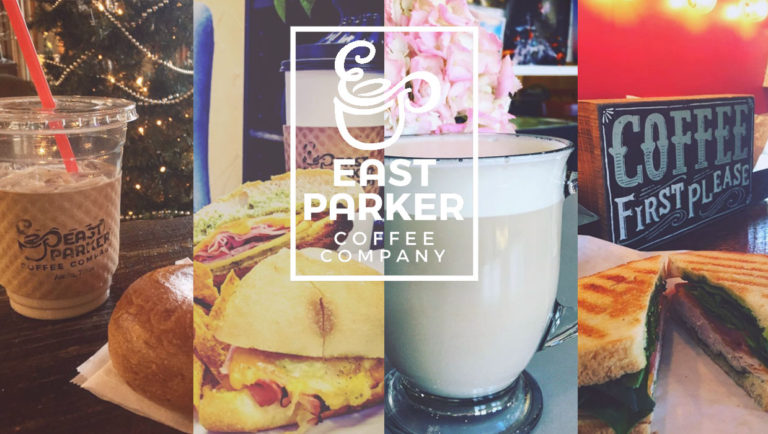 East Parker Coffee

Here's how a small coffee shop in Aledo, Texas centered its business model on its community and engaged them with promotional stickers.


Why Customers Choose PrintPlace
I bought these stickers as a throw for an upcoming Mardi Gras parade, and I'm extremely happy with the quality. The ordering process was easy, and they arrived quickly. I will be ordering more stickers in the future.
Why Customers Choose PrintPlace
The nonprofit I was purchasing the car decals for is on a shoestring budget and the order needed to meet a tight deadline. PrintPlace was the best price and provided an excellent product. PrintPlace helped answer preprinting questions on the phone, the order was super easy to upload online, and the delivery was even a day earlier than expected with normal shipping cost. I ordered the free, sample pack from PrintPlace. Lots of great items for future purchases. I'll definitely order from PP again.
Why Customers Choose PrintPlace
My order was fast and accurately printed. I will definitely be using PrintPlace again.
<
>
---
Browse by Category
Featured Products