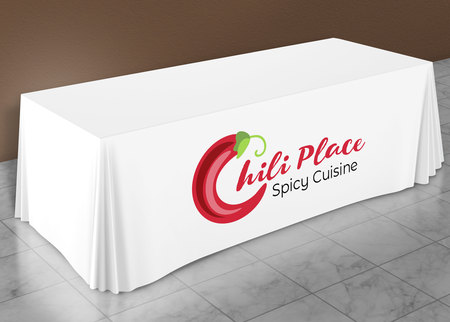 Dress up your tables at trade shows & conferences
Made from machine-washable stretch fabric
Can fit 6' and 8' tables
3-sided style gives you access underneath
Table Cloths Layout Templates
The specifications in the layout templates below will ensure your artwork prints correctly. These guides will help you design your artwork to our printing specs, giving you the best results possible.
Get Eyes on Your Trade Show Booth
Printed tablecloths are the key to inviting people to stop by any booth. There's nothing more uninviting than a bare table. Create excitement with custom printed tablecloths.
Keep it simple - A cluttered design will look amateurish which is the opposite of what you want.
Choose the right style - If you're planning to use the underside of your table for storage, go for a 3-sided tablecloth which has an opening in the back for easy access.
Consider where you'll be setting up - If you're setting up in an open space where people will see your table from all angles, a 4-sided tablecloth might be your best bet.
{{tatDisplay}}
{{ priceData.discounted_price | currency : '$' : 2 }}
{{ priceData.price | currency : '$' : 2 }}
{{ priceData.unit_price | currency : '$' : 2 }} each