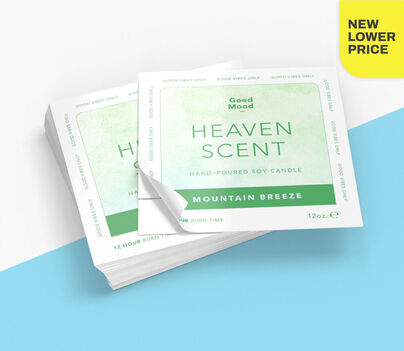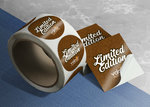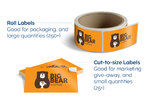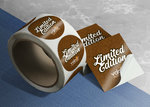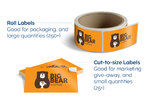 New lower prices on our most popular vinyl labels!
Individually cut labels in 4 shapes
Printed on outdoor-friendly vinyl paper
Make colors pop w/ a high gloss or glossy finish
Smooth and elegant w/ matte coating
Create labels in any size, for every purpose
Label Printing Layout Templates
Use our label layout templates to ensure your artwork is sized and formatted correctly. Just download PrintPlace layout templates each standard size label below, in an EPS, PDF, or JPG format for Illustrator or Photoshop.
How to Create Effective Custom Labels
It's important to keep certain design rules and branding guidelines in mind when creating your custom labels. Here are a few tips to help you create standout personalized labels.
Keep it clear and simple. An effective label should always serve its main purpose. If it's a food or drink label, make sure the storage and heating instructions are easy to read.
Use bright and attractive colors. You can't go wrong with bold colors. Contrast bright colors with a white background and avoid neon hues.
Add a useful feature or piece of information. Print a recipe as part of your food label or add a fun activity like a maze. Studies show that these features entice customers to purchase the item.
Stay on brand. If you mail information to your clients or prospects, don't overlook the importance of printing a branded label to make a professional impression. Use mailing labels, shipping labels, and return address labels to carry over your marketing brand.
We also print custom labels on uncoated paper stock for adhesive name tags, food labels and carton labels. Since our
label stock is laser-safe
, you can have it professionally printed here and then personalized with specific names or products with your own laser printer. Just remember to design your labels using a compatible size.
{{tatDisplay}}
{{ priceData.discounted_price | currency : '$' : 2 }}
{{ priceData.price | currency : '$' : 2 }}
{{ priceData.unit_price | currency : '$' : 2 }} each