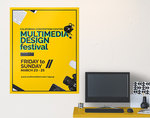 Transform a plain white wall into a colorful surface.
Removable, reusable, and residue-free
Print full-color designs on adhesive fabric
Custom sizes available from 3" x 3" to 120" x 59"
Custom Wall Decals Layout Templates
Our layout templates ensure your wall decals meet our printing guidelines. Here's how you can use them:
Choose your preferred size and download the ZIP file.
Open the ZIP file on your device.
Open the EPS, PDF, or JPG format in the corresponding editing program.
Effective Ways to Display & Design Your Wall Decals
Wall decals help set the mood when customers come in and explore your store. They help diners feel at home while they sit down and decide what to order in a restaurant. Here are some fun ways to get the most out of your wall decorations:

Put up seasonal designs. Looking to decorate your wall for the holidays or other seasonal occasions, like Halloween? Wall decals let you go the extra mile without committing to these designs year-round.
Highlight your brand in important spaces. Place a wall decal of your logo behind the receptionist's desk. Remind employees of your mission and vision in the workstation area. Display a few encouraging quotes in the meeting or break room.
Decorate to add the illusion of space. Is your space on the small side? Add a few horizontal stripes on the wall to make the area look wider and more welcoming.
{{tatDisplay}}
{{ priceData.discounted_price | currency : '$' : 2 }}
{{ priceData.price | currency : '$' : 2 }}
{{ priceData.unit_price | currency : '$' : 2 }} each