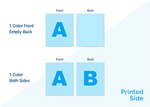 Order custom carbonless forms for effortless business transactions and to make a big first impression.
Zero mess and duplicate copies guaranteed
Full-color or black custom invoice book printing
Sequential numbering helps keep receipts in order
A useful tool across a number of industries
Carbonless Forms Layout Templates
Our carbonless forms layout templates will help you properly create your design. They show you the exact size your artwork should be to print with a professional look. They can be downloaded through a desktop PC in AI, PUB, PSD, PDF, or JPG formats combined into one .ZIP file.
Marketing Ideas for Carbonless Forms
Even a high-quality, professional-looking receipt can make an impact on your customers. Keep these tips in mind as you create and disseminate your custom carbonless forms.
Be daring with your design. Don't add to the monotony associated with completing business forms. Incorporate colorful design elements and contemporary fonts into the design. These keep customers interested as they fill out the forms.
Keep yourself accountable. On site industries such as transport and utilities use carbonless forms. Provide your staff with padded sheets that are easy to carry around and write on.
Complement your digital data. While most transactions are done online, mishaps can happen. Files can get erased, systems crash. Avoid starting from zero and have a ready paper trail.