Political Campaign Printing
PrintPlace is here to help you win.
Create multiple promotional materials that will appeal to every kind of voter.
Send postcards and brochures directly to a specific demographic.
Complete your next grassroots campaign or fundraising materials.
Campaign Printing Essentials
Introduce a winner to every voter.


Durable 14 pt. and 16 pt. cardstock
Matte, gloss, and high-gloss UV
Folding options for extra space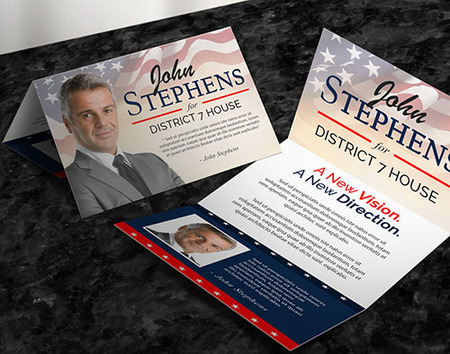 Campaign Folded Postcards
Extra space with half-fold postcards
10 pt. & 14 pt. cardstock
Tabs for recipients to send back
Grassroots Campaign Essentials
Approach voters with all the information they need on your candidate.


Variety of paper and cardstock

 

Gloss, matte, & high- gloss UV
10 folding options to organize info
Create a clear message to voters
14 standard sizes, plus custom
Paper and cardstock choices
Choose from 5 standard sizes

 

Made of durable corrugated plastic
Add stakes or grommets to display
Introduce a winner at every engagement.


A professional introduction
Standard and square sizes available
Sturdy 14 pt. and 16 pt. cardstock
Fundraising Campaign Materials
Showcase your candidate's strengths at fundraisers or community events.


Political Campaign Printing You Can Trust for the Next Big Election
Looking for the best printing partner in the coming election? PrintPlace lets you choose from a variety of political campaigns printing materials.
Here's what to look for-and what PrintPlace can offer to help promote your candidate as the next winner in the coming political campaigns:
A Multitude of Custom Printing Options
Protective, premium coatings- Stand out with the vibrant shine of high-gloss UV or the medium glare of gloss. Matte is for more elaborate messages on your brochures and flyers.
Folding options for rack cards, brochures, and flyers--Send out a comprehensive yet concise message in a trifold postcard or elaborate on your candidate's plans in a two-, three-, or four-panel brochure.
Durable paper and cardstock to elevate the impression you make on each flyer, postcard, brochure, or rack card. Choose from 70 lb., 80 lb., to 100 lb. paper or 10 pt., 14 pt., and 16 pt. cardstock.
Complete Direct Mail Services
Ensure your election printing efforts reach the votes that will make a difference. Our direct mail services include:
Processing of 1 mailing list
CASS Certification
Inkjet addressing
Postal presorting for automation rates
Duplication removal upon request
Check out the mailing requirements for more information or the USPS page for details on direct mail.
Special Features to Complete Your Political Campaign Printing
Add perforation to forms included in your postcards, brochures, or flyers. Include a raffle ticket your voters can fill out to confirm their attendance at an event.
You can also send out remittance envelopes to gather donations directly from supporters. Have them send cash or fill in their credit card information.
Having an interactive portion in your campaign printing materials increases engagement with potential voters and supporters.
Fast Printing Times
Complete and approve your order by noon CST and it can be printed on the same day. Select Same Day as your turnaround time and approve your order before this time.
Turnaround time starts when you approve the campaign material's artwork and ends once the order is sent for shipping.
Important Print Guidelines
The file's color mode should be in CMYK
In Photoshop, you can set it to Image > Mode > CMYK Color.
For InDesign, go to Window > Color.
In Illustrator, go to File > Document Color Mode > CMYK Color.
The file should be in 300 dpi resolution. Otherwise, your images or enlarged elements will be printed blurred or pixelated.
Follow the bleed while designing your election campaign materials. The artwork's background color or image should go beyond the bleed. Do not leave the space beyond the bleed blank as it will appear white or cut out when printed.
Q: What is the best paper or cardstock for brochures and flyers?
A:
The
100 lb. paper
is the recommended material for brochures. Here are some of its advantages:
Protection from repeated handling and prevents creases
Comes in gloss, high-gloss UV, or matte coating
If you need the flyer to be significantly thicker and heavier, the 10 pt. cardstock is similar to the cardstock found on book covers.
Q: What is the recommended material for campaign posters?
A: The 16 pt. cardstock has a thickness and rigidity that protects it from creases and folds.
Q: How can I place a direct mail order with my campaign printing order?
A:
On the product's online calculator, check the Mailing Services box at the bottom after inputting your specs. 
You'll be taken to a
Mailing Services
page where you can indicate the following information:
Number of pieces to be mailed
Action if your recipient moved
Action for duplicate removal
Postage type
Mailing date
Q: Does the printing time include the period spent for shipping?
A:
The turnaround time represents the number of days required to produce your job. It does not include shipping transit time or direct mail processing time.
To determine when a job will arrive, you need to add the number of estimated shipping days to the ship date.
Q: What is the best size for door hangers used in a political campaigns?
A:
The
8.5" x 3.5"
and
11" x 4"
are the most popular dimensions for this essential grassroots campaign product.
The 8.5" x 3.5" is the smallest and a common size for door hangers. Recommended for designs with a central image and minimal text.
The 11" x 4" is the longest size of them all. It's the most visible and attention grabbing among the dimensions.
A half-fold option is also available if you need more space without having to increase the overall size.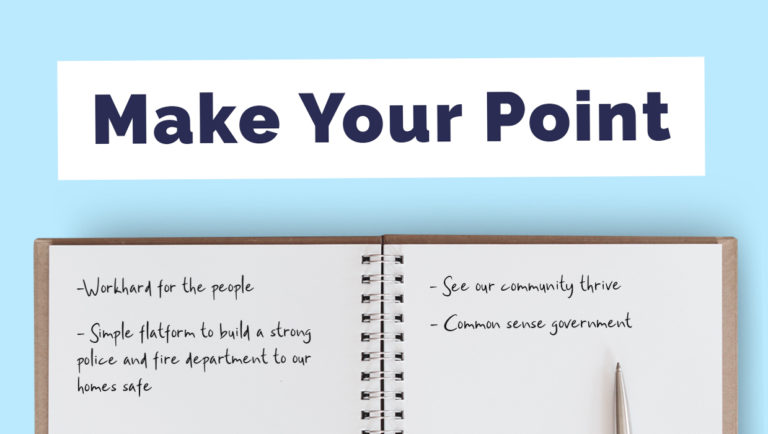 Political Direct Mail: Make Your Point in 20 Seconds or Less
December 30th, 2019 | by James Carter
How to highlight the most impactful parts of your candidate's resume.
Tell an Effective Candidate Story
January 30th, 2020 | by James Carter
I've talked about the benefits of direct mail in previous blog posts such as the ability to target voters with...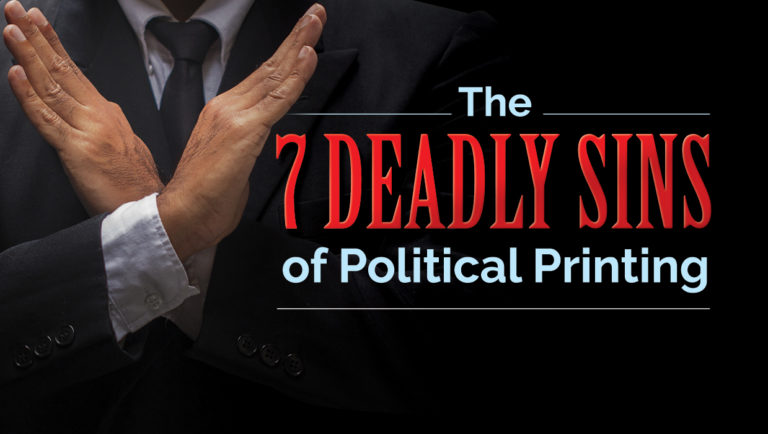 The 7 Deadly Sins of Political Printing
February 11th, 2020 | by James Carter
What to avoid so that your campaign doesn't end up committing malpractice.
Why Choose PrintPlace for Election Printing
Excellent quality, fast printing. No problems downloading. I like the ease of comparing quantities and pricing.
Why Choose PrintPlace for Election Printing
The quality is perfect. We were really thrilled with how the postcards turned out.
Why Choose PrintPlace for Election Printing
I have been using PrintPlace for many years and they always come through. On time, quality is great, and the price is right. Great to deal with.
<
>
Browse by Category
Featured Products