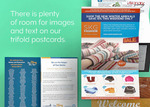 Trifold postcard printing is easy with our online ordering tool. You even get an instant proof with each order.
6 panels mean you get more room for your message
Add perforation for tear-off coupons or reply cards
Add high gloss coating for a high shine
Ideal for announcing new product launches
Trifold Postcard Layout Templates
Use our postcard layout templates to ensure your artwork meets the necessary requirements for printing. Free layout templates are provided in EPS, JPG or PDF formats for front (outside) panels and back (inside) panels.
If your folded postcards are mailing, be sure to check the "Mailing Options" tab for mail panel design requirements.
Direct Mail Services for Folded Postcards
All listed trifold postcard sizes are eligible to mail at First-Class Mail or letter automated rates, as long as the mailing panel design and tabs meet postal requirements (trifold cards must be tabbed for mailing).
Our direct mail services include: processing of 1 mailing list, duplication removal if requested, CASS Certification, inkjet addressing, and postal presorting for automation rates.
Postcard mailing services cost $24 for 1,000 trifold postcards and an $85 setup fee (250 pieces minimum), plus postage. Tabbing can be added during the ordering process. Read our detailed "mailing requirements" for folding, size, shape and tabbing guidelines.
Your postcards can be tabbed for mailing.
Marketing and Design Ideas for Trifold Cards
Trifold postcards offer six panels to work with, giving a wealth of postcard design possibilities and plenty of room for complex information. A great alternative to brochures, the six panels give you plenty of space for your message, yet fold for easy mailing or storage. These same qualities also make them a good choice for postcard invitations.
 To further improve your response rates, you can add a perforated panel for a response card or coupon. This serves as a strong call-to-action. It encourages recipients to follow up by either sending a response back or visiting your store for special savings. Try industry-related tips, mini-calendars, sports schedules, or even recipes.