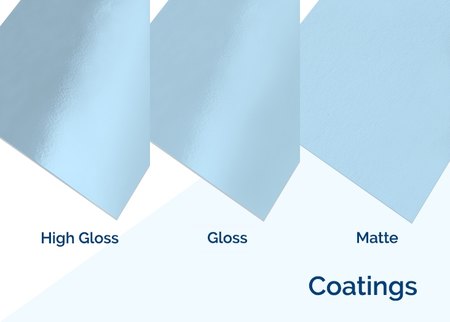 Every half fold postcard order is backed by our satisfaction guarantee.
Print & Mail: in one place
Get twice the space to spread your message
Also used as event invitations
Add a perforation for a reply card or coupon
Standard sizes shown mail at automated letter rates
Layout Templates for Folded Postcards
Use our folded postcard layout templates for all printing requirements. The layout templates can be downloaded in three different format options: PDF, EPS, and JPG. Follow the specifications provided to ensure your artwork prints correctly.
Direct Mail Services
All standard half-fold postcard size options are mailable under USPS  requirements, which state postcards may be no larger than 6-1/8" x 11-1/2" x 1/4" thick. Half-fold postcards are eligible to mail at First Class or Letter Automated rates, as long as mail panel design and tabbing meet postal requirements.
Direct mail services for folded postcards include: processing 1 mailing list, duplication removal if requested, CASS Certification, inkjet addressing, and postal presorting for automation rates.
Our direct mail services cost is $24 for an order of 1,000 with an $85 setup fee (250 pieces minimum). Tabbing can be added during the ordering process. Check the "Folded Postcard Mailing Requirements" below for folding, size/shape, and tabbing guidelines.
Half-Fold Postcard Marketing and Design Ideas
Half-fold postcards make a great alternative to brochures. You can even use pre-existing brochure designs and easily convert them into a potent direct mail tool. Printed on premium gloss or uncoated card stock, half-fold postcards give you plenty of space to market your message, yet fold for easy (and inexpensive) mailing. These same qualities also make them an excellent option for postcard invitations.
Take advantage of the added space and include a perforated tear-off for coupons or reply stubs on your bifold postcard design. Get creative and design something with your customers in mind. Whether it's a comment card, survey form, or order form, a reply card gives your customers an easy way to respond to your advertisement, which will increase your ROI.
Check out this article to learn more about printing half-fold postcards as well as other half-fold printed products.
And here's a Guide to Standard Postcard Sizes for Mailing.


Additional Resources: