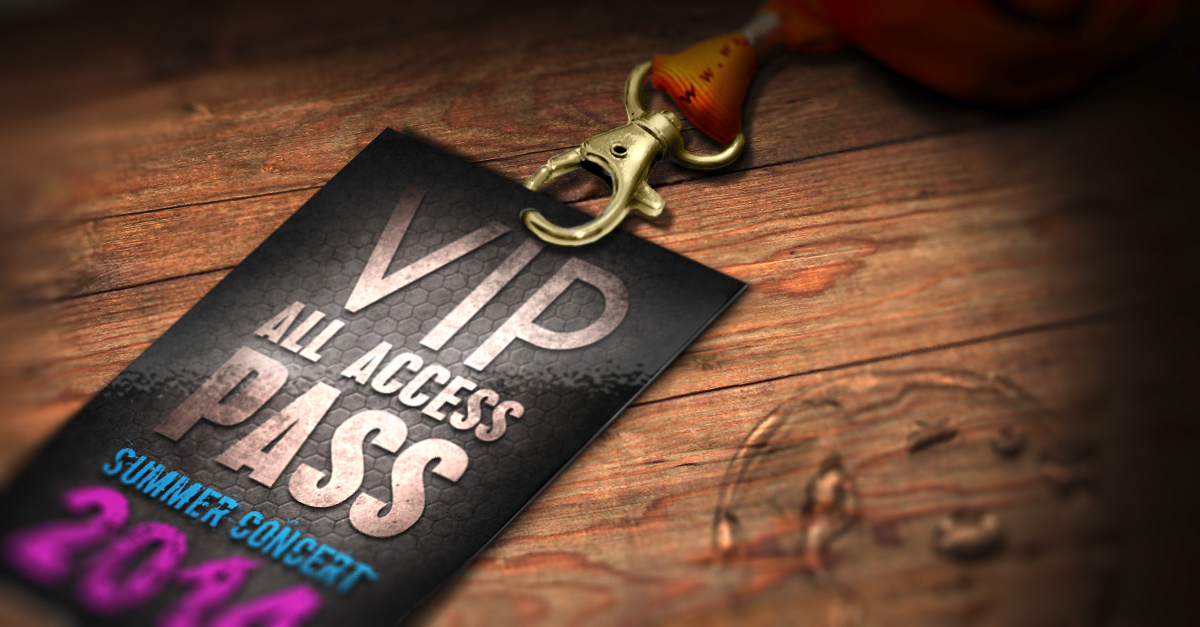 Festivals, events, and more summer ideas for hang tags
Summer is almost here! It's time to go outside again. I love summer. People emerge after being cooped up in their houses and are just happy to breathe fresh air again. Kids are out of school, full of energy, and ready for adventures. Festivals and outdoor events start to pop up in every city. There is so much to do.
It's festival time!
City festivals come to life and concert tours abound in the midst of the warm weather. As fun as they are to attend, I've also seen how much work goes on behind the scenes to make it all happen. With all the staff needed to coordinate these events, it's important to designate staff, volunteers, and even talent. An easy way to make everyone's roles clear (and make them feel important) is with customized hang tags. You can print a different design for each role, and then easily distinguish everyone.
Vendors won't have to worry about keeping a special ticket or wearing a sweaty wristband for access to the hospitality tent if they can keep a hang tag swinging from their neck, in easy view all day. Include multiple hang tags on one lanyard and they can serve as more than just a pass. They can be an organizational tool as well, because let's face it, there are a lot of unorganized people out there. You can include everything in one easy spot…around their necks. Clip a check-in schedule, daily schedule of events, FAQs, and a list of other vendors together for easy reference. All the answers will be at their fingertips (or hanging from their necks at least).
Small business events need hype too
This doesn't just include large concerts and festivals though. Try printing hang tags as unique tickets to any event, large or small. They will send a powerful message. Print some for your VIP guests and hang them on lanyards. They'll feel like they have a special backstage pass to your event, even if it only gets them a behind the scenes look at your new display room after hours. Mail them out ahead of time instead of tickets. Serve drinks at an impromptu bar in the middle of your store for a grand opening. Guests will pick up on the upscale vibe as they don hang tags for their access to the event.
Of course this could all work for a conference too. An outdoor element like a rooftop happy hour would certainly add a fun, summer element, and a hang tag pass for a free drink is the perfect addition.
Summer makes a statement indoors too
If you can't take your business outside, bring summer into your business. Loop a piece of string or elastic through hang tags and tie them around items in your store to advertise summer specials. This will draw attention to specific items, rather than a whole rack, so they seem more personal. Use bright colors and mention a fun summer use for that product. With that little push customers will visualize the product in their backyard, or at their cookout, and won't be able to resist adding it to their basket.
Printing tips for quality hang tags
For the strongest hang tags, order them on 14pt cover stock. This is a thick cardstock that will stand up to a little wear and tear. Then add a high gloss UV coating to get a photo-like finish that will make your colors pop. The hole drilling is already included, so you can easily hang it on a lanyard or string. No matter what you use them for, your hang tags will make your summer event look professional. You will be organized, and your guests and vendors will be impressed by the upscale appearance.
Writer. Marketer. Enjoying writing about printing and marketing. Other things to talk to me about at a cocktail party include travel, dance, and food. Find me on Twitter @writtenbyemilie