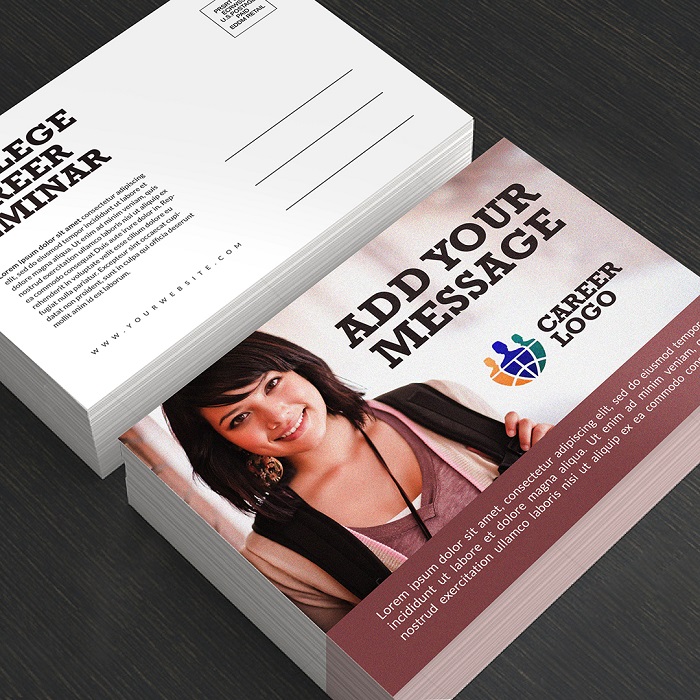 Ultimate Guide to Custom Postcard Printing: Sizes, Materials, Design & Creation
We live in a world where everyone hears endless phone notifications and experience social media exhaustion. It's no surprise that print marketing like postcards, stand out in a digital landscape. According to a USPS study, 56% say receiving mail is a "real pleasure," and 55% look forward to what they receive. Another 67% reported that mail feels more personal than the internet. As radio lives on amid streaming and music videos, , then the same can be said about print living in a society stuck with screens.
Postcards continue to reach potential and loyal consumers in their households effectively. USPS reports in the same study that "98% of consumers bring in their mail the day it's delivered and 77% sort through their mail immediately." A postcard will captivate your recipient and grab their attention unlike an online ad. The findings also show that the person sorting through the mail is the household manager, the family's decision maker. While you cast a wider net online, postcards cut through the noise and reach someone who'll be interested to take up your offer—whether it's a promotional code for an online sale or a discount for Taco Tuesday.
How then can you maximize the targeted reach of direct mail postcards? Here's a comprehensive guide on finding the right size, choosing the best material, and combining quality features based on your budget:
Jump to:
Find the right size for your postcard design and marketing campaign
Combine a sturdy material and luxurious coating that highlight your message
Premium coatings that bring out the details of your customized postcards
Designing the postcard with your customer in mind
A checklist of all the important printing guidelines
How to create postcards with an online printer
Find the right size for your postcard design and marketing campaign.
Postcards reach your target customer directly when it's delivered straight to their doorstep. You'll need a size that qualifies for affordable direct mailing and has enough space for your main message. Use the table below to determine what postcard size is most suited for your campaign and delivery plan:
Postcard Size
Appearance for Reference
Best Used for
USPS Mailing Qualifications
4"x 6"
Note for publisher- Use image here:

The most common postcard sent out in direct mail
Enough space for your main image, CTA, and other essential details.

First-Class postcard rate
5" x 7"
Note for publisher- Use image here:

A medium-sized postcard with enough room for your essential bits of inform.
Likely to stand out against smaller standard postcard deliveries.

First-Class Mail® rate
6" x 9"
Note for publisher- Use image here:

Among the larger postcard sizes you can mail for a reasonable rate.
More than enough room for a large image and several blocks of text.

First-Class Mail® rate
6.25" x 9"
Note for publisher- Use image here:

Deliver to a list filtered according to income, age, or household size.
A slightly larger postcard size you can tailor to the market's exact tastes.

USPS-approved EDDM® size
6" x 11"
Note for publisher- Use image here:

Almost as big as a letter-sized page and a central image.
Qualifies for the first-class letter rate of delivery.

First-Class Mail® rate
Want to explore more postcard sizes? Explore the small, medium, to large mailable dimensions discussed in this article.
Combine a sturdy material and luxurious coating that highlight your message.
Whether you send postcards to a first-time or potential customer, your design's impression will discourage them from doing business. Receiving a postcard can be great experience, but you can make it even more memorable by using a durable cardstock and vivid coating. Discover what type of material and coating will work best for your campaign and brand image.
Determine the best cardstock for your custom postcards: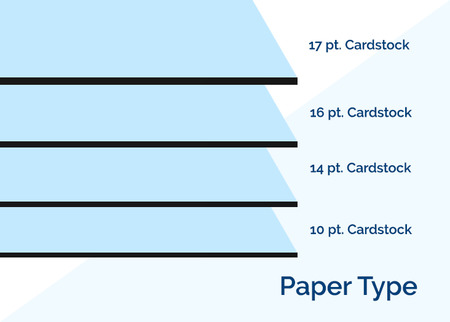 10 pt. cardstock is the lightest and most affordable material. It's slightly thicker than high-quality bond paper but not as thick as a standard postcard. Recommended for small-scale campaigns on a limited budget.
14 pt. cardstock is commonly used on most direct mail postcards and business cards. It's thin enough to carry around but sturdy enough to hold on its own during transit.
16 pt. cardstock is a little thicker than the standard 14 pt. material. The additional weight gives customers the impression that you have the money and resources to offer them a premium experience.
17 pt. cardstock is the thickest material available. It gives a rustic feel to your design. This cardstock only comes with an uncoated surface that you can write on.
Premium coatings that bring out the details of your customized postcards.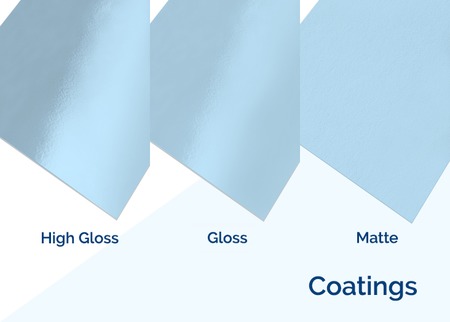 The high gloss has the highest shine and offers water-resistant protection for your design. Colors pop right out of the page while maintaining the fresh off-the-press look of the postcard.
Gloss offers the right amount of shine, giving a slight glow or reflection under a light. Bright hues and images stand out to reveal the details on print. It also provides additional protection from external markings.
Matte gives a satin-like finish to the postcard. Its muted sheen suits neutral colors or pastel palettes. The smooth, non-glare surface makes it easy to read, making this finishing option perfect for longer text.
Designing the postcard with your customer in mind.
To appear presentable and professional, you don't need to choose the most expensive cardstock or printing option. Before anything else, the design should be true to your brand while conveying your message. Ask yourself the following questions while creating your custom postcard:
What features will appeal to the target recipient? Design the postcard for your target or current customer. What fonts, colors, and images will appeal to their tastes? Is there a specific solution that they seek? Use their needs as a guide; everything will follow in creating an effective postcard they'll read.
Is the entire design easy to read and look at? Compelling copy is key to capturing your recipient's attention. Include a headline that instantly delivers your message and a detailed graphic that supports the main message. Add a short subhead in case any additional details are needed for them to make their first-time or repeat purchase.
Are the benefits of your promotion and the call-to-action clear? The headline should convey what you offer to the reader. Is it 50% off a five-course meal? A discount that saves them money? An exclusive membership that provides perks they need as mothers or remote workers? Convey the benefit they can get from your business and how they can avail themselves of it in a clear call to action.
A checklist of all the important printing guidelines
Once you've selected the best features that match your design and completed the postcard, you can submit the file for printing. Refer to this checklist to ensure it's of the best quality after production:
Follow these printing guidelines on the file:

Trim – The line printers cut on to achieve the selected size. The line is found below the bleed.
Bleed – The entire file should be .25" larger than the size you selected. For example, an 8.5" x 11" postcard should be 8.75" x 11.25" on the file.  Extend the design's background until the additional 0.25" all sides to ensure it isn't cut off in the final print.
Caution zone – Refers to the edge or area that's 0.125" away from the trim line. Position the text at least 0.125" away from the trim line so that it's not cut off or close to the edge of the postcard.

Check if the images and other elements are at least 300 dpi. You can zoom in 300% to see if the image will appear pixelated on print.
The color mode of the artwork should be in CMYK. Do not send a file where the color mode is in RGB.
Save it in any of the preferred printing formats: PDF, JPEG or JPG, TIFF, PUB, PSD, AI, or EPS.
Not sure how to apply the printing guidelines on your postcard file? Head to the "Layout Templates" tab on the selected postcard and download the template in the size of your choice. All files in the downloaded ZIP folder show the printing guidelines listed above.
How to create postcards with an online printer
Custom postcard printing online saves you the trouble of leaving the office (or your home office). At PrintPlace, you complete every step online. If you have any questions or clarifications, our print experts will answer them via chat or call. Follow these easy steps to start ordering today:
Upload a design from your device. Click "Upload Now" on the Online Calculator after selecting the postcard's features. The preferred file format is PDF, but you can also upload a file in JPEG, JPG, TIF, TIFF, or EPS.
Start with a layout template or create the postcard online. If you haven't customized the postcard, head to the "Layout Templates" tab to download a file in your preferred format. If you are a novice at editing programs, choose "Design Online" to start using an intuitive design tool right on your browser. The tool will load with a canvas preset in your selected postcard size.
Review the online PDF proof to ensure that your design will print exactly the way you want it. After uploading the file, click "I need a PDF proof" from the Proofing Options. You can download the online file from the Shopping Cart after uploading. We will only send the file to production after receiving your approval online.
Find the best custom postcard for your next promotion today.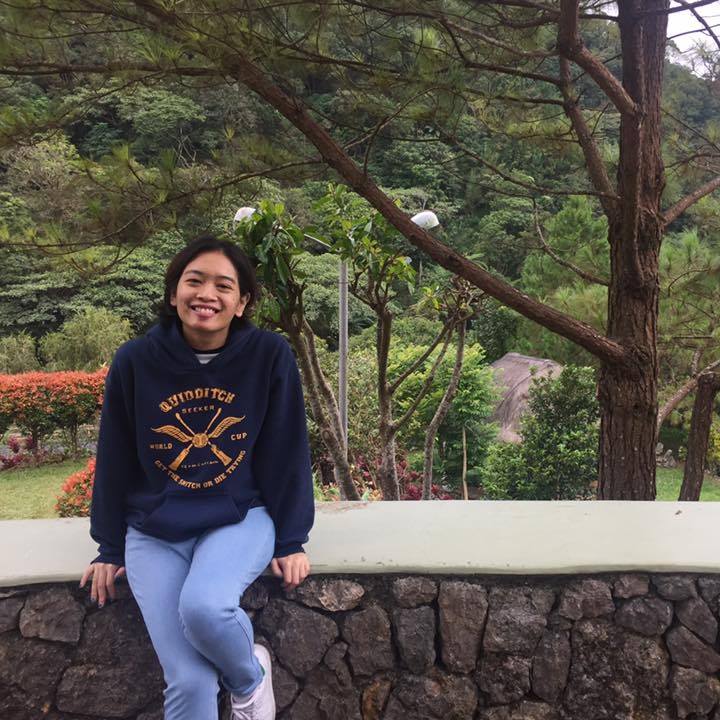 Angela's first love is food but her second love will always be the written word. She loves discovering new ways to tell stories and reads everything from YA to memoirs. Her time away from words is spent either with her three dogs or catching up on her favorite Netflix shows.