Aggressive marketing defines success, but what is even more important is creating a favorable first impression. Clever and creatively designed business card help you sell yourself even before you start advertising your business. Business cards are often your first visual interaction with the client and help in answering the essential 4 "W's" – Who What, Where and When. Additionally, an attractive business card will not only help you in expanding your business network, but if you have a unique design it clings to the memory of the potential customers thus increasing your chance of getting business. Below are the some examples of creative and unique business cards you may thought weren't possible.
1. Create a Car
First on the list of eye-catching card is this unique card of Intersection. Nothing could be a better way to market yourself then engaging your customer in assembling your card into a beautiful sports car. The more time spent by the user assembling the card, more amount of time you get to attract the customer towards your business. And with a card as unique as this, the customer is bound to get impressed with your creativity.

2. Hairstylist Card
Ever thought that bob pins used for creating elegant chignons and hairstyles could be used for any other purpose? Yuka Suzuki, hair and make up artist, used these every day hair accessories to design her business card. A differently styled business card guarantees you a differently styled beautiful hair style.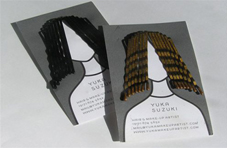 3. Broken Plates Promotes Greek Restaurant

If you are a hotelier or a restaurant owner and tired of extra expenses because of broken plates, take a tip from this Greek restaurant and convert those broken pieces into a way to promote yourself by using them to make your business cards.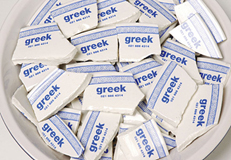 4. Bottle Opener as a Business Cards
Japan has been known worldwide for its high tech technology, new ideas and innovations. This is apparent from this business card which has been designed as a bottle opener. Who would throw away such a useful business card?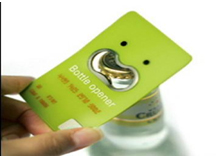 5. USB Drive as Business Card
Another example of Japan's innovation – promoting business by making use of a pen drive! A pocket USB drive is a great way to promote abrand and with the memory prices going down, it's also an inexpensive way to creating that lasting impression.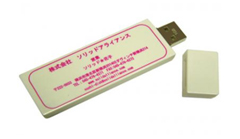 6. Go Green With Lush
Lush Lawn & Property Enhancement has found a unique way to sell what they are best at doing … landscaping and creating beautiful gardens. When you open the Lush business card, designed like an envelope, you find grass seeds – a symbol of lush green lawns which you will enjoy with the help of their service.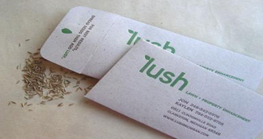 7. Clothes Pin Business Card
To avoid his business card getting lost in the wallet as just another business card, Cehovin Eduard came up with this interesting business card in the form of a clothes pin. This is a great way to avoid getting lost in the crowd!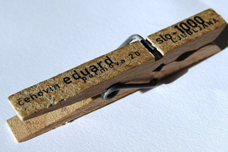 8. Divorce Lawyers' Business Card
A business card is a reflection of your personality or an extension of your profession and this has been considered seriously by divorce lawyer James in coming up with a business card. There isn't a better way to represent what divorce lawyers do than this card!

9. Balloon Business Card of Chest Physician
Suffering from asthma and looking for a physician who can help you improve your lungs? Visit Dr Pramod Niphadkar usesdeflated balloons to promote his practice. Details of the doctor's practice are fully visible once the balloon is inflated. This creative idea which will surely help in attracting more patients!

10. Needle Pricks to Design Card for Acupuncturist
Acupuncturists helps you get rid of body pain, stress and numerous other disorders by inserting very thin needles at appropriate pulse points. A clever needle-punched design has been used to create acupuncturist Dr. Melissa Carr's business card.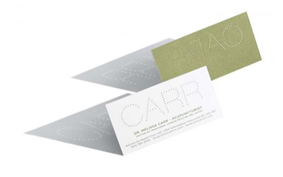 11. Clothing Tags Promoting Tony Thielsen Designs
Would you more likely to visit the store of a label selling 50 dollars worth of goods for just 2 cents? That's the concept being used by Tony Thielsen in creating these business cards designed like price tags offering huge discounts. A card like this is certain to hold any woman's fancy!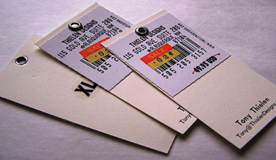 12. Toothpick & Mirror
Uniqueness is what attracts a buyer and sets you apart. Designed by Ji Young Chun, this card is a perfect collectible for women looking for a mirror to touch up their makeup.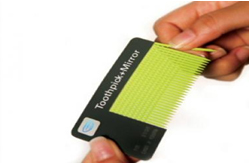 13. Edible Card by a HeadHunter
Discretion is the hallmark of a good headhunter. This philosohpy has been taken to heart by Aert Van Seggrerian in coming up with this lovely edible card. Eat after reading to remove all visible traces of communication. Now this is one smart move.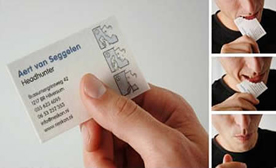 14. Business Card of a Personal Trainer
The job of a personal trainer is to inspire you to stretch and sweat in order to achieve that dream look. And if personal trainer Paul Nielsen can inspire you to stretch and read his business card, then he can surely motivate you to move!

15. Business Card of a Debt Recovery Agent
An x-ray of a broken hand has been used by the debt recovery agent Rajesh Rajan to drive home his point rather aggressively. Who wouldn't like to get rid of their debts faster after receiving such a scary business card?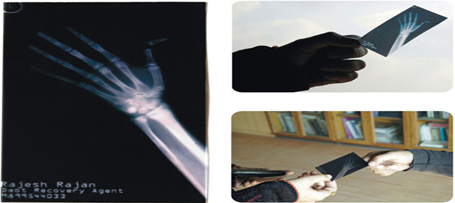 16. Humor Personified in Blank Business Card
A witty line can be used to register yourself in the clients memory. This wit has been used (and used well) by Dave Blank in designing his business card. A simple design – with a simple one liner – but offering a tremendous impact.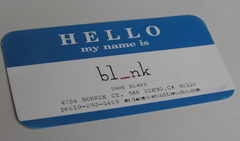 17. Dentist's Business Card
Dr. Lance Schmidt used the embossing of teeth to advertise his Reflections Dental Care. A simple design in white and blue with just engravings representing desirable white teeth makes this card simply attractive.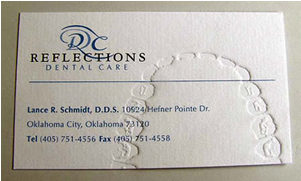 18. Furniture Company Business Card
Taking you back to fond memories of your first doll house is what Jim Proffitt's business card evokes. It promotes his line of hand made furniture with a small die-cut chair popping up upon opening the card. This card will surely make you want to visit the store to look around for yourself.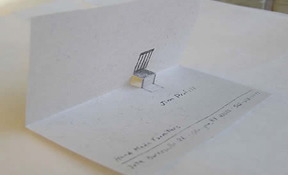 19. Security Consulting Firm using Lock & Pick Card
Sometimes just looking at a business card just makes you say "wow" and you are tempted to possess one for yourself. Kevin Mitnick's metal die-cut card is designed to look like a set of lock-picking tools. This innovative card is sure to cross a lot of hands.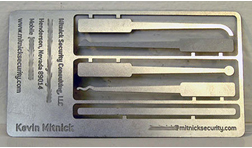 20. Chocolate Business Cards
Finally – a business card you can eat after reading! Business cards designed on chocolates are latest craze and are being used not just by candy companies but by other major corporations. A chocolate business card is a sure bet to bring a sweet smile to anyone's face.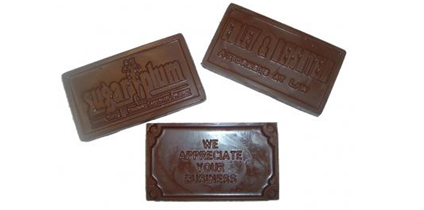 21. Inter-changeable card
Looking for a fresh business card that allows you to change your designation without spending a lot of money? Get these beautiful business cards. Featuring a colorful outer envelope with an interchangeable white sheet is what adds to the usability and utility of using this design

22. Peanuts Business Cards
Well, this business card has been included in this list just for its sheer ingenuity. Using peanuts as a medium to promote your business is screaming your style statement "Dares to be Different."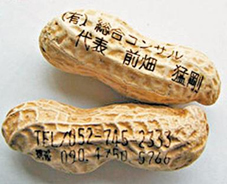 23. Forensic Experts Business Cards
Coming in a plastic ziplock bag showing a hair strand, forensic expert Sheryl Shikora makes a bold statement with these fluorescent green and white business cards featuring graphics suitably publicizing her profession.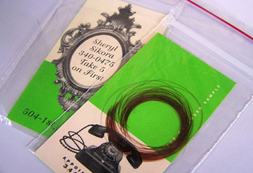 24. Wanderlust Maps & Travel Guides
Planning to travel around a city and looking for travel guide or road map? Wanderlust Maps and Travel Guides, with their unique business card designed in the form of location map, will help you in easily finding the coolest destinations. This card is a great way to promote the travel guide business!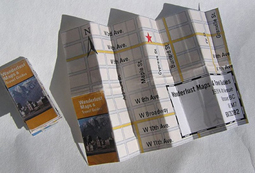 25. Architecture School Business cards
Belgium Architecture La Cambre uses business cards in the form of building blocks to advertise their expertise. It creates the desire to collect the cards and build your very own business card building. Anyone can be an architect!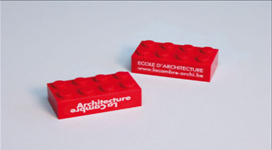 These beautiful unique business cards take creativity to an entirely new level. So take inspiration from one or more of these cards or come up with your own unique design and dare to be different.
Comments