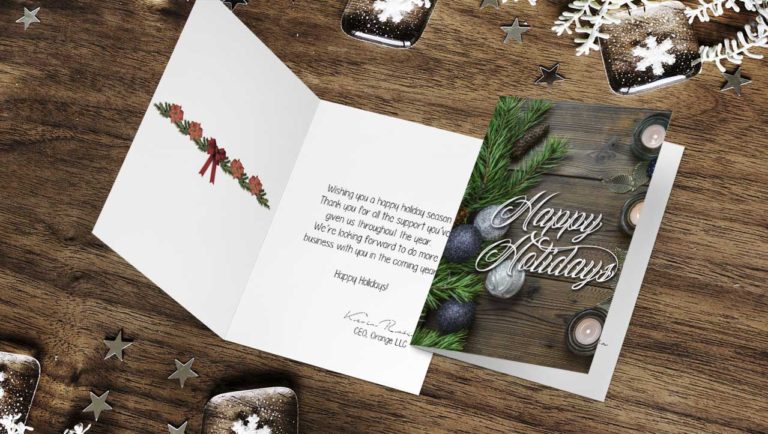 5 Easy Steps to Create Custom Greeting Cards
Forget generic, store-bought greeting cards that your recipients will not think twice about throwing away. This season, design your own custom greeting cards that you can use to send heartfelt messages to your customers.
Custom greeting cards are the perfect seasonal marketing strategy without breaking the budget. And with today's graphics editing software, it has never been easier to create a completely custom greeting card even if you are a complete design amateur.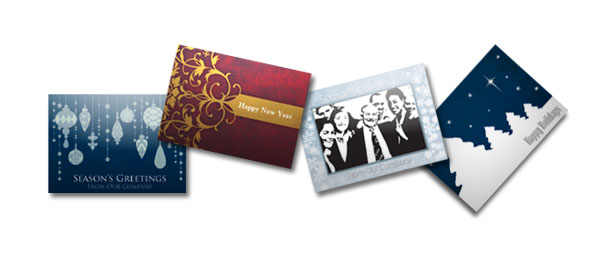 Below, I've compiled the basic steps you need to follow to create the perfect custom greeting card. Don't worry if it's your first time doing one.This guide will be beginner friendly. Following these steps will help you take your initial design concept and bring it to a fruitful and beautiful conclusion.
Here are five easy steps you can follow to create the perfect custom greeting cards and one BONUS tip to use when selecting your printing options.
1. Select your custom greeting cards template.
Most professional printing service providers will supply you with downloadable templates to help you lay out the design of your custom card. Here's a link to our own greeting card templates that you can use for this guide. Just pick the size that you want to work on and download the appropriate file type for your graphics editing software. Once you have downloaded the correct template, you can begin designing your custom greeting cards.
2. Choose a theme.
Greeting cards are very common gifts during seasonal events and other special occasions. Choose a specific theme that fits the event you want to commemorate. This is an important step so that you know what kind of graphics and text to put on your custom greeting cards.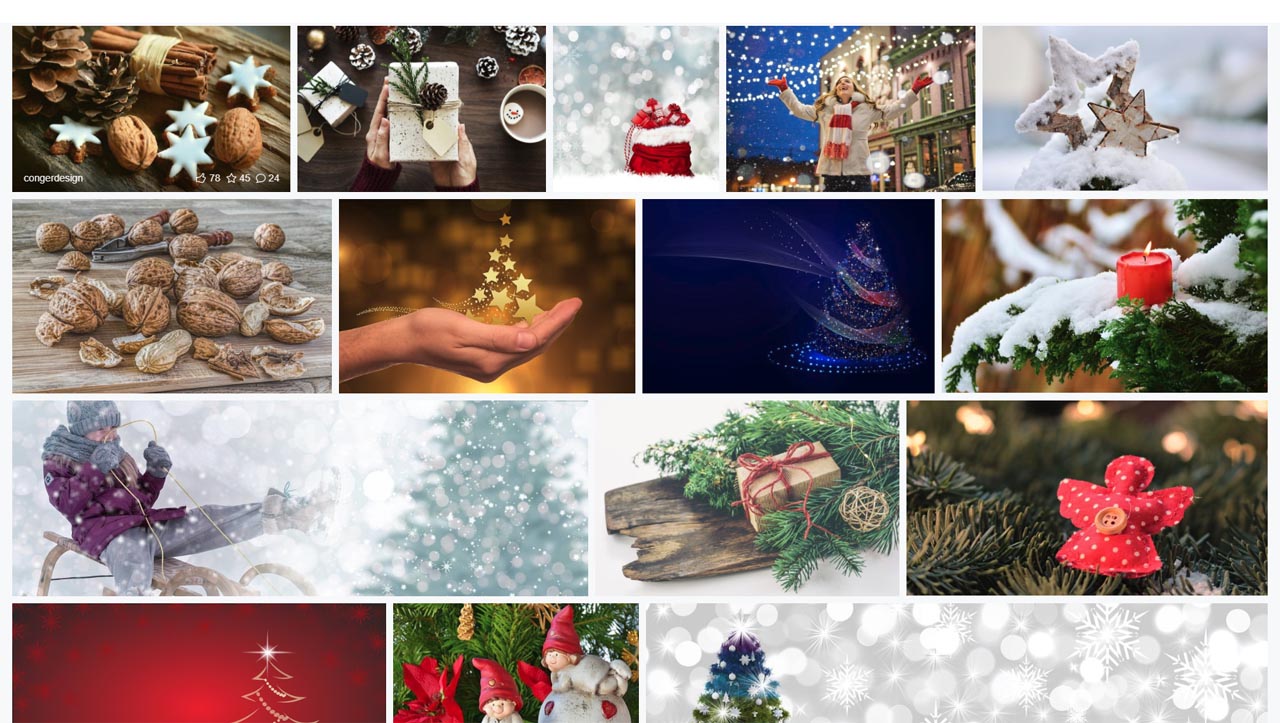 There is an abundance of themed images for public use that can be found on the internet. I usually take my photos from public domain image search engines like Pixabay or StockSnap. The sheer number of available graphics can be overwhelming, so having an idea in mind helps narrow down your selections. As a point of reference, think about greeting cards you have seen or received. Try to incorporate the elements that you liked to your own card.
READ MORE: 3 Creative Examples of Effective Greeting Card Design
3. Set-up your design file.
Once you've decided on your theme, you can start collecting your graphics and setting up your design file. Most of the graphics editing software today have options that you can change when you first set up your file.
Since we are making a greeting card to be printed, we need to make sure the final printout is clear. Set your file to at least 300 dots per inch (dpi) for a crisp output. Your color mode should also be set to CMYK instead of RGB. You need to manually set this option since the default is usually RGB. This ensures that the colors you see on your screen will be accurate in comparison to the finished product.
4. Arrange your text and graphics.
Once you have gathered your graphics, you can begin to arrange them on your template. Keep your original theme in mind and use fonts that are easy to read.  When designing your card, remember this. Don't overdo it. Keep your design clean and readable, so your theme and message get across easily. Finally, since these are custom greeting cards for your business, don't forget to include your logo and contact information.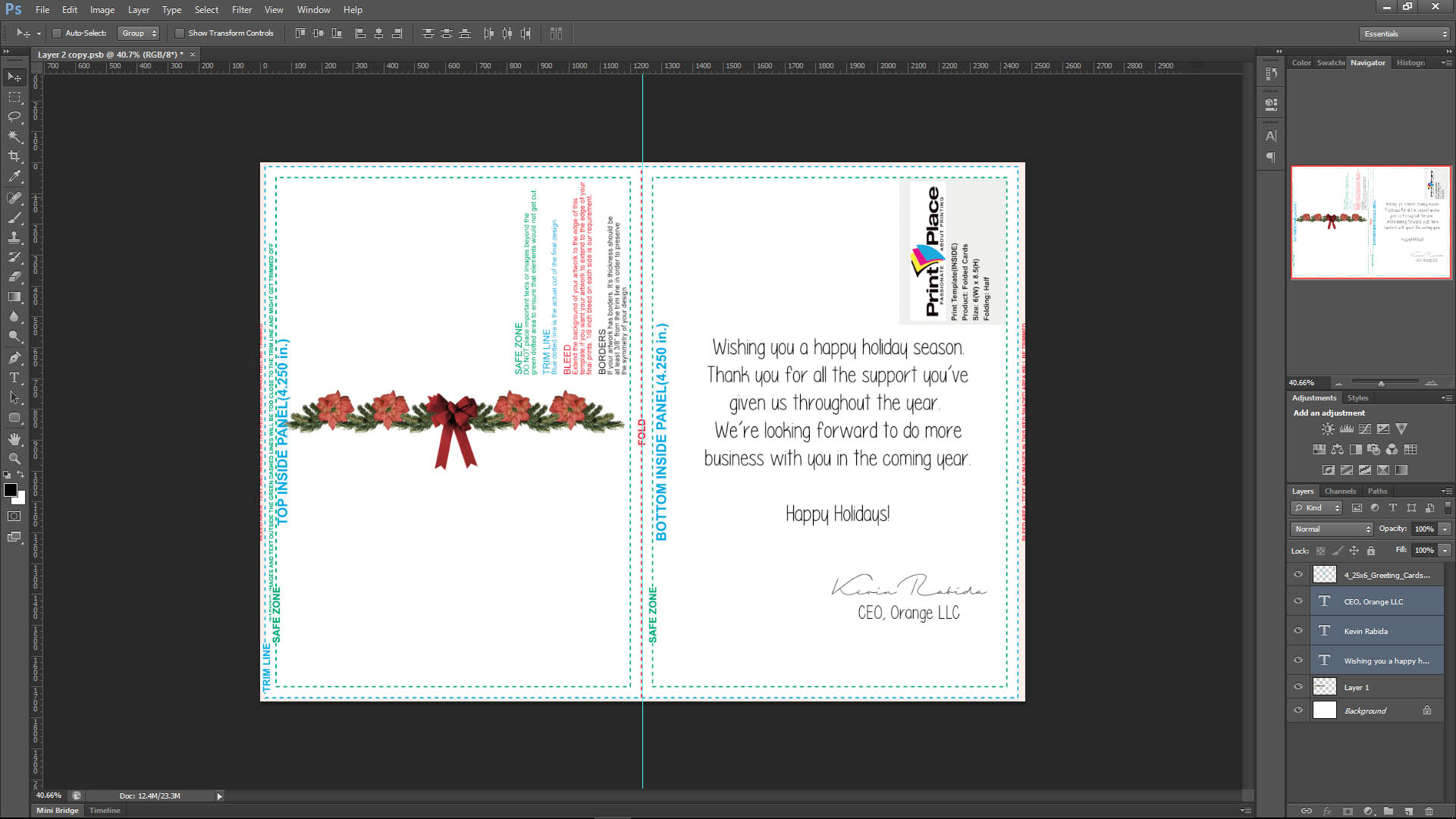 5. Proof and print.
Once everything looks right, save your file, and send it to your favorite print shop. Unless you are printing only a few greeting cards, you should consider using a professional print shop to print them as they will more than likely save you money and get you better results. Plus, they are likely to have a proofing service that ensures your design is ready to print. Online printers also have a variety of paper stocks, coatings and other options available to make your custom card even more eye-catching.
BONUS TIP – Make It Extra Special
Check with your online printer to see what extras might be available to dress up your greeting card. A UV coating can make the simplest card look rich. A high gloss UV coating adds a brilliant, eye-popping lacquer-like finish to the card. A matte coating gives the card a rich look and feel. Don't forget to have your online printer add scoring and folding to your card to make it easy to prepare for stuffing into envelopes and mailing.
READ MORE: How to Send Your Company Greeting Cards in a Fraction of the Time
Done designing your custom greeting cards? Head to our greeting card printing page to get your design printed now.
Kevin is PrintPlace.com's resident marketing writer. If he isn't writing, he's probably reading the latest Haruki Murakami book or rooting for Tyrion Lannister for the Iron Throne.