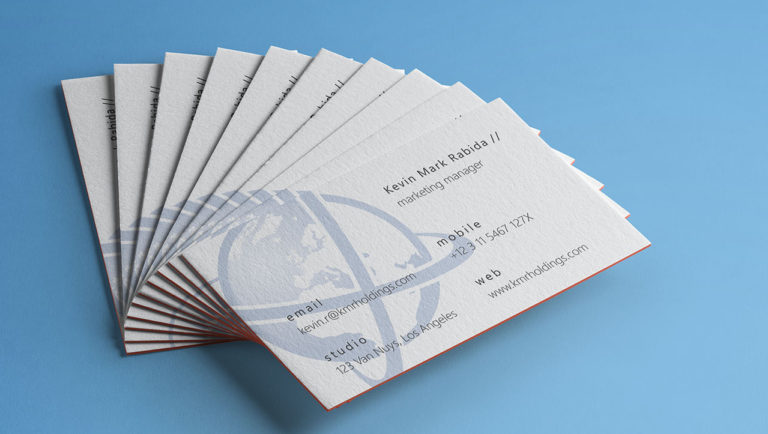 How to Make Business Cards That Stand Out
I know I've been saying this a lot lately, but you need business cards that stand out. Especially in big trade shows and business events, your business cards have to be memorable enough to give a great impression. Your business cards need to have exceptional quality both in their design and material to achieve this.
Your design is fully your own, but for everything else, we got you covered. PrintPlace has a lot of options from paper, coating, color, and cutting options to create your unique business cards.
To create business cards that stand out, watch our short video for tips about several options you can choose when printing your cards.
Video Transcription
Hello, I'm Kadie from PrintPlace. Last time we talked about designing business cards with die cuts. Click the link to see the video.
Today I'm going to talk with you about putting the finishing touches on your business card. First, let's talk about paper type. We offer 14 pt. uncoated, one-sided gloss and two-sided gloss.
Next, our printing options are four color front and four color front and back. The four-color front is a classic look most business cards have. Four color front and back is good for having a logo on one side and your contact information on the other. That way your branding is always present to your customer.
Next, let's talk about coating options. There are benefits to each coating depending on the design. This is our uncoated card. It has a matte finish.  
We also have high-gloss UV. It's very glossy. It makes colors vibrant and pop. It gives the appearance of an actual glossy photo, so it's better for photo- or illustration-based designs with vivid colors.
Now that you've chosen your paper and coating options, let's talk about die cuts. We offer a one-fourth and one-eighth radius. You should know the benefits of choosing a die cut for your business cards. Click this link to see the die cut business card video.
Overall what I suggest is for you to see and touch the options yourself. Click this link to receive our free sample kit.
Thanks for listening, I'm Katie from PrintPlace. Don't forget to subscribe right here and we'll see you next week.
Printing Options for Stand-Out Business Cards
Paper Types
For standard business cards, you can use a 14 pt. or a 16 pt. cardstock. The 14 pt. is the most used paper stock for business cards. It is 0.014" thick, which makes it more rigid than ordinary bond paper. This paper stock gives a great balance of price and durability, which makes it the most economical option for you. If you're planning on handing out hundreds of business cards, this will give you the most bang for your buck.
If you're going for the more premium feel (which you should if you want to stand out), you can choose the thicker 16 pt. cardstock. You may think that the additional thickness is not much, but with business cards, your recipients will definitely feel the difference. The thicker cards have more weight and a premium look. Plus, it makes your cards more durable, increasing their lifespan.
Paper Coating
Paper coatings on your business cards have two added benefits. First, it protects your card from moisture, scuffing, or even fingerprints. Second, you can achieve great visual effects to make business cards that stand out.
At PrintPlace, we offer three types of business card coatings — gloss, matte, and high-gloss UV. Gloss coating will apply a shiny finish on your business cards while matte coating will give a dull, satin-like finish to it.
High-gloss UV will provide the highest level of glossiness to your card. This makes the colors on your card more vibrant. It also gives a high level of abrasion resistance to your cards, ideal for hand-outs like business cards.
Die-cuts (Try a New Shape for Your Card)
Unique shapes can make your business cards stand out even more. If you're up to the challenge of breaking from the traditional business card shape, then die-cut business cards are for you.
PrintPlace offers several die-cutting options you can use for your business card. To start off with a simple one, you can have rounded corners for a softer look to a mostly traditional card.
Leaf business cards have both rounded corners and straight edges, the best of both worlds.
Circle business cards work well for circular business logos.
Oval and half-circle die-cuts combined with a compatible design can make your cards feel modern and fun.
Kevin is PrintPlace.com's resident marketing writer. If he isn't writing, he's probably reading the latest Haruki Murakami book or rooting for Tyrion Lannister for the Iron Throne.