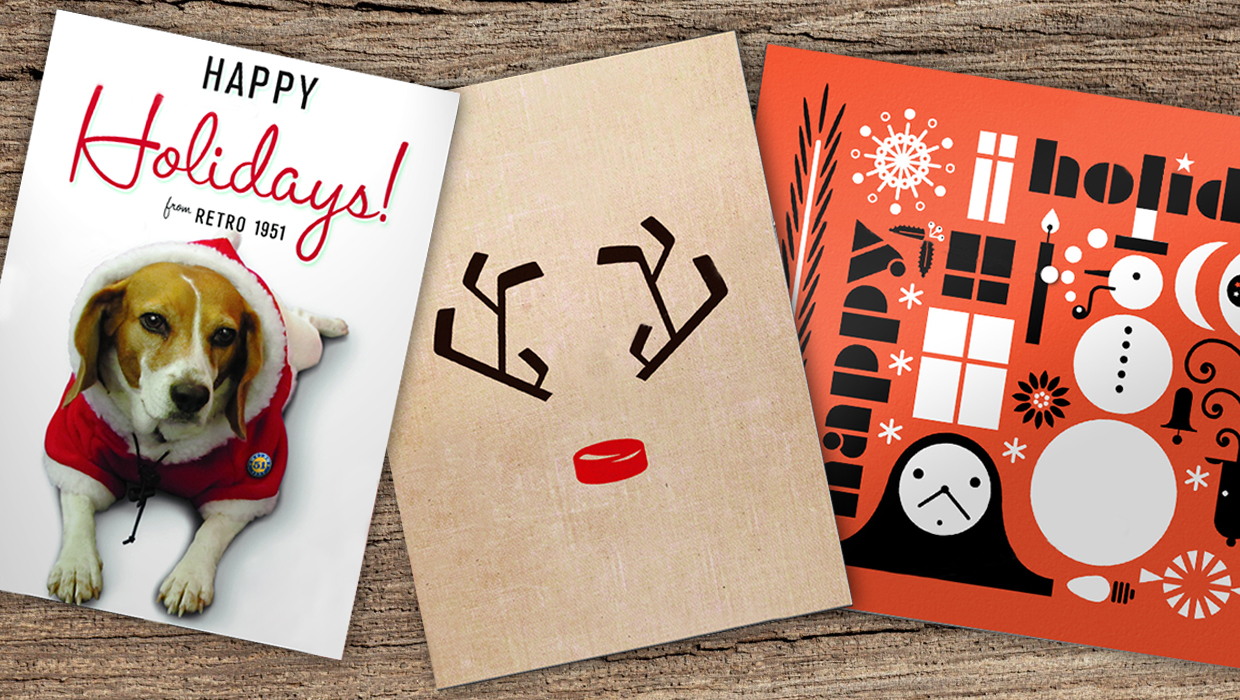 3 Creative Examples of Effective Greeting Card Design
One of the memorable lines in the film 500 Days of Summer was spoken by the main character Tom Hansen (Joseph Gordon-Levitt). "Why make something disposable, like a building, when you can make something that lasts forever, like a greeting card?" Tom may have spoken about it in jest, but as a marketer, I have entirely different takeaway.
From a marketing perspective, greeting cards can actually last forever, but not in a literal sense.
The Value of Personalized Greeting Cards
Greeting cards are one of the most underused print marketing materials today,despite how effective they are for building customer loyalty. Their use is often seasonal, usually during the end-of-the-year holiday season, for a good reason.The holiday season is a a great time to show that you remember your customers and business partners.
The key to its effectiveness lies in its personal touch. Now that most correspondence is usually done by email or social media, it's a breath of fresh air to receive a card by traditional mail. Personally, I feel thrilled when I get something in the mail (that isn't an overdue bill, of course), and I'm sure you do, too. I feel appreciated when someone remembers to send me a card.
As a business, you can use this personal nature of greeting cards to reach out to your customers and partners. By cultivating your relationship with them through simple things like sending greeting cards, you can make something that lasts forever—customer loyalty.
Greeting Card Design Tips
If you're like me who is not that creative when it comes to designing graphics, you might have a bit of a hesitation when making greeting cards. Designing your own greeting card is time-consuming. Not everyone is gifted with a knack for creative and attractive design. You may even be tempted to just buy greeting cards in bulk from a stationery store.
But customizing your own greeting card design specific to your business is more impactful. A card personalized to your customer can be more engaging than a generic one purchased from somewhere.
Lucky for us, we have great graphic designers at PrintPlace.com. I asked one of them to pick out his favorite designs from our growing stack of greeting cards. These greeting card designs were all printed by our customers. We think each has a certain quality that is all its own and worth sharing. If they can do it, so can you!
Our designer analyzed each card and told me what makes each work so well. Here are the highlights he pointed out for each design. Check them out.

Silas Tom's Retro Modern Card
Our first card is designed by graphic artist, Rob Wilson, the founder of paper goods company, Silas Tom. The card is a geometric approach to holiday and home symbols. You can see windows, lamps, and music symbols interspersed with a snowman, a candy cane, and mistletoe. The flat design gives it a retro and modern nostalgic feel at the same time. Combined with the orange background, this greeting card perfectly captures the cozy feeling of being home for the holidays.
If you want a more personal card, especially if you have a small, tight-knit customer base, this type of design would do well.
Total Hockey's Minimalist Card
Probably my favorite in the bunch, Total Hockey's minimalist card is the perfect integration of the brand to the holiday concept. A quick glance would give you our favorite reindeer, Rudolph, with his red nose. If you look closer however, you'll see that his antlers are made up of hockey sticks and his red nose is actually a hockey puck. (If you're a hockey fan however, you may have seen the hockey equipment before the reindeer. Which one did you see first?)
Total Hockey's card is a simple and clean design, free of clutter, and focused on one single message incorporated into the brand.
When designing your card, you should always look for opportunities to integrate your brand logo to your card like our example. If you can't, you could always include your logo inside your card, under your message.
Retro 1951's Cute Card
Dog and cat pictures populate about half the internet for a reason. Cuteness will always attract more people, and that's what Retro 1951 is capitalizing on. The concept is simple—a cute dog in a santa costume greeting you happy holidays. It's a simple, focused, and time-tested approach that works. You don't need to reinvent greeting card design.
This approach is good if you don't want to devote more time in the design. I would suggest, however, that you spend more time crafting the message inside your card. Personalizing it for your customer would be more impactful.
Hopefully, these three greeting card design examples inspired you to create your own. If you're ready to print your design, head to our greeting card printing page to print yours.
Kevin is PrintPlace.com's resident marketing writer. If he isn't writing, he's probably reading the latest Haruki Murakami book or rooting for Tyrion Lannister for the Iron Throne.