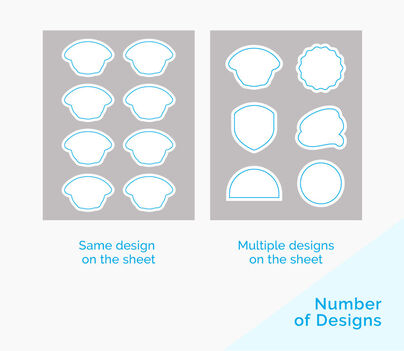 New lower prices on our most popular vinyl stickers!
Cut-to-size for promotions and roll for labeling
Achieve precise designs in four available shapes
White vinyl paper withstands outdoor elements
Roll stickers printed on waterproof materials
Protective shrink wrapping to seal your order
Custom Sticker Layout Templates
Use our custom sticker layout templates to ensure your artwork and designs are sized and formatted correctly. PrintPlace layout templates can be downloaded for each custom sticker size below, in an EPS, PDF, or JPG format for Illustrator or Photoshop.
The Best Shapes for Custom Stickers

Print custom stickers in four shapes that fit your product's packaging or serve as corporate gifts to clients and employees. Find out how you can utilize each of our available shapes.


Go for this shape if you need precisely angled corners for a statement sticker or your logo's design. This is also usually used on bumper sticker designs.


A safe and sure choice for logos and designs in the standard square shape. Square stickers are also easy to place on both small, medium, and large-sized surfaces.


This shape's lack of sharp edges makes your sticker stand out in a sea of square and rectangle prints. You can also customize your circle custom sticker according to your preferred size and design specifications.


Like rectangle stickers, the oval shape is suited for classic text logos or statement designs. This particular shape works well for product labels and marketing stickers.
You can also customize the trim of your stickers according to your preferred size and have the edges as rounded corners—at no extra cost.
Start creating custom stickers with us today.