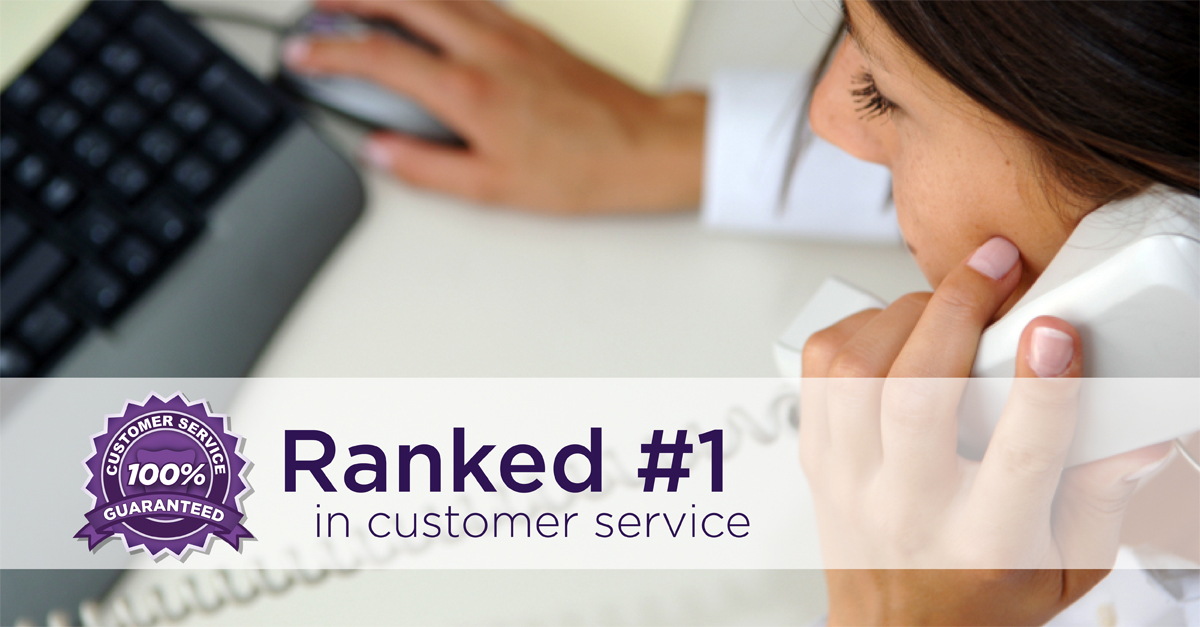 At your service: PrintPlace.com's customer service ranks #1
PrintPlace.com claims to have the best customer service with virtually no wait time, so I decided to find out if that was true. I created an experiment to test our customer service team, as well as that of several printing competitors, and found that the claim was absolutely correct. PrintPlace.com has the shortest call waiting time of all of them.
The Experiment:
To begin my experiment I picked several different days of the week and different times of day to make my calls. I set them over the course of a month. At each designated time, I would call all five printing companies in a row.
I set up a spreadsheet that impressed even our marketing Excel guru. For each call, I recorded the amount of time that passed before I reached a live person, as well as details about what I dealt with on the way.
The Experience:
Every company except PrintPlace.com had an automated menu that first answered the phone, and forced you to listen and choose an option before moving on. This was frustrating because there wasn't always an option that fit my needs exactly, but I was forced to choose one anyway.
One large company in particular made me listen to three separate automated lists, choosing an option each time, before proceeding to another, and another, then some hold music kept me company, until I finally reached a human being.
It occurred to me on a particular seven-minute call, that I was voluntarily sitting on hold. I wondered why I decided to do this, but I made it through.
PrintPlace.com though, had no automated menu.  I was simply sent to a customer service representative. The average wait for a real person at PrintPlace.com was 38 seconds.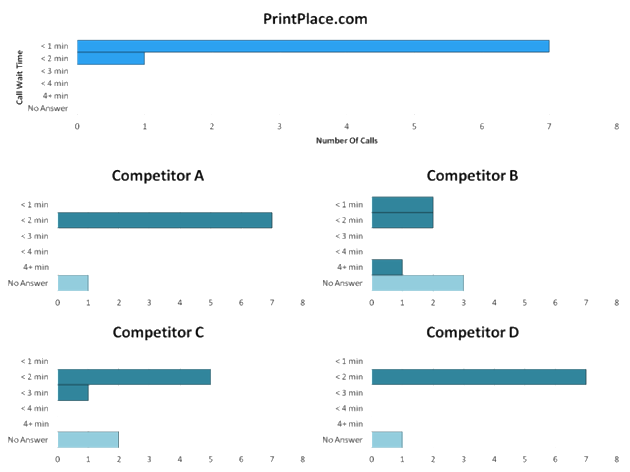 The Results:
There are eight separate call times reported here. PrintPlace.com answered seven of them in under a minute, with the remaining call still being answered in under two minutes. Only one competitor had any calls answered in less than a minute.
There were also several times that I received no answer at other printing companies. My call would be answered by an automated voice telling me the customer service department was "currently unavailable" followed by my call being disconnected.
For those of you who like to see things visually, above is a simplified version of my spiffy chart with the data from the experiment.
The graph shows how many calls each company answered in each time frame. In addition, the faded bars show which competitor calls weren't even answered.
For example, PrintPlace.com answered seven calls with less than a minute wait time each, and one call with less than a two-minute wait time.
Competitor "C" answered five in under two minutes each, one in three minutes, and two calls were never answered.
If you still don't like the idea of calling customer service, PrintPlace.com has several other avenues to answer your questions on our website. We have a live chat feature where you can speak to customer service via instant message. If you prefer, you can also look for an answer yourself by scrolling through our FAQs and Knowledgebase.
Writer. Marketer. Enjoying writing about printing and marketing. Other things to talk to me about at a cocktail party include travel, dance, and food. Find me on Twitter @writtenbyemilie