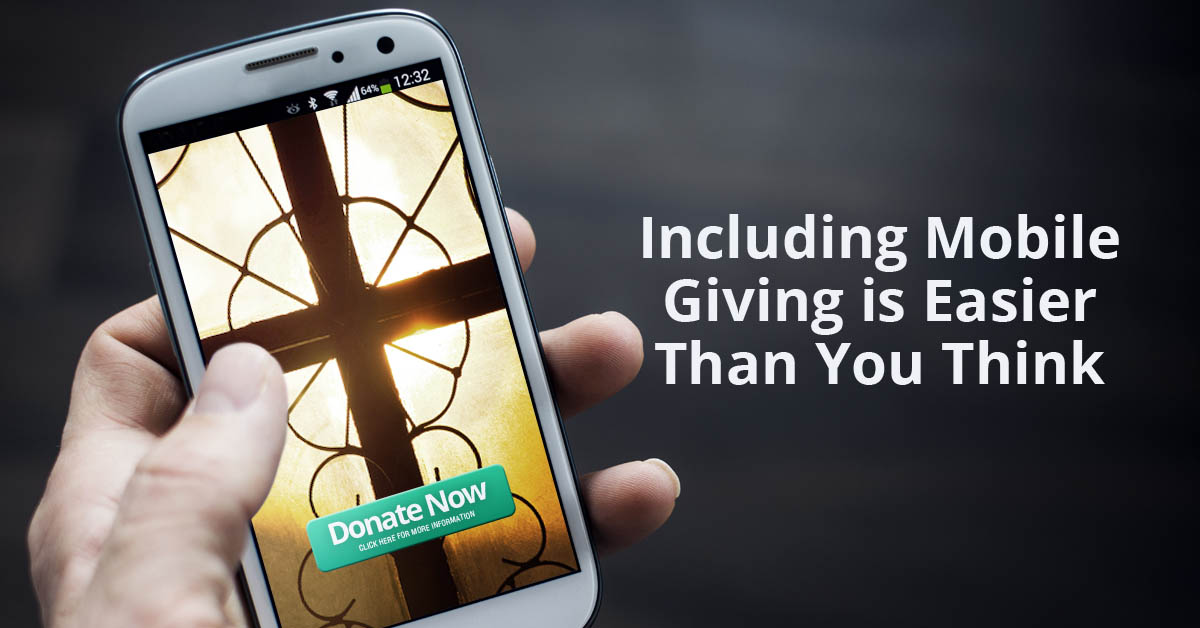 Including mobile giving is easier than you think
Have you considered adding mobile giving as an option for your church?  If not, consider these statistics:
"Ericsson estimates that by 2020, 90% of the world's population over six years old will have a mobile phone with broadband Internet access, " wrote ChurchMarketingSucks.
According to The Fundraising Coach, roughly 80% of Americans carry $50 cash or less in their wallet and 9% don't carry cash at all.
74% of Americans write no more than one check per month, a study by The Financial Brand found.
According to Gartner, mobile commerce currently represents 22% of all digital commerce, and they predict that number to rise to 50% by 2017.
Plus, with the rise of mobile payments boosted by the popularity of Apple Pay and PayPal's mobile app, more people will eventually replace their wallets with smart phones completely.  While weekly or scheduled tithing may transpire most often via traditional paper check or online giving, church-sponsored events that incorporate fundraising may be more successful by adding a mobile option.  Mobile giving, whether through the church's own mobile app, or through a text-to-give feature, gives members and attendees instant access to funds they aren't likely to be carrying in their wallets at that exact moment.
Ready to get started?  There are quite a few companies that specialize in mobile apps for churches and nonprofits.  Depending on your own resources for design or web development, you can select a full-service package or a more customizable plan.  I've compiled several mobile app specialists to check out:
In addition to a mobile app, consider offering text giving for people that may not want to take time to download the app.  More options equals more people giving. With text to give, members or donors send a text message including a keyword and dollar amount to a designated number.  They then provide their payment information, and receive a confirmation text.  Check with your church management software provider to see if they have the ability to integrate with text giving, so no one has to reenter data. You can even set up multiple keywords to support a variety of ministries instead of, or in addition to, the general fund.
While embracing mobile technology is important and allows you to accommodate members who prefer to utilize their phones, don't overlook conventional methods as well.  Post all your giving options in your bulletins, and on your website and offering envelopes so members can choose their desired method of giving. Mobile apps also provide opportunities to connect with your members during the week between services, and thus can supplement printed communication materials such as bulletins, postcards or direct mail, by providing information and announcements in real time.
Faith-Based Segment Manager