Affordable Custom Business Cards
Choose from over 5 shapes & sizes
Add protective coatings to distinguish your design
Get extra space for details with a folded design
Creative & Budget-Friendly Solution to Your Custom Business Cards
Design business cards that will fit the vision and goals of your company..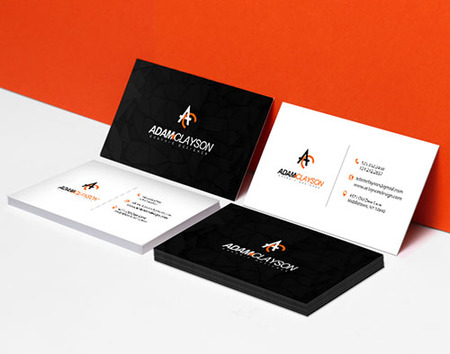 Standard sizes available
Durable 14 pt. & 16 pt. cardstock
Protective gloss, matte, & high gloss UV
Oval, leaf, circle, & half-circle
Vivid colors on a glossy surface
Rounded corners option
Extra space on unfolded 4" x 3.5"
Coat both sides to emphasize color
Add a writable, uncoated side
Custom Business Cards Made for Professionals, By Professionals at Affordable Rates
Make a big impression at your next client meeting or at an industry event. Hand out custom business cards that are unforgettable from the first glance. Cards that stand out earn faster recall and encourage clients to keep your business card handy.

Well-designed customized business cards show potential clients you put time, effort, and resources into making a strong impression. A distinct business card also helps convince customers you care about the little things that make a company great. PrintPlace helps you create custom business cards you'll be proud to hand out without spending over your budget


How to Plan and Design Your Custom Business Cards


Start with the image you want of your company. What kind of experience does your product or service provide for the target customer? The answer to this question will guide how you design the logo, company name, colors, and other details on the business card. You could start with a mood, like comfort if you're a baking business or formal and professional for a tech consulting company.

Highlight the important details. Which details do you want clients to notice before anything else? Play with color theory and use complementary shades to highlight your name and contact details against the background shade. Typography is another smart way to emphasize information without depending on colors or images.

Design in a standout shape to distinguish your card from the pile. Does your logo have a specific shape or design? Order a die-cut business card in a leaf, circle, or oval shape. Select something your clients can easily associate with your company. A distinct shape also helps with brand recall and makes it easy for customers to draw your custom business card from a thick pile.

At PrintPlace, you have the option of working with print professionals who'll guide you through the entire business card printing process. Get in touch with our experts today if you need any help getting started with the design and printing process.
Order Your Custom Business Cards in 4 Easy Steps
1.Select the best business card type for your custom design
.
Assure your company a professional impression in the square or rectangle sizes of a
standard business card
. The standard size is the
2" x 3.5"
that easily fits inside a wallet. You can also customize a modern look in the
square 2.5" x 2.5" and 3" x 3" sizes
.
Want to stand out once the business card is handed out and amid the client's large stack?
Die-cut business cards
can be printed in out-of-the-box shapes like a circle, oval, leaf, or half-circle.
Need more space to tell your company's story? Introduce your company name and logo before revealing more details with
folded business cards
. This variation is in the standard 2" x 3.5" when folded, allowing the card to fit inside a wallet without compromising the extra space.
2. Combine the most suitable finish and sturdiest cardstock to enhance the entire design.
Choose between the affordable 14 pt. cardstock seen on most business cards or the slightly thicker and a little more costlier 16 pt. cardstock.
The three available protective coatings—
matte, gloss, and high gloss
—elevate the look and feel you want to achieve in a business card. The
satin-like finish of matte
is perfect for light, neutral-colored designs and longer blocks of text.
Gloss has an extra shine that reflects under a light
. It brings out bright colors and vivid details on a high-resolution image. The
high gloss
coating takes this up a notch and makes bold hues pop even from afar.
3. Choose a production time that fits your schedule.
Need a set of updated business cards in the next day or two? Select
same day
as your production time and approve the file by noon CST so we can ship it on the same day.
If you have more time, 1 to 5-business -days printing is also available. Note that we will only ship your order after the indicated production time.
4. Upload your design file or create a design online.
Is your business card design ready for printing? Upload it in PDF, JPEG, JPG, TIFF, or EPS format.
If you have yet to customize the business card, select "Design Online" to create the file on your browser. The Online Design Tool will load, showing a blank canvas of your chosen size. Everything you need to add, edit, and combine elements like the images and text are found on the tool.
How to Design a Business Card

Have little to no design experience? Apply these helpful and easy tips from our graphic design team at PrintPlace.



Custom Business Cards FAQs
Q: What is the usual size of business cards?
A: The standard size is 2" x 3.5", a rectangular shape that fits most wallets. You can also print in other square or rectangle shapes that are larger or smaller than the standard.
Q: How thick is a business card?
A: Most business cards are printed on the lightweight yet durable 14 pt. cardstock. The materials is thin enough to fit in most wallets or business card holders, while holding on its own with proper care. The slightly thicker 16 pt. cardstock is less likely to bend or crease compared to the 14 pt.
Q: How soon can I receive my custom business cards order?
A:The arrival of your business cards will depend on the production time and shipping location. To find out how soon you can receive the order, go to "Get Shipping Estimate" after completing the Online Calculator. Input your ZIP code and several estimated arrival dates will appear based on your order information.
What Our Customers Have to Say
This is not the first time I've ordered from Print Place. So I was expecting a great job. I got what I was expecting.
What Our Customers Have to Say
Very happy with the final product. I will reorder this product in the future.
What Our Customers Have to Say
In a time crunch, I submitted my design the night before and pick up my business cards the next day! It was a lifesaver and they were of great quality!
<
>
Browse by Category
Related Products