Custom Business Cards
Choose from over 5 shapes & sizes
Add protective coatings to distinguish your design
Get extra space for details with a folded design
The Creative Solution to Custom Business Cards
Design business cards that will fit the vision and goals of your company.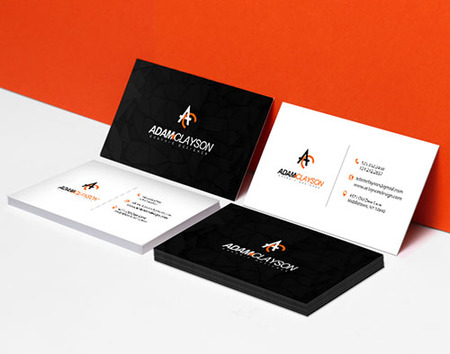 Standard sizes available
Durable 14 pt. & 16 pt. cardstock
Protective gloss, matte, & high gloss UV
Oval, leaf, circle, & half-circle
Vivid colors on a glossy surface
Rounded corners option
Extra space on unfolded 4" x 3.5"
Coat both sides to emphasize color
Add a writable, uncoated side
Custom Business Cards Made for Professionals, By Professionals
Make a big impression at your next client meeting. Hand out custom business cards that are unforgettable from the first glance. Cards that stand out earn faster recall and encourage clients to keep your business card handy.

Your clients know whether you've taken time and consideration with your business card printing. A standout design is not only impressive but also shows customers you care about the little things that make a company great. PrintPlace helps you create custom business cards you'll be proud to hand out.


How to Plan and Design Your Tailor-Made Business Cards


Keep your brand in mind, not just your company. People tend to interchange the terms brand and company. But brand is specific to the experience your product or service will be providing for that targeted customer. As you design your custom business cards, keep in mind how your logo, company name, and details come across in the design.

Do the design elements work together to accomplish your intended brand perception? How will the fonts represent your brand's personality?

Highlight the important details. Which details do you want clients to notice before anything else? Play with color theory and use a complementary shade to highlight your name and contact details. Typography is a smart way to emphasize information without depending on colors or images.

Choose the right size or shape. Does your logo have a specific shape or design? Order a die-cut business card in a leaf, circle, or oval shape. Select something your clients can easily associate with your company. A distinct shape also helps with brand recall and makes it easy for customers to draw your custom business card from a thick pile.

At PrintPlace, you have the option of working with print professionals who'll guide you through the entire business card printing process. Get in touch today if you need any help getting started.
What Our Customers Have to Say
This is not the first time I've ordered from Print Place. So I was expecting a great job. I got what I was expecting.
What Our Customers Have to Say
Very happy with the final product. I will reorder this product in the future.
What Our Customers Have to Say
In a time crunch, I submitted my design the night before and pick up my business cards the next day! It was a lifesaver and they were of great quality!
<
>
Browse by Category
Related Products