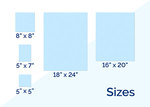 Start the sale with a compelling storefront.
Easily attach a design to your window
Choose from white or clear static clings
Add white ink to a clear, transparent design
Create several small clings or a few big ones
Window Cling Printing Layout Templates
Use our window cling layout templates so your artwork and designs are sized and formatted perfectly for your storefront. PrintPlace layout templates can be downloaded for each window cling size below, in different popular formats.
How to Maximize Window Clings Even If You're a First-Time Entrepreneur
Not sure how to promote your first product or big sale? Here are some surefire strategies that will boost foot traffic and customer interest:
Use big fonts to emphasize a special deal your customers can enjoy. Make sure they can read "50% off" or "2 for $5". Images need to be in high resolution so details are clear even from afar.
Don't limit your advertising space to the storefront. Lead customers to your store with clings applied on surfaces going to your store. Use arrows to point them to your store.
If you're selling products on consignment or having them resold elsewhere, provide them some window clings for promoting your products.
{{tatDisplay}}
{{ priceData.discounted_price | currency : '$' : 2 }}
{{ priceData.price | currency : '$' : 2 }}
{{ priceData.unit_price | currency : '$' : 2 }} each