Standard Layout Service
The standard layout price and additional customization options allow for one initial design and proof, plus one revised design and proof. Our designers will build your calendar and upload the artwork to your job. You will be able to review your calendar proof and make one round of edits if necessary. If edits are made, a revised proof with changes will be uploaded for your review. Additional edits may be made for a fee.
What we need from you: Send 15 photos (13 for the inside months (Dec to Dec) and 1 for each the front and back covers). Photos must be sized .25" larger than the finished calendar page size and must have a resolution of 300dpi.
---
Standard calendar built in any of our 5 standard sizes.
 
---
Questions about our layout service?
Just give us a call at 877.405.3949 M-F (6am-10pm CT), Sat-Sun (8am-7pm CT) or email us at art@printplace.com.
Add Custom Dates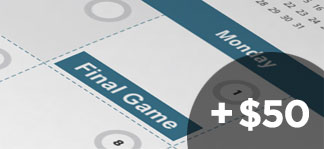 Customize the date pages/blocks. Add your company logo to each page, or add events, announcements, and holidays right to the dates.
Customize Your Photos
Customize any or all of the photo pages and/or cover pages. Add customized text in predefined font, color and location options. 
Custom Month Range
Customize the month range. For example, August to August is a popular school-year calendar option.