6 Tips on How to Use Stickers for Your Business Marketing
6 Tips on How to Use Stickers for Your Business Marketing
by Angela Velasco - Published on September 30, 2020


Your product's design is a matter of form and function. The colors, text, and visuals work together to catch your consumers' attention. At the same time, these elements are what communicate and showcase your brand. It establishes your brand for first-time consumers and increases association with every purchase.
Stickers
are a fast and efficient way to decorate your product containers and packaging. They introduce your item and inform customers accordingly with nutrition facts or care instructions.
These branded labels are more crucial as online shopping has become a habit.
The Food Industry Association and Nielsen report
that online food and beverage sales are expected to increase by $134 billion by 2025. The report takes into account new factors such as
restaurant
deliveries to homes, retail food service, meal kit deliveries, and the general switch of purchases from in-store to online. Thus, the label you present on the screen and in a delivered package is your only means of customer interaction.
Your site may make the sale, but your product is what ensures another buy.
How then can your print stickers and label work hand in hand with your digital sales channels? Here are some tips and tricks to keep in mind.
The Basics
Information is key to any kind of marketing. Get to know your current customers and potential target market. Look at the demographics: age, sex, location, education level, etc. These factors will inform how you approach and create the sticker design.
It's also important to study the competition. What are they doing well? What can you do better? You can also see common patterns and avoid having a look that is similar to their packaging.
Now that you have a general idea about the audience and the competition, you can focus on the label's content. The FDA requires specific lists, parts, and arrangements of what's found on food and beverage labels. Check out
their food labeling guide
for more information.
Stick to a simple design.
The simpler your design, the better. A busy look distracts and turns customers off from looking at the rest of your label. Limit your label's components to what the law requires and anything else that can help them use your product. The copy should be clear and concise. They should get the necessary information and then move on to using your product.
Maintain a distinct and consistent brand identity.
You want the design to stand out. But the packaging sticker or label should do so with a purpose. Don't use bright colors or bold combinations for the sake of standing out. Keep in mind the identity and impression your brand makes with that package. For example, organic brands normally use palettes inspired by nature's colors.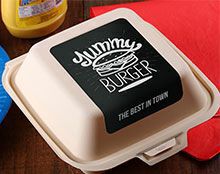 Create a sales message that will appeal to your customer.
All
labels
come with a description of the product. This will convince them to push through with the final purchase. When writing the product description on your product sticker, think about what will make them excited about your item. What benefits will they reap after using your product? Does it have specific features that other items don't have? Use these answers to craft the right sales message for your product description. Direct it at the customer with "You" so they can easily imagine the features and benefits.
Guide them toward the proper consumption of your product.
Always include directions on how to use your item. This ensures the safety and the most effective results. You can also add specific examples, such as a recipe that uses the item as the main ingredient. Other helpful ideas that can help convince and add value to your label:
A unique selling proposition or qualities that distinguish you from competitors.
Certifications, awards, or any features like business practices employed such as Fair Trade, 100% Organic, or Cruelty Free and No Animal Testing.
Contact information like your website and social media handles.
Print in specifications that will set the right impression.
Choose sticker features that tie in with your brand identity and help clarify the points being made on your label. Vinyl material is recommended for labels that will be exposed to moisture and used outdoors. For refrigerated beverages and food, print the sticker in BOPP. Luxury items such as wine and gourmet items come in textured estate labels.
Choose the Best Sticker for Your Packaging
PrintPlace helps you create the best sticker for labeling containers and packages. If you have a particular size and shape in mind, order a set of
custom stickers
. Print in rolls to achieve large quantities and so you can combine a specific width and height for your sticker's size.
Vinyl stickers
are recommended for all labels exposed outdoors. These are built for withstanding exposure to sun, rain, and wind. It comes in a high-gloss finish to protect the design from abrasion.
Oval stickers
can print your logo or company name for fast and easy package designs. Print in the cut-to-size format if you will apply them by hand or in bulk orders of roll that fit a label dispenser.
How to Use the PrintPlace Sticker Maker
Upload a design or use the online tool. Send us your print-ready file in PDF format. Ensure that the file follows all our qualifications for production. Note that our team will review all submitted files and inform you of any technical errors for correction.

If you're not familiar with design programs like Adobe Photoshop or Microsoft Publisher, select "Design Online" at the bottom of the calculator. This will take you to the online design tool that lets you add text, images, and shapes to complete a label design.


Download a layout template. If you prefer to create a design on programs like Adobe InDesign, Adobe Photoshop, or Microsoft Publisher, you can download a ZIP file from the "Layout Templates" tab. The folder contains EPS, JPG, and PDF files that include guidelines for printing. This PDF file expounds more on the bleed, trim, and caution line found on the file.


Review the PDF proof before printing. After uploading your print-ready file, you can review a free PDF proof and approve the file before we proceed with production. Select "I need a PDF proof" under "Proofing Options" to view and correct the file for any changes. Note that approval is needed before we can proceed to print.
Have specific questions about our
sticker maker
and printing process? Contact our print experts from 7 am to 8 pm CT (Mondays to Fridays) at 877-405-3949. They'll gladly discuss all queries and details with you.