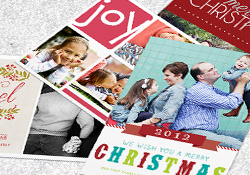 Get a free turnaround upgrade on your Christmas card order.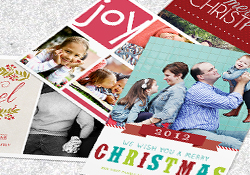 This holiday season, PrintPlace.com is giving you the gift of time. When you order Christmas cards, holiday cards, New Year's cards, or any other greeting cards with us, you can actually get a day (or two) back!
It's a busy time for everyone. With all the shopping, entertaining, cooking, and extra work. PrintPlace.com has plenty of gifts to ease your holiday load.
We are giving you:
a free turnaround upgrade (with the code below)
pre-designed holiday cards or use your own design
custom options for the perfect cards
all greeting cards at a low price 
How the turnaround discount works
If you normally order 5-day turnaround, go ahead and give yourself a gift. Select 3-day turnaround instead. Then enter the below code. You will only pay the 5-day turnaround price. Like I said, you get 2 extra days for free!
Use the code: GIFTOFTIME
We wanted to show how easy and fast our greeting cards work, so we had some fun with a video camera. This is what we created. It turned out pretty cute. 
*This code is good for a turnaround discount. Valid with coupon code GIFTOFTIME. Discount excludes shipping & postage, and cannot be combined with other coupons or vouchers nor can it be applied after an order has been placed. Offer expires November 30, 2013 (11:59 pm PST).
Writer. Marketer. Enjoying writing about printing and marketing. Other things to talk to me about at a cocktail party include travel, dance, and food. Find me on Twitter @writtenbyemilie