Holiday Printing
Spread the cheer with delightful holiday prints.
Send out premium packaging for the season's products
Customize corporate giveaways for customers and clients
Spread joy, peace, and love in your branded messages
Holiday Promotional Tools
Print your holiday promos in clear and crisp displays.


Bundle your gifts and send them out safely to customers.


Shipping Boxes
Protects large, bulk deliveries
No minimum quantity to order
Delivered pre-glued for assembly
Stand Up Pouches
Shiny gloss or matte lamination
2 hang hole styles
Zipper to reseal the pouch
Flat Pouches
Flexible, cost-effective packaging
Durable, waterproof material
Add gloss or matte coating
Send out heartwarming messages to clients ad VIP customers.


Branded items consumers can use for their home office or daily activities.


Complete Your Corporate Giveaways With Our Custom Holiday Printing
Start planning your holiday gifts for loyal customers and VIP clients. Design notebooks, jackets, T-shirts, caps, flash drives, and other useful items both staff and consumers will appreciate come December. Every branded item shows your company cares, while also increasing brand recall over the season. Upload a design or use our intuitive online tool to complete the printing order. High-quality is guaranteed with sturdy materials and a complete file check before production.
How to Personalize Your Holiday Gift Ideas
Choose items that customers will use but they'll easily associate with your brand.
For example, a retail clothing store can give away jackets or caps. A flash drive is more suited to tech companies.
Notebooks
,
calendars
, and
notepads
suit most industries, but they're a staple among institutions such as banks, insurance firms, and other finance companies.
Make sure your logo is visible on the design.
While you want a gift that's personalized, it should still bear your company name or logo. A variety of colors are available to ensure the accuracy and high-quality of the print.
Send them out with premium packaging.
You want the giveaways to appear like gifts, so you can deliver them in
boxes with personalized greetings
on cards,
postcards
,
labels
or
stickers
. Add
hang tags
with special care instructions. You can also seal the items safely on
spot UV header cards
. Special printing options in metallic, spot UV, or silk are available among these items to ensure your message stands out.
The PrintPlace Advantage
The advice of print experts.
Are you a small to medium business owner with little to no background in design or printing? Our print experts will gladly answer all your questions and discuss any details about the process.
Layout templates for download or easy creation using our online tool.
Have a preferred editing program for your print designs? You can download a layout template in your chosen size. All templates include the print guidelines, so no detail is missed during production. You can also use our online design tool to create the artwork on your browser.
The industry leader for real estate, politics, schools, and restaurants.
PrintPlace has provided marketing tools for hundreds of small to big businesses in real estate and restaurants. We also cater to the printing needs of nonprofit organizations, schools, and churches across America.
Frequently Asked Questions
Q: Will I save more if I order the holiday gift ideas in bulk?
A:
Yes, the larger your order quantity, the less you spend per unit. For example, 250 cut-to-size shipping labels cost 11¢ each while 1,000 would only cost 3¢ per label.
Q: What guidelines are included in the layout templates?
A:
Our layout templates include the following print guidelines:
Bleed is the edge on which you should extend your artwork or background color. The bleed's allowance or extra spaces ensures that no detail is cut off upon printing.
Trim lines are the actual cut line to achieve your desired siz
The caution zone is at least 1/8" or 0.125" from the trim line to prevent the text from being cut off or sitting to close to the trim line.
Q: Can I view my artwork before it's printed?
A:
Yes, you can view a free PDF proof of your artwork before it's printed. After uploading your file, you can select "I need a PDF proof" under "Proofing Options." Your proof will be available for download from the Shopping Cart after upload or viewable on your logged-in account.
Q: How soon can I receive my Christmas prints?
A:
To find out how soon you can receive your holiday marketing products, select "Get Shipping Estimate" at the bottom of the online calculator. Input your ZIP code and you'll be shown several estimated arrival dates.
Note that the shipping estimate is the transit time. It does not account for the
production time
you selected on the online calculator. The production time is how long it will take to produce your order. For more information, read up on our
printing turnaround times
.
Q: Can you design a Christmas greeting card for me?
A:
Currently, we do not offer design services to our customers. However, we have tip sheets and layout templates to guide you through the process of creating your own personalized holiday greeting card.
Q: What type of files can I upload for the design?
A:
You can upload PDF, TIF, JPG, or EPS files, but we recommend using PDF files.
Q: What paper stock should I use for my Christmas cards?
A:
We recommend using 14 pt. gloss C1S (coated on one side) so that you can still write on the inside of your Christmas card. This cardstock is glossy on the front and completely uncoated on the back.
Holiday Inspiration From the PrintPlace Blog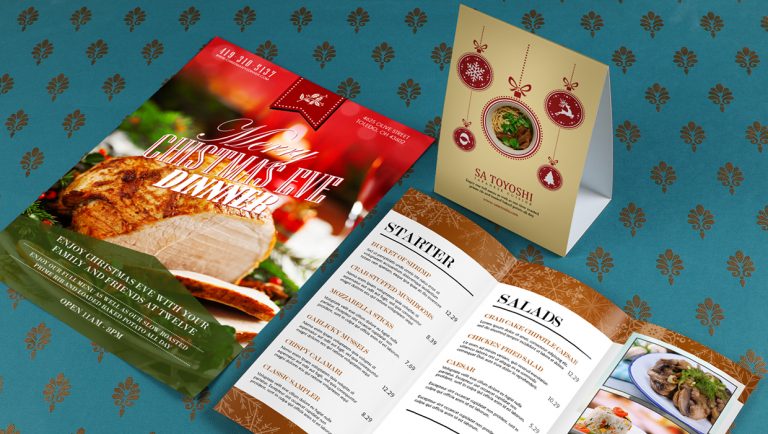 5 Festive Restaurant Christmas Promotion Ideas
NOVEMBER 20, 2019 | by Art
Most businesses get a bump around the holidays, especially as we get closer and closer to Christmas. Restaurants have the opportunity to get in on this bump in the days leading up to Christmas, but they need to target their food and services just right. These restaurant Christmas promotion ideas are tried and tested ways to get the most business out of the holidays.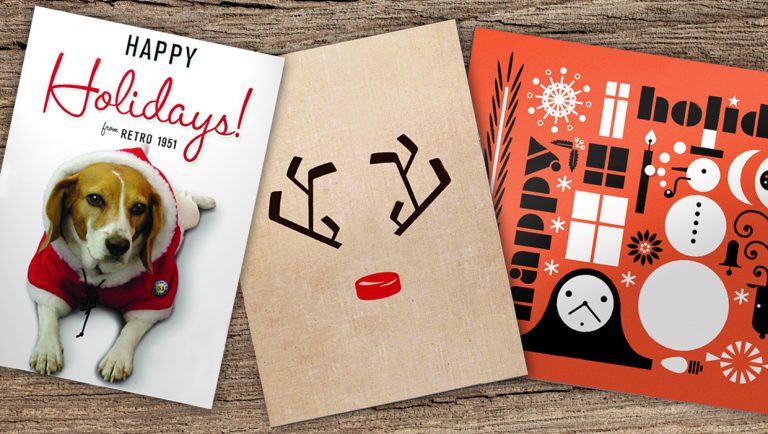 3 Creative Examples of Effective Greeting Card Design
SEPTEMBER 18, 2017 | by Kevin Rabida
Greeting cards are one of the most underused print marketing materials today, despite how effective they are for building customer loyalty. Their use is often seasonal – usually during the end-of-the-year holiday season – for a good reason. 'Tis the season to show your customers and business partners that you appreciate their support.